Bachelor of Arts
BA Criminology and Sociology*
The BA (Hons) Criminology and Sociology is a three year undergraduate degree that takes an in-depth look at the fascinating and diverse subject of criminology combined with the analysis of wider social processes through the discipline of sociology in relation to current issues. This Criminolgy and Sociology course critically explores areas such as urbanisation, migration, gender, ethnicity and globalisation. If you are interested in how current societies and the global order is constructed, maintained and challenged by individuals and groups this is a great course to allow you to explore these areas in more detail.
*Subject to academic approval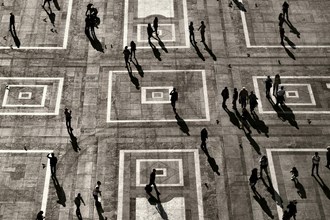 Key Facts
Entry requirements
A Level: BBC
GCSE: English Language & Maths grade c/4 or above, or equivalent
Requirements for the Foundation Year differ from those listed.
Full requirements
HOW TO APPLY
Learn more about the process for applying to us and where to get started.
Course Details
Full-time three year Criminology and Sociology
UCAS code: D3M9
Our Criminology and Sociology degree programme has been designed by practising criminologists to enable you to develop a comprehensive understanding of cutting-edge criminological and sociological concepts and theories, and to apply them to current socio-economic policies and conditions.
We've designed our Criminology and Sociology course to deliver a high level of face-to-face tuition so that you can get plenty of support while you develop a critical understanding of criminology and sociology in relation to current issues. Some of the areas that you'll get to focus on include urbanisation, embodiment, family, globalisation, migration and marginalisation.
The diversity of the programme content on this course means that you'll have an excellent grounding to enter a wide variety of fields after graduation. It is also a strong basis for further postgraduate study, should you wish to study further and specialise in one of the areas that you've learned about.
Foundation Year (Four year)
UCAS code: D3MM
You can choose to take an additional Foundation Year before you start your course. This introductory year focuses on developing the key skills required to study at degree level. You will study six modules and on successful completion progress onto any of our
three year degrees.
Course Structure
Foundation Year
If applicable
Semester 1
Citizenship
Academic and Report Writing
Numeracy Skills in Context
Semester 2
Foundations of Business Management
Foundations of Law
Foundations of Social Science
Semester 1
Foundations of Criminology
Foundations of Sociology
Feminist Sociology
Semester 2
Contemporary Criminology
Media, Crime and Control
Contemporary Sociology
Semester 1
Cybercrime
Sociology of Embodiment
Sociology of the Family
Semester 2
Sociology of Religion and Belief Systems
Youth, Culture and Controls
Zemiology: The Crimes of the Powerful and the Victimization of the Poor
Semester 1
Research Methods
Dissertation/Research Project
Semester 2
Choose three*:
Marginalisation
Migration
Terrorism
The City and Globalisation
*All options are indicative and subject to availability.
Want to boost your leadership skills?
In the summer after Year 2 of this course you have the opportunity to attend our International Leadership Summer School.
Find out more
Course Start Dates
September 2022
BA (Hons) Criminology and Sociology

Full-time: Birmingham, Leeds, London Bloomsbury, Manchester and Nottingham

BA (Hons) Criminology and Sociology with Foundation Year

Full-time: Birmingham, Leeds, London Bloomsbury, Manchester and Nottingham
Course Information
To get a full picture of how studying our Criminology and Sociology course works during the year, take a look at our course date breakdowns.
At the end of each semester you'll get a week for revision before two weeks of assessments.
Exams: Two hours, ten multiple choice questions and two long-form questions
Coursework: Essay, project report or portfolio
Oral presentation
We run mock assessments to allow you to practise before too.
You must pass each module to be awarded your degree. A pass mark is 40% and above.
70% 1
60-69% 2.1
50-59% 2.2
40-49% 3
Employability
We Set You Up For Success
We care about your career, which is why we offer support with job applications and other work experience opportunities as soon as you accept your place.
Discover more
Find a career that suits you