It's the biggest shake-up in legal education in decades. The Solicitors' Qualifying Examination (SQE) is set to change the way all solicitors qualify from 2021. The University of Law will be tailoring its courses to guide students along a smooth path to SQE success and into a great career in the legal profession.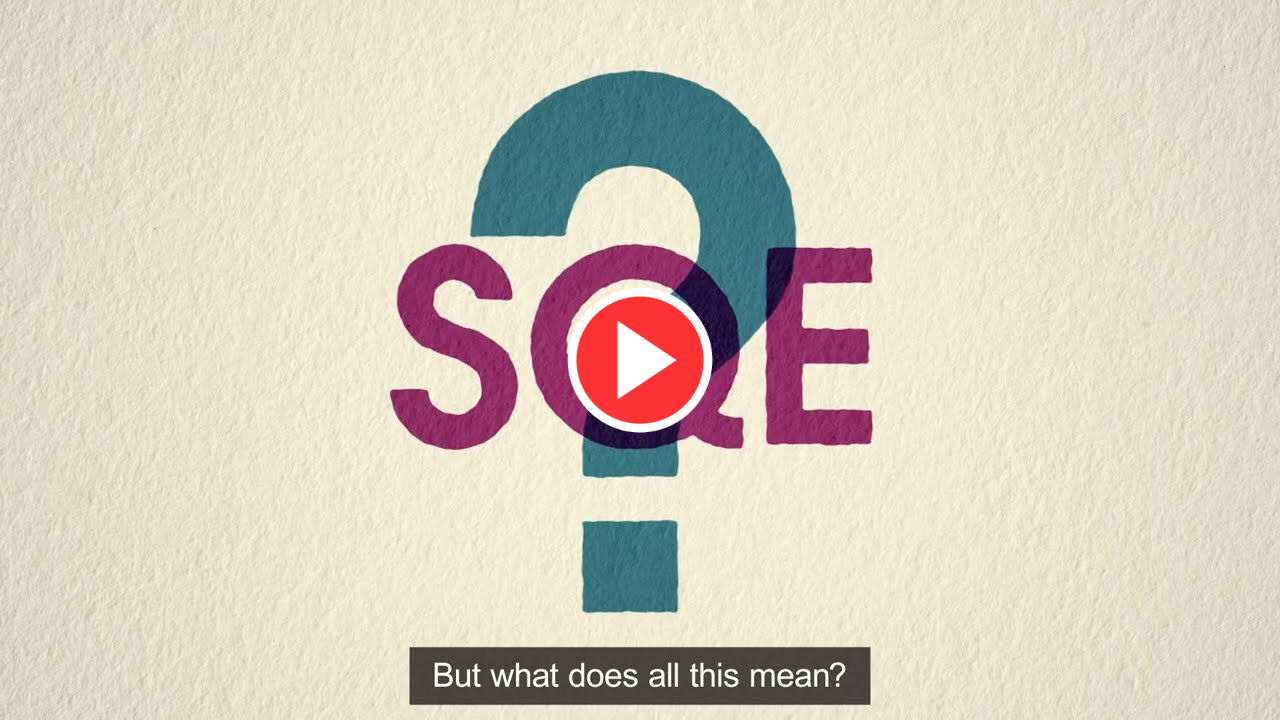 Created in collaboration with law firms to cover all the skills needed to become a future lawyer, we will have a range of courses on offer tailored especially to prepare you for the SQE.
There will be a range of courses to choose from depending on the level of support you think you require. Whether you want assistance in preparing for the SQE 1 and 2, or a Master's degree to fully prepare you for practice, we'll provide the support every step of the way.
We will also help you develop the wider skills you need to succeed in the workplace and use the latest technology to support your learning experience.
Here on our SQE hub we will be keeping you up-to-date with all the information about the SQE as it becomes available. We will be publishing blogs and articles with thoughts from our academics on the new qualification and the best way for students to approach it.
Get the latest insight on the changing route to qualification as a solicitor on our webinar.
Our complete guide
Last year the Solicitors Regulation Authority (SRA) announced their decision to reform the solicitor qualification in England and Wales by introducing the Solicitors Qualifying Examination (SQE).
The SRA have been consulting on reforms since 2015. Kaplan have now been appointed as the examination adjudicator and assessor.
We have been looking closely at the SRA's plans as they have developed over the last few years. Peter Crisp, our Pro-Vice Chancellor, External, is one of the leading thought leaders on what the SQE will mean for legal students and how to provide the best training and preparation for examination.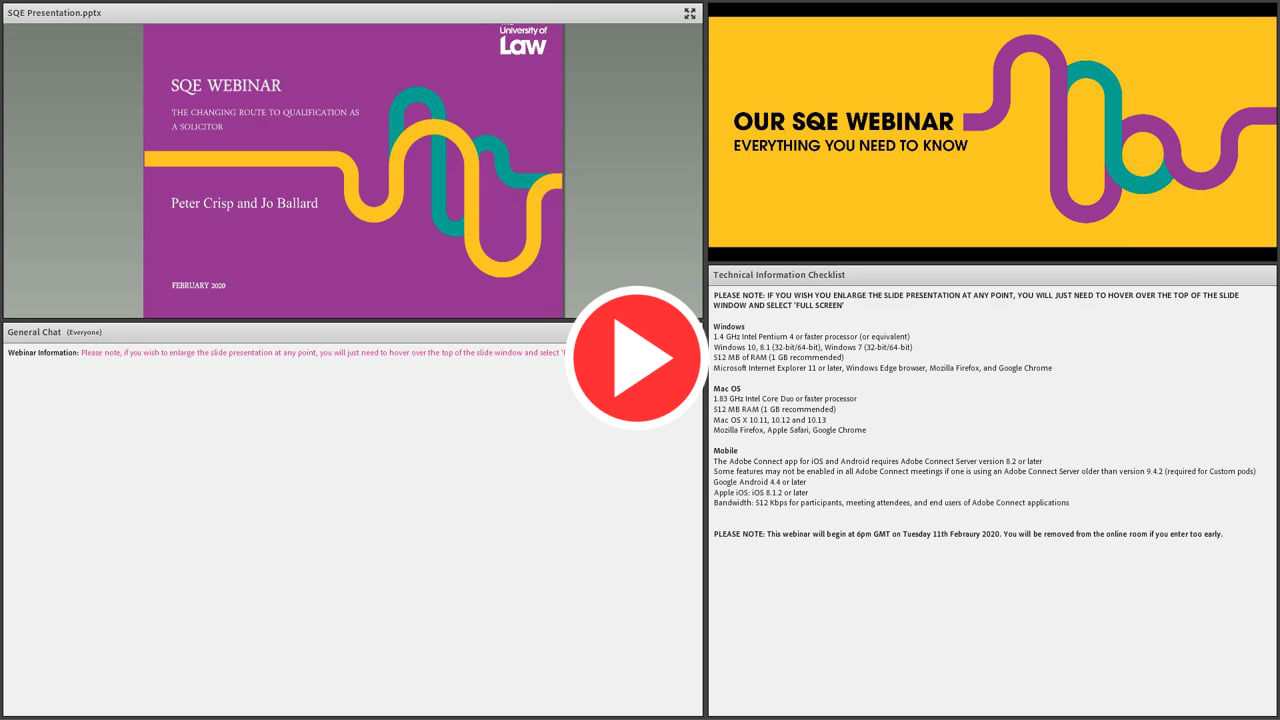 Frequently Asked Questions
When will the SQE start?
The SRA have said that the SQE regime will not be introduced until September 2021 at the earliest. As this language suggests, it could be delayed. The change is significant, so it's important that the SRA get the details right.
Even if it does come in for September 2021, it will not be a 'big bang' change – the new and current systems will run alongside each other for some years. The SRA have just consulted on the transitional provisions (the rules that will apply as they move from one regime to another), and we're waiting to see the outcome. However, they're proposing that anyone who starts their legal education before the SQE is introduced will be allowed to follow their choice of the new or current process, as long as those using the current process complete it by 2032 (to be confirmed).
How will the SQE change the process to become a solicitor?
To give you a clear understanding of how the SQE is going to change things, we'll start with a quick overview of the current process that most students follow to become a qualified solicitor and then go through the new process that will be introduced with the SQE. (Different rules can apply – for instance, if you are on a solicitor apprenticeship, or if you are already a qualified lawyer in a different jurisdiction.)
The current and new process
The current process:
1. Qualifying law degree or a law conversion course
This is known as the academic stage of training, where you learn key areas of law. You complete it either by having a qualifying law degree (QLD), like our LLB, or you will need to complete a law conversion course, such as our GDL, before progressing on to the LPC.
2. Legal Practice Course (LPC)
The LPC is known as the vocational stage of training, where you learn how to apply the law. You can either study just the minimum requirements of the LPC, or choose to include some extra content to earn a master's qualification, such as our LPC LLM, or LPC MSc.
3. Training contract (or 'period of recognised training')
After completing your LPC you need to work for 2 years as a trainee solicitor, commonly called a training contract.
4. Apply to the SRA to be admitted as a solicitor
5. Qualify as a solicitor
The new process:
1. Undergraduate degree or equivalent
To become a solicitor, all applicants must either have an undergraduate degree, or equivalent experience, to study at degree level (for example, by completing a degree level apprenticeship). Importantly, a qualifying law degree will no longer have any special meaning for the process, but it should help candidates prepare for some of the SQE assessments.
2. SQE stage 1
All applicants will have to sit and pass SQE Stage 1, whatever degree or other qualifications they have already. SQE Stage 1 will mainly assess your legal knowledge through multiple-choice examinations. You must complete SQE stage 1 before progressing to SQE stage 2.
3. SQE stage 2
Again, all applicants will have to sit these assessments, regardless of existing qualifications. SQE Stage 2 will assess your legal skills through practical examinations and assessments.
4. Qualifying work experience
You'll need to complete a minimum of two years' qualifying work experience (QWE), which can be with up to four different legal employers (and could include appropriate pro bono experience). You can do this during, before or after completing your SQE assessments, although we expect that in most cases candidates will have successfully completed at least SQE stage 1 before starting their main period of QWE.
5. Apply to the SRA for qualification
The SRA will complete quality and suitability checks only at this stage of the process to determine whether you are eligible to become a solicitor. (Under the current process these checks are done before starting the training contract phase.)
How does the SQE differ from the QLD/GDL and LPC?
The QLD, GDL, and LPC, are all courses of study. Each has to include certain prescribed subjects, but the details of the courses and the assessments are set by the course provider.
The SQE is fundamentally different, as it is just a set of exams. These exams will be set by Kaplan and all students will sit the same SQE exams no matter where or how they did their studies. Any degree or other qualifications/exam results will be irrelevant under the new regime, except to show you have a degree or equivalent in some subject – the SRA will only use your SQE result to check you have the knowledge and skills to become a solicitor.
Of course, you'll still need to study law and legal practice to get ready for the SQE. ULaw will have a full range of courses to prepare you not just for the SQE, but to give you the wider skills you need to stand out and succeed in the workplace.
What if I have a law degree or am considering studying LLB (Hons) Law?
Studying our LLB will mean you are prepared for the new Solicitors Qualifying Examination (SQE 1) or to progress onto our Bar Practice Course (if you wish to qualify as a barrister). Law degrees are also still a great foundation for careers in law, business and a huge range of careers.
Whilst Studying a law degree will not exempt you from the SQE assessments (except possibly for some EU nationals working in the British legal profession who are already qualified in other jurisdictions – depending on the agreement ultimately reached on access to the single market and the terms of Brexit), the foundational subjects studied on a law degree: crime, contract, tort, land, equity, constitutional and administrative law and legal systems will all be assessed in the new centralised SQE 1 Functioning Legal Knowledge Assessments, along with new subjects previously studied on the LPC in stage 1. This means studying the foundational subjects in either a law degree or some form of law conversion course akin to the GDL, will still be required in order to successfully pass SQE 1. The University of Law's LLB will include all the foundational subjects assessed in SQE 1 and will include modules designed to help you prepare fully for the other subject areas covered in SQE 1.
What if I'm part way through my training when the SQE starts?
Because it is going to be a long transition, the SRA are proposing a period of eleven years from when the SQE starts for anyone who has already started their training to be able to qualify under the current process. So if the SQE starts in 2021 as planned, current students will have until at least 2032 to continue on either route to becoming a solicitor. The details aren't finalised yet, so keep an eye out for any announcements, but you really don't need to worry – as long as your law degree or GDL started before the SQE does, the SRA have said they will permit you a reasonable period to complete and qualify.
On the up-side, once the SQE does begin, anyone who wants to switch to that new route to qualification can do so. So if you've started your legal studies before the SQE comes in, you can choose to sit the SQE and do QWE instead of a training contract. This means you can wait to see what the SQE looks like before making your mind up as to which route to follow – as long as you've started before the SQE is launched.
What will the SQE look like and cover?
Some details such as the number of exams, the topics they will cover, and when/how often the exams will take place, are still uncertain and subject to review.
The SRA have published some proposals, and we do expect that the SQE will have the following key features:
SQE stage 1 is likely to have six multiple choice question exams (to test legal knowledge and practice) and one written exam (to test legal research and writing skills).
All the SQE stage 1 exams will have to be taken in the same assessment window – and so cannot be spread out over several months or years.
All the SQE stage 1 exams will have to be taken on a computer.
SQE stage 2 is likely to consist of ten assessments in total (five different types of assessment, taken in two different practice contexts), and will test legal skills such as interviewing or legal drafting.
Candidates may have a choice of sitting all ten assessments at the same time, or in two groups of five.
Some SQE stage 2 exams will be taken on a computer, and others will take the form of role plays.
Is there anything I need to do now?
There is nothing you need to do at this stage. Exactly when the SQE will be introduced, and what it will involve, are still uncertain. We do know that it will not be until 2021 at the earliest before it comes in, and that once it does anyone who starts their studies beforehand will be able to choose which route they follow.
What's most important will be to keep yourself updated as things develop so you can make decisions when the time is right, and be knowledgeable and informed about the SRA's proposals when talking to potential employers.
How will SQE changes alter the Solicitor Apprenticeship route?
The SQE is integrated into our Solicitor Apprenticeship; you will complete SQE 1 in year 5 and SQE 2 in year 6. If you successfully complete our Solicitor Apprenticeship you will also gain an LLB (Hons) Law in Legal Practice and Skills.
Find out more
If you would like to find out more about the SQE and how it might affect your studies, why not check out our blog?