Print service
The University operates using Multi-Functional Devices (MFDs) which perform the printing of A3, A4 black, white and colour printing.
For more guidance on how to release a print item or scan an item to email, please download our quick guide.
Print anywhere
You can send your item to print using any device by email and over the internet. Your printing can be released within 24 hours from any of the MFDs using your Student ID card and the Follow-You service.
Enter your login details
Click 'Web Print' from the menu on the left
Click 'Submit a job'
Select one of the last two options from the printer list for colour or mono. Then click 'Print options and account selection'
Select how many copies you want then click 'Upload documents'
Select files you wish to print then click 'Upload & Complete'
Photocopy & scan
As well as printing, the MFDs can photocopy and scan your items.
Paying for printing online
You can pay into your print account with a credit or debit card using PayPal. There is a minimum card payment of £10.
Make a payment
Follow-You printing
Follow-You printing means that you are in control of what you print, when you print it and which printer you use. All printing is handled centrally and you choose which printer you release your printing to.
The Follow-You print default queue is set to duplex (double sided) and mono (black & white). If you wish to print in colour then you will need to change the print queue to Print.Colour. Please ensure you have the correct settings before sending documents to print.
Print charges
Student accounts are pre-loaded with £15 credit which is equivalent to 300 mono single sided A4 pages.
Lost or stolen cards must be reported to Student Information who will issue you with a new card as soon as possible. Please note there is a £10 charge for replacement cards.
Print Costs
A4
Black and white (mono) - £0.05
Black and white (duplex) - £0.10
Colour (mono) - £0.15
Colour (duplex) - £0.25
A3
Black and white (mono) - £0.10
Black and white (duplex) - £0.15
Colour (mono) - £0.25
Colour (duplex) - £0.50
PaperCut: Topping up Print Credit
Topping up credit in PaperCut can be quickly done through a browser - using PayPal or a Debit/Credit Card.
Log onto webprint.law.ac.uk or click the Add Printer Credit link in Elite in a web browser and log in using your ULaw username & password.
From there, you will see "Add Credit" on the left side, clicking here will display your username and current balance.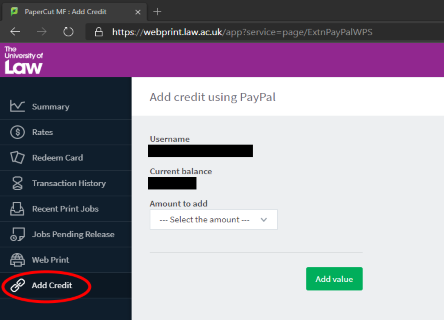 The "Amount to add" dropdown allows you to add credit in denominations of £1, £5 or £10 – choose the amount you wish to credit your balance with and click "Add Value".
This will take you to the PayPal page, with a confirmation of the value you chose in the top right corner.
From here – you can either log into your PayPal account or choose to pay by Debit or Credit Card.
You will receive an emailed receipt of your transaction when complete.
Problems with printing?
Please email the IT Service Desk or telephone +44 (0)1483 216666.