Thank you for choosing us. We're very pleased to welcome you to The University of Law and The University of Law Business School.
We want to make sure you're ready to go as soon as your course starts, so we've compiled everything you need to know between now and the start of your course, from booking your accommodation to getting your joiner pack and finding out what you'll be doing when you start your course.
Congratulations on joining ULaw, rated top university for student satisfaction in England in the 2020 National Student Survey.
Things to do before you start your degree
Please read each section of this page carefully, as it contains important information and instructions for you to prepare for your studies.
Covid-19 Advice and Updates
We're focusing on your safety, so you can focus on your studies. These are just a few of the measures we are implementing:
Tutors when teaching will wear protective visors and elsewhere the use of masks will be mandatory while on campus. We have these available at reception or you can wear your own,
Entry thermographic camera allowing us to do temperature checks on arrival in campus,
Social distancing with clear markers on the floors.
Proof of Eligibility
In order to be able to start your course you must have an unconditional offer. If your offer is still conditional, you must provide evidence to our Admissions team that you have met all the conditions of your offer before your course starts. Please log into the Applicant Portal to upload your qualification evidence. The link to the portal can be located in your offer email. If you are not going to be able to meet the conditions of your offer before your induction, please contact us as soon as possible.
Email: admissions@law.ac.uk
Phone: 0800 289 997 (UK) or +44 (0)1483 216000 (international)
Set up your student email account
From now on we will send all key information to your ULaw student email address and it is therefore very important that you regularly check your account.
You will have received the details of your account in your confirmation email:
Download our Acceptable Use Policy ➔
Book your accommodation
Now that you've accepted your offer, you can enquire about booking a place in University-nominated accommodation, or look for private accommodation.We will provide support to help you find suitable accommodation. We have an online accommodation portal which provides helpful advice on choosing a property to rent and provides a property listings search for students who have accepted their place with us.
We have reserved accommodation for our students with some of the UK's leading student accommodation providers, who pride themselves in ensuring that you have a safe, comfortable place to live while you're studying at The University of Law.
If you need any help or advice finding somewhere to live while you're studying with us, or if you have any questions about how to use Studentpad, please do not hesitate to contact our accommodation service.
Email: accommodation@law.ac.uk
Phone: +44 (0)1483 216067
Fees and Funding
Find out what you're eligible for
If you haven't done so already, you need to find out what financial support is available to help you fund your studies. This includes loans from independent third-parties and scholarships which the University offers eligible students. More information on fees and funding, as well as our scholarships can be found on our website.
Apply for student finance
Now that you've made us your firm choice, you can apply for financial support from the Student Loans Company (UK and EU students only). Make sure you apply as soon as possible to avoid any delays in receiving your financial support in September. Details on eligibility and how to apply for student finance can be found on the UK government website.
EU students
If you are a student from the European Union (EU), you will need to submit a paper based application. The forms and guides are available from the UK Government website for students from other EU countries.
For further information, visit the student finance website for your region.
Pay your tuition fees
Whether you are planning on taking out a loan from the Student Loans Company or funding your studies yourself, make sure you know how and when you will need to pay your tuition fees. Details on how to pay your fees and payment methods can be found on our website.
For more information and advice about fees and funding at the University, contact our Student Finance Team.
Email: studentfinance@law.ac.uk
Telephone: +44 (0)1483 216380
Disability Support and Inclusion
We strive to provide courses and support that are suitable for students with disabilities, mental health conditions, learning difficulties or other medical condition.
If you require any assistance or adjustments regarding any course, library or exam activities, we encourage you to contact us as soon as possible so that we can ensure all your needs are met before you start your course.
We can also arrange for you to have a specific learning difficulty (SpLD) assessment with the Educational Guidance Service where appropriate. There is a £75 student contribution fee for this service.
Email: disabilitysupportservice@law.ac.uk
Phone: +44 (0)1483 216657
Disability Support and Inclusion Service ➔
Employability and careers
It is never too early to start thinking about your career. As soon as your place is confirmed you will have access to our Employability Service. This includes our vacancy database, expert support and guidance from our careers team, and useful employability programmes that can help you prepare for your career.
All of our campuses have dedicated employability staff who you can contact with any questions you may have. You can find full contact details on ELITE by following the links to Employability.
Pre-course preparation
Once we've confirmed your place, you will be sent an email with ELITE login details.
ELITE is our online learning resource system, which you will use throughout your studies.
Through ELITE you can access the Employability, Careers and Library services, find out what's going on at your campus, how to pay your fees and access all your online learning and support materials.
Before your course begins, work through the SkillsforStudy 'Getting Ready for Academic Study' module (available via ELITE (INSTITUTION PAGE) > STUDENT SUPPORT SERVICES . MACMILLAN SKILLS FOR STUDY). This will provide an introduction to what is typically expected of students at university level and how to prepare.
How to use Skills for Study video
Enrol online
Prior to your course start date you must complete your online enrolment form through Elite. You will receive an email to let you know when this form becomes available. To complete the enrolment form as quickly as possible, you will need to have the following information ready:
A recent digital passport style photo
Your term-time address
Your emergency contact's name and telephone number
Details of your qualifications
Right to Study
We will need to check that you have a valid right to study before you can enrol on your course. Please refer to the University's Right to Study Policy for further details on what is required.
In order to verity your Right to Study, you will be asked to upload the following in advance of your course start date (further details will be sent by email so please keep an eye on your Ulaw inbox):
Your passport.* Students from within the EEA can provide a national identify card as an alternative. If you do not have the identification listed, please contact the Student Information team at your chosen campus urgently for advice. We will be unable to register you if you do not provide this information prior to the start of teaching. It's essential that we assist you in resolving any issues in advance.
If you are an international student, you will also need to provide additional details (see Right to Study Policy)
*Your passport/identity card will be retained for our records. All documentation will be stored securely in accordance with the University's Data Protection & Retention Policies.
Phone: +44 (0)1483 216588.
Email: visacompliance@law.ac.uk
Student life
Your Wellbeing
The University offers a number of services to support your wellbeing during your studies including our Welfare and Counselling Services. We aim to ensure you are supported in managing any problems which you may face to achieve the best outcomes from your course.
Sign up to get Money Ready for Uni with our partner Blackbullion and take part in fun challenges to make sure you get the most out of your money whilst studying.
You can find more information about our Wellbeing Services on ELITE.
Go to the Student Hub tab, Health and Wellbeing.
Student Association
By becoming a ULaw student you will automatically become a member of our Student Association, giving you access to all the social activities, clubs and societies going on at the University.
You will be able to set-up and/or join clubs and societies on your campus. These are student-led groups that put on events throughout the year for their members which are all ULaw students. Societies leaders have the opportunity to be a community leader and have a say what student life is on campus.
You can find all of the current clubs and societies of The University of Law on the Student Association website here.
International students
Whether you are an international student already in the UK or moving from your home country to the UK, we are here to help you settle in and make your stay an enjoyable and rewarding experience.
It is important to be as prepared as possible, so you should allow yourself plenty of time to apply for your visa, arrange flight details, sort out accommodation and ensure that you have all the necessary travel and study documents you will need to show the appropriate authorities.
Immigration and visas
If you wish to study at The University of Law and you are not an EEA or Swiss national, you will most likely require a visa in order to study in the UK.
It is the responsibility of all students from outside the EEA to ensure you have a visa covering the full duration of your course. If your visa application is refused, please send a copy of the refusal notice to International Student Advice (visaadvice@law.ac.uk) as soon as possible. We can then advise you further.
Find out more about immigration and visa requirements ➔
Very few students have problems at immigration, but if you do you can contact International Student Advice. We are available Monday to Friday, 9am to 5pm UK time.
Freshers' Week

Freshers' Week kicks things off during your first week with a variety of online events to help you get to know your tutors and fellow students.
Course materials
Remember, there is no need to buy any course materials in advance as all subject reading will be provided online at no additional cost.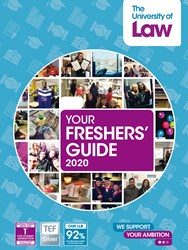 Freshers' Guides
Our handy guides help to introduce you to your campus, the team and the local area when you are able to explore.
Discover more