CURRENT ROLE
Barrister at 9 King's Bench Walk
EDUCATION BACKGROUND
BPTC/LLM at The University of Law

GDL at The University of Law

Undergraduate degree at Cambridge University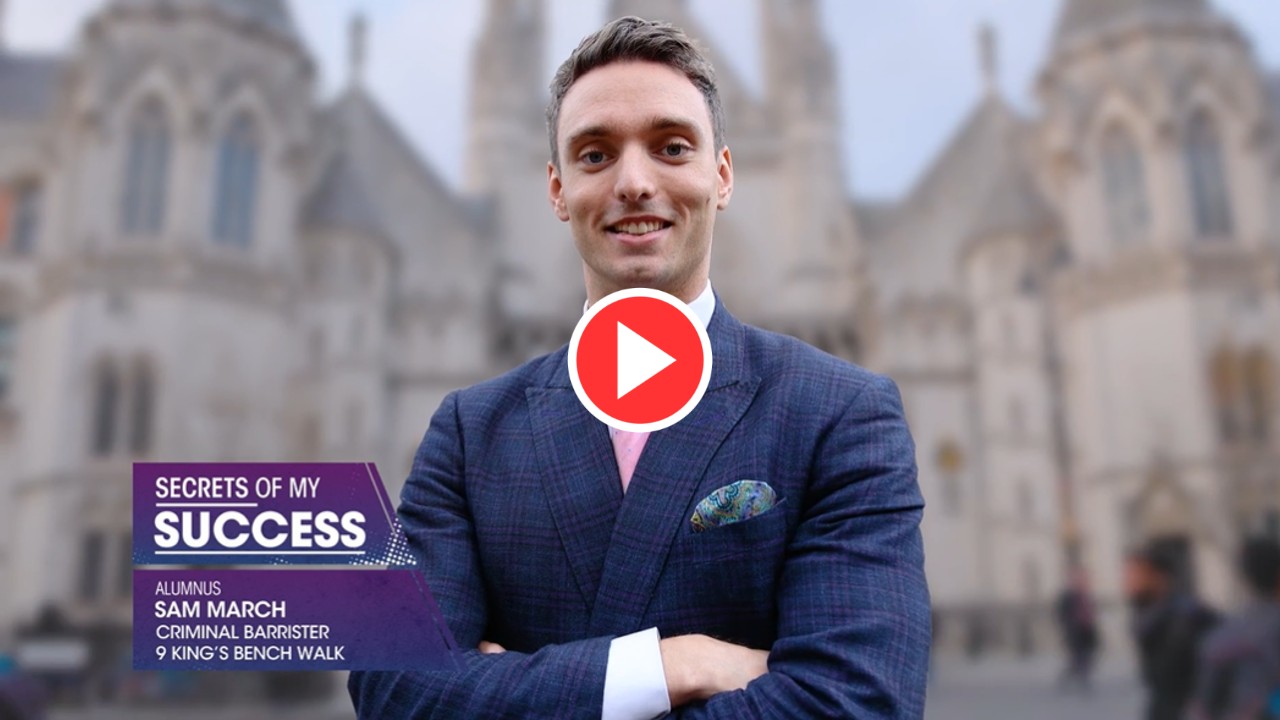 Samuel March studied the GDL (now the PGDL) at our Moorgate campus before going on to study the BPTC/LLM (now the BPC) at Bloomsbury. Since graduating he's become a criminal barrister and founder of animal and eco-friendly company Hemp & Hemp. We caught up with Samuel to discuss the areas of law he is most passionate about and learn what life is really like as a barrister.
From quite a young age I wanted to be a primary school teacher, possibly because I have such happy memories of primary school. I studied education with drama and English at Cambridge University, but during the course of my undergraduate degree, my passion for teaching waned. By my final year, I had switched to studying business management instead. From that point, I was just desperate to enter the workforce and got the first job that came my way in a social media marketing firm. I spent the next 5 years or so working in a variety of digital marketing and communications roles. But increasingly found myself feeling disenchanted with my career and lacking meaning, purpose and pride in what I did.
Aged 26, I did some thinking about my life: what I enjoyed, what I was good at, what I cared about. I decided the best way to use my academic background and skills to put them towards the issues I cared about such as social, criminal, environmental and animal justice was to retrain as a lawyer.
I am a criminal barrister in Chambers at 9 King's Bench Walk. I accept instructions in a wide range of general criminal matters, dealing with offences involving drugs, sex, violence and more. I also do some regulatory work.
I am rapidly specialising in animal protection law and defending allegedly dangerous dogs. Over the last year, I have had instructions to prosecute allegations of illegal fox hunting or animal cruelty. I have frequently represented the owners of dogs who face a presumption of court-ordered destruction. These are life and death cases for the animals involved.
I am proud that, so far, and long may it continue, I have managed to avoid a dog destruction order in every case I have acted in. This is often far from a given and has involved last-minute late-night calls to sanctuaries who might be willing to take on dogs in cases where the defendant is not a fit and proper person for them to be released back to.
Whilst that is my day-to-day work, I am better known as the inventor of plant-based hemp wigs for vegan barristers. I trade as Hemp & Hemp and have committed to donating all profits from sales to causes that use the law to further animal protection.
Barristers have to wear wigs during trials in criminal court, and these are traditionally made from horse hair. As a vegan, I oppose all forms of animal exploitation, from gratuitous cruelty like bullfighting or fox hunting, to the industrial-scale cruelty of factory farming, to more subtle forms of cruelty which nevertheless involve the ownership and commodification of animal bodies. For me, horse hair is at the latter end. It is conceivable that there are ways this could be taken without immediate physical pain, but that does not mean it is not exploitation.
When my call to the bar was approaching and I was looking at options for wigs, the only options without animal products were synthetic and had to be shipped from as far off as Australia. As an environmental advocate, that did not appeal to me either. As someone who no longer gets on planes, I wanted to keep things as local as practicable.
So I had one specially made for myself out of hemp. I found a hemp supplier and reached out to a craftsman who makes wigs, and we worked together to make a prototype. When I posted about that on social media it went viral, and other vegan barristers and students asked how they could get theirs. I decided to set up a small side hustle so that others could access these too.
My wigs are made in the UK by a member of the Guild of Master Craftsmen. I source the hemp from a supplier who assures me that the hemp is all grown in the EU and is sourced from a cooperative that combines the crops of small groups of farmers. These farmers produce their hemp crops as naturally as possible with the best intentions for the environment. Everyone involved in the growing and producing of the fabrics is given above average wages for the industry.
I have spoken to the wigmaker and we are pretty confident we could make judge's bench wigs and/or full bottoms wigs next, it's just a case of finding the first clients. I would also be interested at some point to work with a gownmaker on making gowns from hemp silk, because silk is not vegan.
The pressure at the junior bar can be extreme. In a normal job, I might be making far more ambitious plans for growing Hemp & Hemp. The reality, for now, is that as long as the option is there for vegan barristers, it is doing its job. Since the initial news reports about Hemp & Hemp, I have already noticed other wigmakers offering plant-based options as an alternative to animal-based or synthetic fibres. Others might see that as a threat, but the way I see it, every plant-based product sold is a good thing, regardless of who sells it.
I am in court almost every day, and often I do not know what court (or even what town), how many cases, or what kind of case I will be doing the next day until 18.30 the night before. That means mid-week plans are routinely cancelled as I go home to prepare a last-minute trial brief, or stack of four different cases which could include a mixture of bail applications, sentencing hearings and procedural hearings. Late nights, early morning train journeys, cancelled dates and social plans, rushed meals and skipped workouts are sadly inevitable parts of the job.
I am self-employed and free to ask my clerks to put in the occasional day to catch up on paperwork, or just take a rest. Doing this means I will not be paid that day, so it is an option to be used sparingly.
That being said, as soon as I finish in court on a particular day (which is sometimes after only 15 minutes in court), I am free to go home and get on with paperwork. I can walk the dogs, catch up on mixed workouts and chores…at least until 18.30 when tomorrow's papers come through.
The University of Law offered a clear and navigable route for career changers and offers practical courses taught by practitioners with recent or current experience. It has a formidable careers service that helps make sure that students are not wasting their time and that there are viable job opportunities at the end of it all. The whole set up is geared towards not just passing exams but securing pupillages and training contracts.
Between the GDL and BPTC, I had a string of passionate lecturers, at least five of whom were instrumental in me achieving a distinction in the GDL (now PGDL) and 'outstanding' in the BPTC/LLM.
Employability Consultant Anna Williams, the bar careers specialist, was a constant source of support, inspiration and assistance throughout, and played an instrumental role in helping me secure BPTC scholarships and even getting an offer of pupillage before even starting the BPTC.
Before I secured my role, after my GDL, I did a mini-pupillage with 9 King's Bench Walk and found everyone I met there to be warm, welcoming and fun. I stayed in touch with both Heads of Chambers, who continued to encourage and support me through my applications for pupillage. Because I was applying so early, applying to 9 King's Bench Walk was not an option. At the stage I was applying, you had to at least be on the BPTC and I was applying before I started.
I was successful at securing pupillage at a top criminal set and I learned a great deal there. I worked with some very talented barristers, but it was not quite the right fit for me. At the end of pupillage, I was offered a "third six" rather than tenancy, which was disappointing and confirmed to me that it was not the right fit. I reached out to 9 King's Bench Walk and explained the situation and I was encouraged to apply there instead. After a short 2-3 month probational tenancy, I was offered tenancy and I have been very happy here ever since.
If you are interested in working at 9 King's Bench Walk, apply for a mini-pupillage. Come and meet the team and get a real sense for Chambers so that you have genuine and sincere things to say in your application and interview.
To be a successful barrister you need good judgement, rigour, academic ability, spark, determination and people skills.
To break into law, go to networking events and try to make friends with people a few stages ahead of you in their journey. Take details or follow people on social media, ask relevant and engaged questions and don't be afraid to ask for help or take people up on offers for help. Most people had help along the way and enjoy paying it forward.
In the next few years, I predict more chaos in a collapsing criminal justice system. A lack of court time, a lack of advocates, and a drain on young talent as barristers are forced to diversify or switch to more lucrative practice areas. It is a challenging practice area which makes huge demands on those involved with it, sadly, often with little financial incentive.
If I could give my 18-year-old self any advice, it would be - enjoy your time as an undergraduate, make friends and make memories. Don't stress or work too much, just get that 2.1 and you can figure out your career once you're mature enough to put in the hours.
Learn more about our BPC course and supporting scholarships and bursaries.
Set for Success Hub
Find out more about how we help set you up for success.
Find out more
Our Alumni Profiles
If you enjoyed this article, why not check out some more of our alumni profiles?
See more