EDUCATION BACKGROUND
Bar Vocational Course, The University of Law (1998)
CURRENT ROLE
CAREER PROGRESSION
Director of Forensic (Financial Advisory), Deloitte UK (2017 - 2020)
Director of Transaction & Compliance Services - Merrill Corporation (2015-2017)
Director of Forensic Services - PwC UK (2011-2014)
Commercial Director, Litigation Support - Merill Corporation (2003-2011)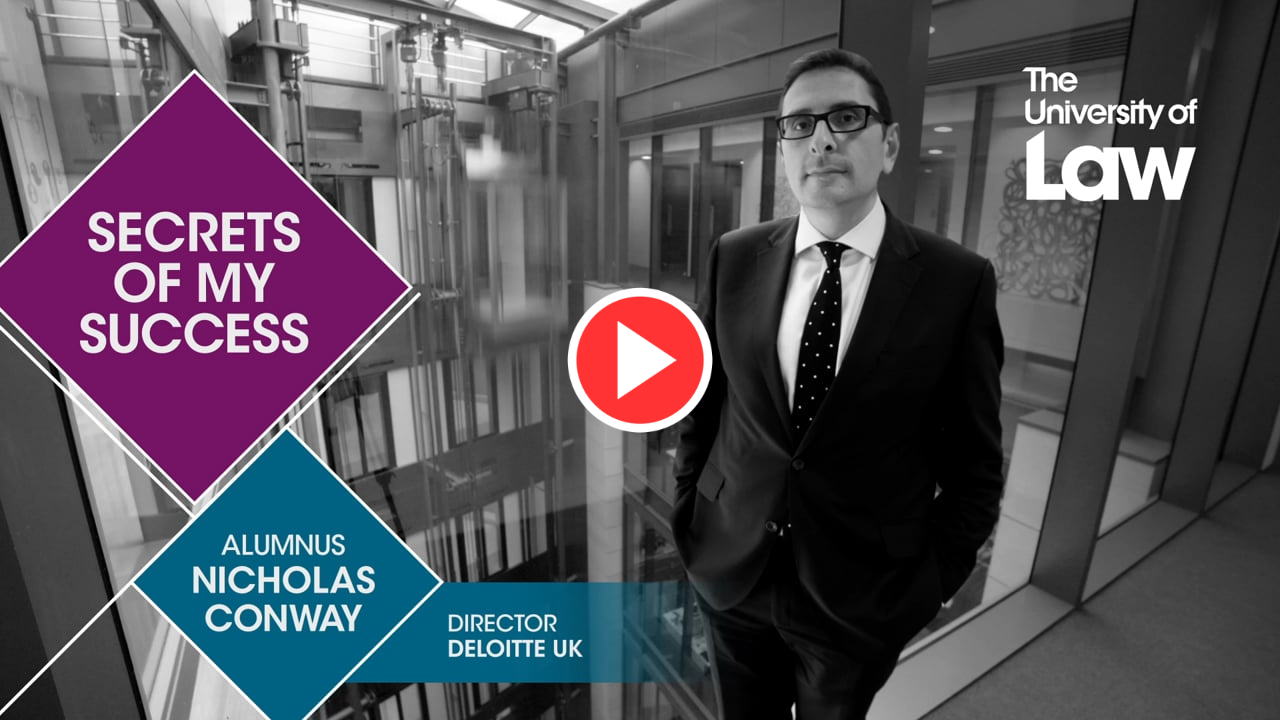 Nick Conway studied the Bar Vocational Course with ULaw and graduated from ULaw Moorgate campus in 1998. He is currently a Director within the Forensic Technology practice at Deloitte and has significant experience in providing clients with solutions to help manage sensitive and high profile, data-heavy matters.
At the point of starting the Bar Vocational Course (BVC), I decided that I wanted to be a barrister. I was interested in the law and the application that it had to all aspects of every-day life. Why the Bar? I didn't want to be what many describe these days as a 'paper lawyer'. I enjoy the thrill of public speaking coupled with client interaction and complex problem solving and (rightly or wrongly at that time) I felt that the Bar offered a greater opportunity to be exposed to that, rather than heading down the solicitor avenue.
My early career ambitions were mixed. I arrived late to the Bar (I was 26 when I qualified). For a number of years prior to attending university, I worked in the commercial retail management industry for a very well-known high street chain. In the mid-90s I decided that I didn't want to do that forever, so changed tack and headed off to university to read law.
I am currently a Director in Deloitte's Forensic Technology practice. I work with law firms, banks and corporates providing technology solutions to manage sensitive, data-heavy regulatory investigations and large-scale litigation. Having worked for more than 20 years in the legal and technology industries I have built an extensive network of contacts. I was fortunate enough to have been introduced to Deloitte via a third-party head-hunter.
The type of engagements that my colleagues and I work on are frequently crisis-led, often varied and almost always iconic. To work at Deloitte you need to be agile/adaptable, have clarity of thought, be inspirational to others (especially when in a leadership role) and demonstrate that you are able to deal with pressure situations. Most importantly, one must have a high degree of emotional intelligence and demonstrate integrity with an honest, open and respectful approach when dealing with clients, colleagues and suppliers.
I have been lucky to have many high points throughout my career. Probably the one stand out moment for me was having my parents present at the Honourable Society of the Middle Temple on the day that I was called to the Bar.
My day starts with an alarm call at 5.45am and the obligatory glance at overnight emails. I take the family dog out for a quick walk at 6.15am and head to catch the 6.47am train into London. I usually arrive into work by 7.30am and get a good hour to myself before many others arrive. I use that quiet time to review priority tasks for the day which could include re-confirming upcoming client meetings, engagement reviews, new proposition developments, planning for internal meetings, status checking of RFP responses or preparation for an upcoming marketing event. The list varies from day-to-day and comprises one or all of the above, depending on the day. On days where I don't have evening events with clients (I usually have those a couple of times per week) I head home from the office at about 7.00pm, partly due to workload but also because I miss the craziness of rush hour. I'm usually home by about 8.00pm and get to spend a few hours with my family before heading to bed at about 11.00pm and then it starts all over again a few hours later.
I remember really enjoying the course at ULaw and the fact that it had a good blend of academic and vocational content. Strange as it might sound, prior to the inception of the BVC at ULaw, trainee barristers had little experience of advocacy, negotiation or client conference management. The fact that the BVC provided this, definitely built a solid foundation upon which young barristers could build the practical experience required to successfully navigate their early years at the Bar.
The best advice I could give to students keen to work at Deloitte is research. Research. Research. Ask yourself why you'd want to work at Deloitte. Deloitte is a fantastic place to be and there are so many employment opportunities. Take time to understand the composition of the firm as that will naturally pinpoint where you might be best suited to apply.
Find out more about ULaw Undergraduate and Postgraduate Law Courses.
Set for Success Hub
Find out more about how we help set you up for success.
Find out more
Our Alumni Profiles
If you enjoyed this article, why not check out some more of our alumni profiles?
See more