EDUCATION HISTORY
BSc (Hons) Chemistry (2.i) 1999;
PhD Chemistry 2002;
Postgraduate Diploma in Teaching and Learning in Higher Education 2008;
GDL (BPP - part-time) (Commendation) 2010;
LPC (Distinction) 2011
CURRENT ROLE
Senior Legal Counsel at Aviva
CAREER PROGRESSION

Senior Legal Counsel, Aviva
Secondee, Bupa
Solicitor, Pinsent Masons
Associate, DLA Piper
Secondee, Goldman Sachs
Trainee Solicitor, DLA Piper LLP
Lecturer in Pharmaceutics, Aston University
Teaching and Research Fellow, University of Bath
Senior Research Fellow, University of London
Research Fellow, University of Greenwich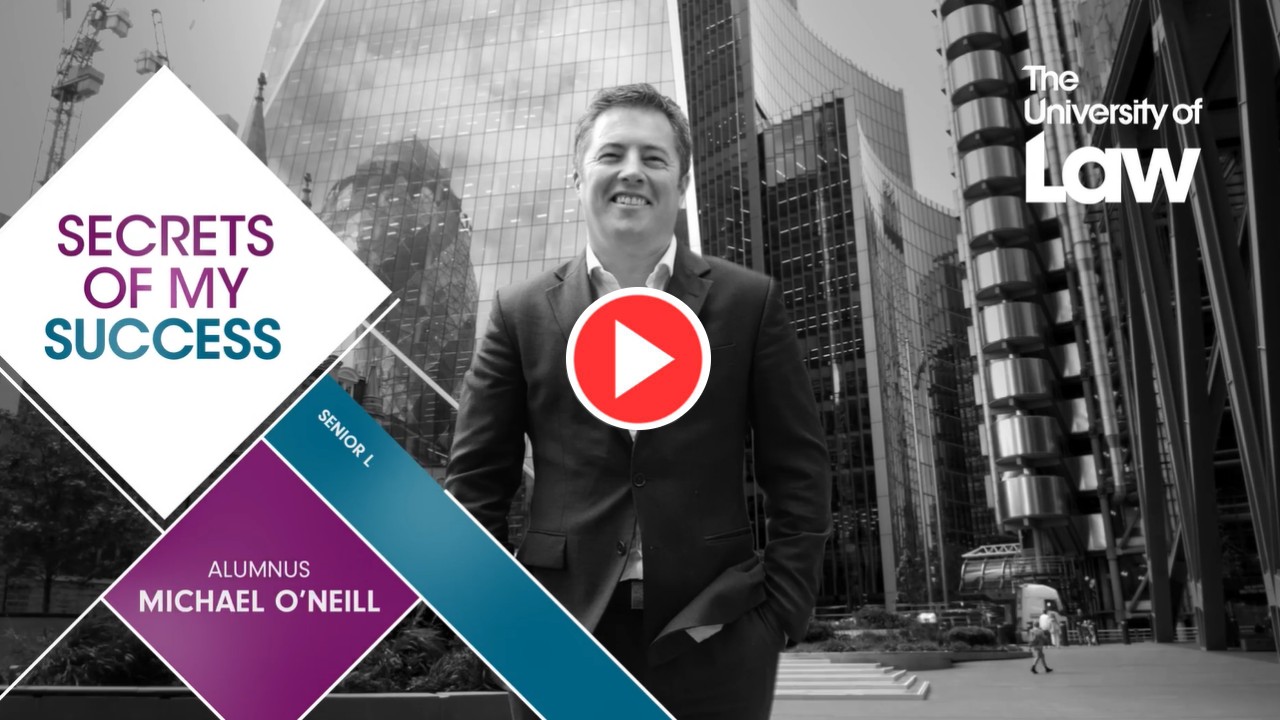 ULaw alumni Michael O'Neill joined us in 2011 to study the LPC. Since then, he's gone on to have an incredible career with companies including DLA Piper, Pinsent Masons, Bupa and Aviva. We caught up with him to discuss his career path and get his advice for students wanting to follow in his footsteps.
My role as Senior Legal Counsel UK General Insurance primarily assists the business with distribution of our general insurance products. I assist with the drafting and negotiation of a wide variety of contractual arrangements. These range from strategically important deals, down to non-disclosure agreements and standard terms of business. I also provide advice and guidance on a variety of regulatory and legal matters relevant to the wider business, including Brexit planning.
I chose to study with ULaw partly because of the strong reputation and brand it had (College of Law at the time), as well as its great facilities in a great location. The fees were also competitive at the time. The level of tutor support was excellent – tutors were willing to provide additional support outside of lectures and tutorials. They were friendly and brought a real-life perspective to the material they were teaching. I think most of my tutors were previously in private practice.
Apart from the obvious technical knowledge you acquire, ULaw also helps you develop techniques for applying that knowledge and presenting the resulting advice and recommendations in an easily digestible format. This is crucial to become a successful lawyer. I also think that the network you build during your time there is invaluable. You and your peers are the next generation of leaders and having and maintaining those connections will become extremely important as you progress through your career.
Being a lawyer is my second career. I was previously a successful research scientist and academic in the field of pharmaceutical chemistry. I qualified as a lawyer in my early 30s, training at DLA Piper. There, I joined the Litigation and Regulatory team as a newly qualified solicitor. I worked at DLA Piper as an associate for approximately three years where I got a broad range of contentious regulatory experience, including some white-collar crime exposure. I was seconded to Goldman Sachs as a legal workstream lead on a compliance project related to investigations into foreign exchange (FX) trading practices. I joined Pinsent Masons' Regulatory Group where I focussed more on non-contentious advisory matters. Following a secondment to Bupa, I decided to make the move in-house and joined its UK Insurance legal team where I focussed on distribution and regulatory matters. I followed my current manager (Alison Gammon) from Bupa to Aviva in 2018.
My journey into law was a long one. I finished my PhD and considered training to be a patent attorney, but I soon realised that wasn't right for me and I started to look at becoming a solicitor. I got offered my first post-doctoral position at the same time and forgot about the law for some time. I eventually realised that I didn't want to remain in academia for the rest of my career (I got disillusioned with university fees; ever increasing commercialisation of research etc.), so I chose to follow my original idea of becoming a lawyer. It was partly a decision borne out of a desire to learn something new. I am, (or was, before I became a lawyer, when I had the time) a habitual student. I was also motivated to embark on a career that I would be happy with through to retirement. The intellectual challenge of requalifying and the prospect of being challenged on a daily basis was a very strong pull for me to follow the law. I haven't been disappointed in that respect.
I initially wanted to train and qualify at a Magic Circle firm, but my educational background (A-levels) wasn't good enough. I decided to focus my applications on Silver Circle and large multi-national firms. It just so happened that DLA Piper was the first firm I applied to and I got an offer. I initially thought I would utilise my science background to qualify into DLA Piper's Life Sciences team, but this changed having completed a seat in the Litigation and Regulatory team. As a second career lawyer, and being much older than my peers, I never really considered becoming a partner as the timeline didn't really fit. I knew that, ultimately, I wanted to go in-house at around five/six years post qualified experience (PQE) as a regulatory specialist, but having been made an offer by Bupa (for a team that I really enjoyed working with during my secondment), I decided to bring that timeline forward. I also had to accept that I would need to become a bit more of a generalist. It also coincided with me becoming a dad for the first time. That extra flexibility and lack of billable hours pressure meant that it was the best career choice I have ever made. I joined Bupa as a Senior Counsel and since then have been steadily working towards taking on a leadership role. Having more of a general background helps with having options as to what kind of role I take next, be it a compliance, risk or legal role.
There have been several highlights during my professional career. I acted on what was (and probably still is) the largest PPI regulatory investigation at the time. I was part of a two- lawyer team that successfully defended an individual from insider dealing charges; and being lead lawyer on a contract worth over £700m. From a personal/development perspective, I still think qualifying was the proudest moment for me. I had completed the GDL part-time (self-funded) whilst working full-time and completed the LPC without any additional financial backing - making the whole three years a bit financially stressful. Qualification at DLA Piper was highly competitive and we were still feeling the effects from the 2008 financial crisis so nothing was certain.
Aviva is very focussed on its employee's physical and mental health and provides a top-class suite of support materials including things like subscriptions to mindfulness apps; onsite gym; mental health support etc. In addition, it has a flexible approach to working practices. Before Covid-19, employees could work from home one day a week (more by agreement with line managers) and there was flexibility always available with altering working hours to accommodate childcare or being a carer. Once the return to work is complete, these flexible practices will continue with greater freedom to work away from the office. There is no expectation of 'facetime' in the office – people are judged on the quality of the work they do and the results they achieve. The work/life balance at Aviva is, in my opinion, second to none. I have been very fortunate to be able to take advantage of Aviva's parental leave policy, which provides all employees the opportunity to take six months parental leave, fully paid. Aviva is a very inclusive employer and it is highly focussed on ensuring that it remains an inclusive and diverse employer.
Skills needed to work in-house
I think the following are important for my in-house role:
Strong knowledge of the regulatory frameworks within which we operate:

The regulatory framework tends to be outcome driven rather than rules driven and there is always a degree of ambiguity in the application of the framework.
Lawyers need to be able to deal with ambiguity and provide commercially pragmatic advice that is compliant with regulation and law – naturally there is often a degree of conflict between commerciality and reg/leg.
The framework constantly changes – sometimes in significant ways. This requires insurance lawyers to constantly learn and evolve their thinking and approach to their day-to-day work. I personally have been through at least three or four major regulatory change programmes in my career to date plus countless other 'minor' changes.

Clarity of advice – we deal with complex and ambiguous topics and it is easy to become bogged down in detailed complex arguments. The business generally wants a clear piece of advice with clear recommendations.
Commercial mindset:

Whilst the protection of our customers and conformance with the regulatory and legal frameworks within which we operate is paramount, we also have to conduct business in a profitable manner. This requires our lawyers to ensure that all our obligations are met, but that we help the business to find commercially acceptable solutions to issues that may arise.

Ability to prioritise tasks:

In-house lawyers tend to be inundated with a multitude of requests for ad-hoc advice as well as more long-term projects. Sometimes prioritising these tasks can be difficult. Everyone's task is important to them, but it is up to the lawyer to prioritise as appropriate.

Soft Skills:

Personable but demonstrate gravitas (particularly when dealing with senior stakeholders).
Networking – your internal network can be your greatest asset.
My advice to students is don't worry too much about what you are going to do for the rest of your life – there are always options and opportunities for change.
If you would like to set yourself up for success with ULaw, please see our dedicated Postgraduate page here.
Set for Success Hub
Find out more about how we help set you up for success.
Find out more
Our Alumni Profiles
If you enjoyed this article, why not check out some more of our alumni profiles?
See more