EDUCATION BACKGROUND
The University of Law (2004-2005), Law Society Finals (LPC equivalent)
The University of Hull (2000-2004)
CURRENT ROLE
CAREER PROGRESSION
Senior Caseworker, Trainee Solicitor - Paragon Law
Immigration Paralegal at Cartwright King (2012-2013)
Legal Secretary - Paragon Law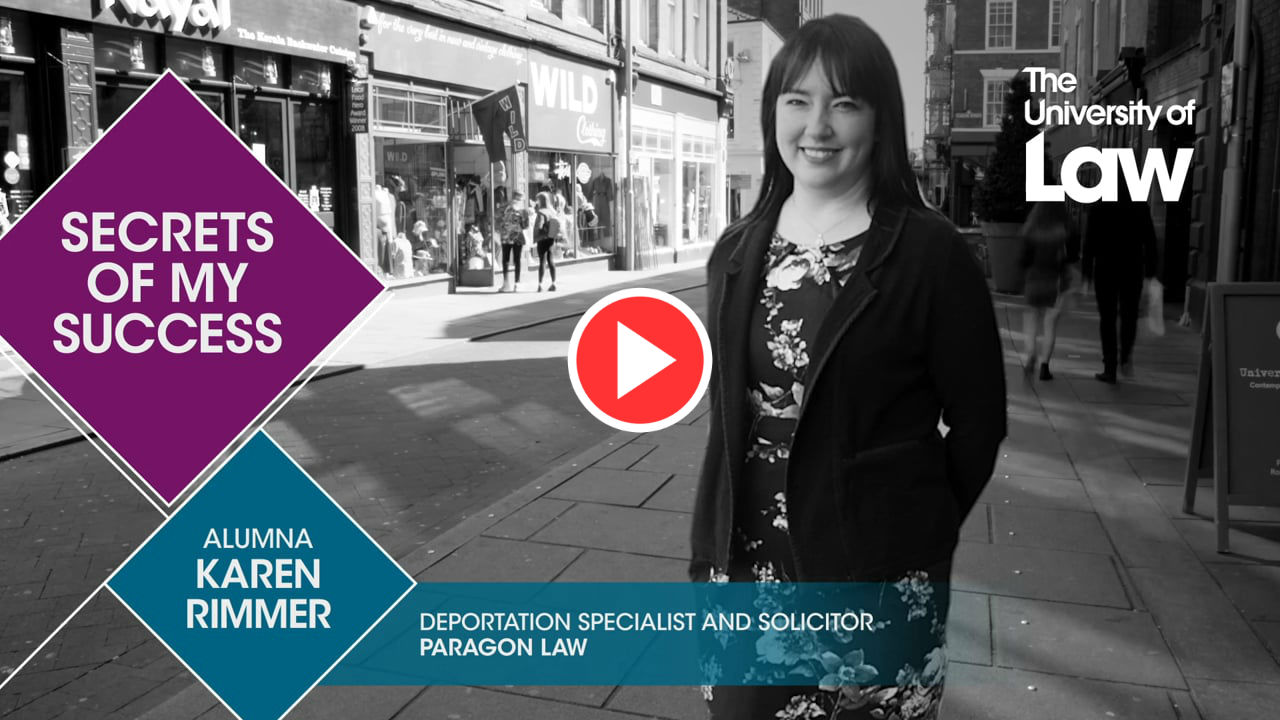 Karen Halliwell joined ULaw in 2004 to study the LPC. Since graduating, she has worked her way up the ladder from legal secretary to fully qualified solicitor specialising in immigration and asylum law. We caught up with Karen to discuss her career path and what inspired her to specialise in immigration.
I was seduced by the idea of the courtroom. Seeing how the legal dramas portrayed the courtroom on TV (albeit perhaps not true to life) had a profound impact on me as I was going through my youth and formative years. I have never wanted to do anything else.
From the age of around 7 or 8 years old onwards, I always knew that I wanted to pursue a legal career. However, what I wanted to do within the legal field changed over time. At the outset, I wanted to be a stenographer, then, in my early teens before I knew what it entailed, I wanted to be a Judge! During my degree, I knew that the reason that I wanted to do law as a career was to help others, and so legal aid based areas of law, directly assisting lay clients (as opposed to businesses) became the obvious choice.
As I went through my legal education, I heard more and more from tutors during my degree, and fellow students alike, about how The College of Law, as it then was, had the best reputation in building career professionals. Not only for preparing their students for their career with a good level of knowledge from the course, but supporting them in other practical ways.
I am a solicitor and I work for a niche immigration firm. We practice no other areas of law, although there is some crossover with public law, given how immigration matters have developed since 2012.
I am a deportation specialist, which actually mean that I assist people either with repatriating or with an attempt to remain in the UK via an application to the Home Office. I am able to advise on issues involving asylum claims, or clients may wish to remain in the UK because of family and private life reasons.
My work covers the whole of the Human Rights Act and the Refugee Convention. On a daily basis, I could be dealing with a detention issue and preparing a bail application or application for unlawful detention, or developing the preparation of a Tribunal appeal with a specialist immigration barrister. Other days, I could be obtaining an injunction from a Senior Immigration Tribunal Judge to prevent a flight or preparing a judicial review application against the Secretary of State for the Home Department. My clients could be based in the UK, or abroad. My cases cross the globe – from assisting EEA nationals, to non-EEA nationals, to British citizens on occasion. I never know what is coming next, and that is what I love most about my current position.
It took some time for me to obtain my training contract. I had worked for my employer for a combined total of 8 years before the mention of a training contract came about. This is probably partly because of the size of the firm and its policy on the number of trainees it takes at any one time. The process of getting a training contract involved a formal application, a panel interview and a Powerpoint presentation with a fictional scenario. Whilst I did not use ULaw to obtain the training contract, I believe some of the skills I learned on my LPC course did assist. Skills like mooting and advocacy practice assist with interview presentation skills. This is not a skill taught by degree and is of practical application in later life.
In my time at the College of Law, as it then was, I accessed the mooting team, the pro bono centre, and the mentoring scheme. The mooting team has undoubtedly assisted me with the presentation of my cases as I had knowledge of how to prepare a case for such a presentation. I could undertake quality research from having practised it first. The mentoring scheme allowed me to access a working professional and ask for their advice through my course. The tips they provided were undoubtedly useful, along with their support that I could achieve it too. Working with the pro bono team meant I could provide input on real life cases.
The proudest moment of my career so far was the day that I qualified as a solicitor. However, my public service, in all aspects of it, has been a particularly proud moment. My cases reaching the highest courts of the land, and changing law and policy not just for one client, but for lots of others, makes me proud. Seeing the difference one action can make never fails to astound me. I recently concluded a case that had been ongoing through the court system for 7 years.
I have had to work very hard to find a work life balance. It is not easy when cases run on a 24-hour basis as they do in my area of law. However, I have good support at home, with a supportive partner, and my children keep me grounded and give me perspective. It is important to take weekends for yourself.
I kind of fell into immigration and asylum. When I was younger, I thought my future lay in criminal law and the criminal justice system. I still have some crossover, as I work with foreign national criminals but my introduction to immigration and deportation law came when I answered an advertisement on the Nottingham Law Society website for a legal secretary for maternity cover. I stayed on for a further 5 years after that.
Interesting cases have involved finding technical legal points to try to force changes of policy. Including whether the power to arbitrarily detain foreign nationals extends to British Citizens who cannot prove their nationality by the provision of a valid passport and whether the Military Convention applies to the Immigration Tribunal.
To succeed in my area you need adaptability, resilience and determination. Immigration law changes on average around 7 times per year with various Statements of Changes coming through from Parliament at short notice. You may not always receive a good outcome but you need to be able to take from that and build on it for the next challenge.
You need to be able to read and digest information quickly and act upon it without delay. You need a good knowledge of the case law in this area. The courts regularly examine new cases which relate not only to individual countries and how their country nationals' cases should be interpreted, known as country guidance cases, but also on legal principles and how to apply them.
I'd advise law students with an interest in immigration to do some work experience in the area, outside of the law. Show your passion for helping others – it's what human rights law is all about. Consider taking positions with NGOs to build your knowledge of the area of law and what it means to work for persons affected by the legal decisions made in this area of law. Amnesty International and UNHCR are good examples of this – see the law is in practice before you decide that this is for you.
At ULaw I got good, in-depth, practical knowledge that was not provided on my degree course. I got practice at dealing with case law resources, and the development of skills like drafting, advocacy and case preparation.
Whilst Nottingham has some wonderful universities, The University of Law's new campus will offer a tailored and specialist alternative to those who want to focus their careers with a well-established and proven educator of lawyers. It will offer diversity of choice and hopefully bring some of its international connections to the region.
London has long been thought of as the legal centre of the UK. With the devolution of the High Court in immigration law to regional centres in Birmingham, Leeds and Manchester, and perhaps by creating lots of new lawyers in the Midlands through The University of Law, we can show that there is plenty of legal talents throughout the UK, not just in London.
I foresee a number of changes coming to immigration law over the next few years. The people who come to the UK as refugees are subject to international conventions and the UK is going to find it hard to change its obligations in that respect. However, for others, who wish to join spouses and children in the UK, I believe it is highly probable that we won't recognise the system currently in place after a few more years have passed. Immigration law is constantly changing and it's a political spin game. The dreaded Brexit implications are endless. It remains to be seen how and when it will happen but I fully expect that it will mean an overhaul of our current Immigration Acts and the Immigration Rules themselves. Policy changes have already begun.
Discover the perfect course for you at The University of Law.
Set for Success Hub
Find out more about how we help set you up for success.
Find out more
Our Alumni Profiles
If you enjoyed this article, why not check out some more of our alumni profiles?
See more