EDUCATION BACKGROUND
i-GDL, The University of Law (2017- 2019)
MBA, European School of Business, Reutlingen University (2003-2005)
CURRENT ROLE
Head of Commercial Compliance, dnata Travel (part of the Emirates group)
CAREER PROGRESSION
Head of Commercial Compliance, dnata Travel (part of the Emirates group) (2015-present)
Senior Purchasing Manager, dnata Travel/Emirates Holidays (2013-2015)
Manager Product Contracting Etihad Holidays, Etihad Airways (2010-2013)
Manager Agreements Cargo Services, Etihad Airways (2005-2010)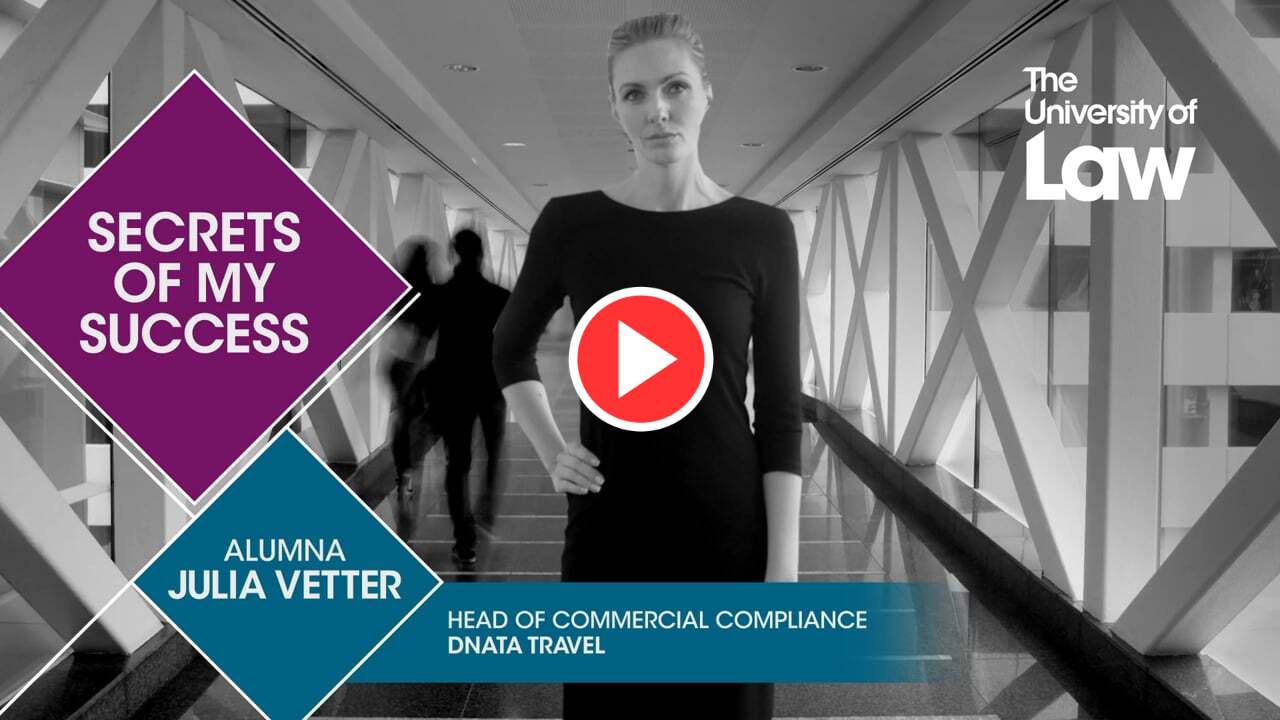 Julia Vetter has been an online student studying the iGDL since 2017. As Manager of Commercial Agreements for dnata Travel (part of the Emirates Group), she wanted to expand her legal knowledge while balancing a full-time job and the responsibilities of being a single parent. We caught up with Julia to discuss how studying online with ULaw has allowed her to further her education.
I felt that studying law would complement my MBA; adding significant in-depth academic knowledge to my commercial experience and creating the specialised expertise that I require in my current role. I have always been passionate about travel and have been intrigued by its professional facets from an early age. I consider myself exceptionally fortunate to have been given the chance to develop my career across multiple verticals of this dynamic, colourful and at times glamorous and emotional industry.
My current role aims to improve dnata Travel's position in contractual commitments by critically reviewing and analysing new and existing agreements from multiple perspectives. As well as this I explore and discuss alternative approaches and opportunities with the commercial teams to benefit from synergy effects and support efficiency. I work in an international environment with partners in countless jurisdictions and the English law is very often a suitable compromise and base to develop cooperation.
My career started only a few days prior to boarding a plane to New Zealand for a trip around the world as a gap year jolly after school, when the offer to start a 3-year management trainee program with Sixt Rent a Car fell into my lap. That offer was too good to refuse as it allowed me to study while working as a permanent team member, gain my first professional experience and build the foundation for the professional path that followed from there.
The inspiration to embark on the challenge of studying law – on top of my already sufficiently busy life as a single mum who is working full-time – was derived from witnessing very successful colleagues who attended programs at The University of Law. They made what seemed impossible, appear actually achievable.
My proudest achievements are those in my personal life, but I am honoured that I can look back on having led my teams successfully through challenging circumstances on several occasions, whilst achieving notable commercial results.
A typical day starts with lots of giggling and singing with my daughter, followed by a day in the office with a marvellous view over Dubai, full of reviewing the contracts, discussing backgrounds with the commercial teams and participating in their negotiations. It ends with an extensive catch up over the events in the world of a 3-year-old during dinner and some long study nights after reading our bedtime stories.
The University of Law is giving me the academic background to my role that allows me to steer my career into a specialised niche, whilst widening my overall perspective and professional prospects at the same time. Apart from gaining fundamentally important academic knowledge that I apply daily, the iGDL programme (now replaced by the PGDL online programme) has substantially changed my approach to solving tasks and encouraged a more analytical and precise way of thinking.
My life is centred here in Dubai, hence it would be very difficult to attend a campus abroad. My full-time job further limits the time I have available to follow fixed schedules. The flexibility to study and work on tasks in my own time, which the course enables me to do, is absolutely key in my personal situation.
I'd advise anyone looking to study and already working full-time, to be clear about how much time this course will demand from your evenings/weekends. Make sure you have the support of the people around you (family, colleagues). You'll need them to be your support network.
2021 Update
Since we last spoke, we were able to expand the team to continue meeting our clients' growing number of contracts and various additional requirements. This has allowed me to concentrate on analysing contractual processes within the group on a higher level. I've been able to identify improvements across several areas and implement new ways of working that decrease duplications and increase efficiency.
One of the biggest challenges in my role is to work with a large clientele that has many diverse risk profiles and which follow various contractual processes. To ensure we work effectively, we implemented a contract management system across 30 teams. It enables us to streamline different contractual subjects and processes, increase consistency of agreed terms, achieve a very high degree of transparency and improve on contractual protection for the group. We had to acquire knowledge and skills around automated contract creation and system set ups very quickly.
It takes a village to raise a child and this is especially true for working parents. I am particularly blessed by having a close circle of friends around us and living with us. During quarantine and home-schooling, I was able to focus while working from home. While it has been an extremely challenging time, we can say we made the best of it.
We started to introduce an e-signature application prior to the pandemic. However, the closure of our offices has led us to fast track the implementation. It caused to us quantum leap within a few weeks into setting up the application for 200 users in 15 different brands, training the teams and assisting them on how to use it cost effectively. Making sure that contracts can be issued, negotiated and executed by staff working remotely has since dominated our focus and the development of our contract management system.
We are heavily influenced by the exceptional circumstances we experience due to Covid-19. It has brought a lot of change, stress and worry which affects many of us physically, financially and mentally. This time has taught me how important is it to be conscious of our thoughts and to choose carefully what we focus our mind on. Viktor Frankl said '…suffering ceases to be suffering at the moment it finds a meaning…' and I strongly believe that nothing is so bad that it is not good for anything.
Set for Success Hub
Find out more about how we help set you up for success.
Find out more
Our Alumni Profiles
If you enjoyed this article, why not check out some more of our alumni profiles?
See more