BACKGROUND
Durham University
The University of Law
CURRENT ROLE
CAREER PROGRESSION
Head of Department - Barlow Robbins/Moore Barlow
Partner - Barlow Robbins
Solicitor - Barlow Robbins
Allen & Overy - Trainee Solicitor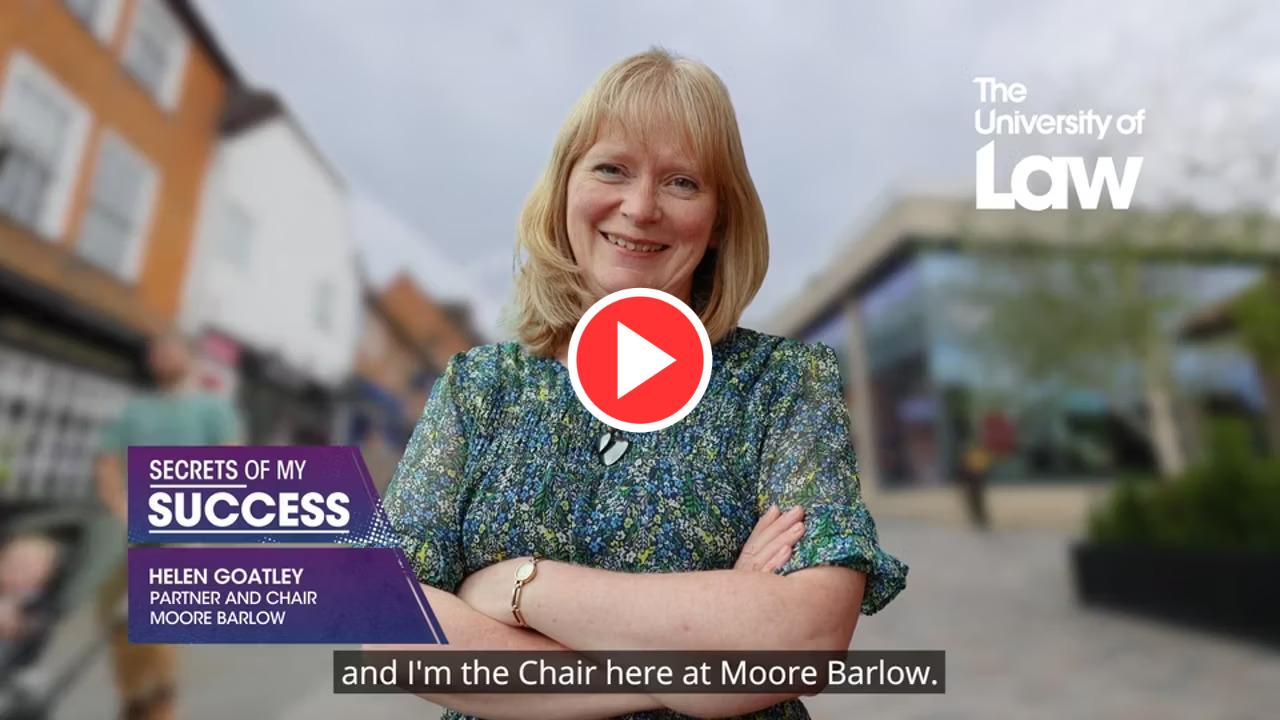 Alumna Helen Goatley completed her Law Society Finals with us at our Guildford campus. Since then, she's gone on to have a hugely successful legal career and is now Chair and Partner at Moore Barlow. We sat down with Helen to discuss her career journey and get her advice for students looking to follow a similar path.
I chose law because I enjoyed both math and languages at A-level and law offered a great combination of logic, language and people. At the beginning of my career, I didn't want to be a solicitor. That changed when I did work experience after my second year at university. During that time, I discovered a passion for litigation. On qualification, I focused mainly on commercial litigation, but I inherited a few personal injury and clinical negligence matters and found my calling. I grew a team and was invited into an equity partnership. My ambition was, and still is, to deliver the best client care that I can. My career has happened on the back of that experience.
My current role is as Chair of Moore Barlow. The Managing Partner technically reports to me. I am responsible for the good governance of the firm on behalf of the owners/partners.
For roughly 15 years I was a part-time partner and a working Mum of two children. I aimed for a life where work, family and leisure co-existed without tension and that is what I want for all my colleagues - male or female. Covid delivered a sudden blurring of the lines between work and home, which has helped deliver that balance for a lot of people. That has been the silver lining of the pandemic, which I hope we don't forget.
The proudest moment of my career has been the merger of two great firms to create Moore Barlow. With this new firm, we chose the best of both and reinvented everything we felt didn't fit the modern world.
If I could give my younger self any advice, it would be – always keep your options open and never stop learning.
Any students interested in working at Moore Barlow should apply. We want talented, enthusiastic people who care as much as we do about our clients and what is going on in their world.
For those aiming to work in dispute resolution, these are my top three tips:
Focus on the story you are telling and evidence every bit of it
Have a great filing system
Check every aspect of procedure - it changes frequently.
To be a legal leader, you will need resilience, empathy and determination. Above all, you need to consider yourself only one part of a team. Also, as AI takes over routine work, there will be an even greater need for the human soft skills of kindness, listening, lived and shared experience.
Learn more about Moore Barlow's early careers recruitment now.
Set for Success Hub
Find out more about how we help set you up for success.
Find out more
Our Alumni Profiles
If you enjoyed this article, why not check out some more of our alumni profiles?
See more