EDUCATION BACKGROUND
LPC with MSc in Law, Business & Management, The University of Law
Bachelor of Laws (LLB), Staffordshire University
CURRENT ROLE
Head of Legal UK&I, SD Worx
CAREER PROGRESSION
Founder, In-house Potter
Sole Legal Counsel, SD Worx
Commercial Solicitor, MAG (Airports Group)
Legal Counsel, WEX Europe Services Ltd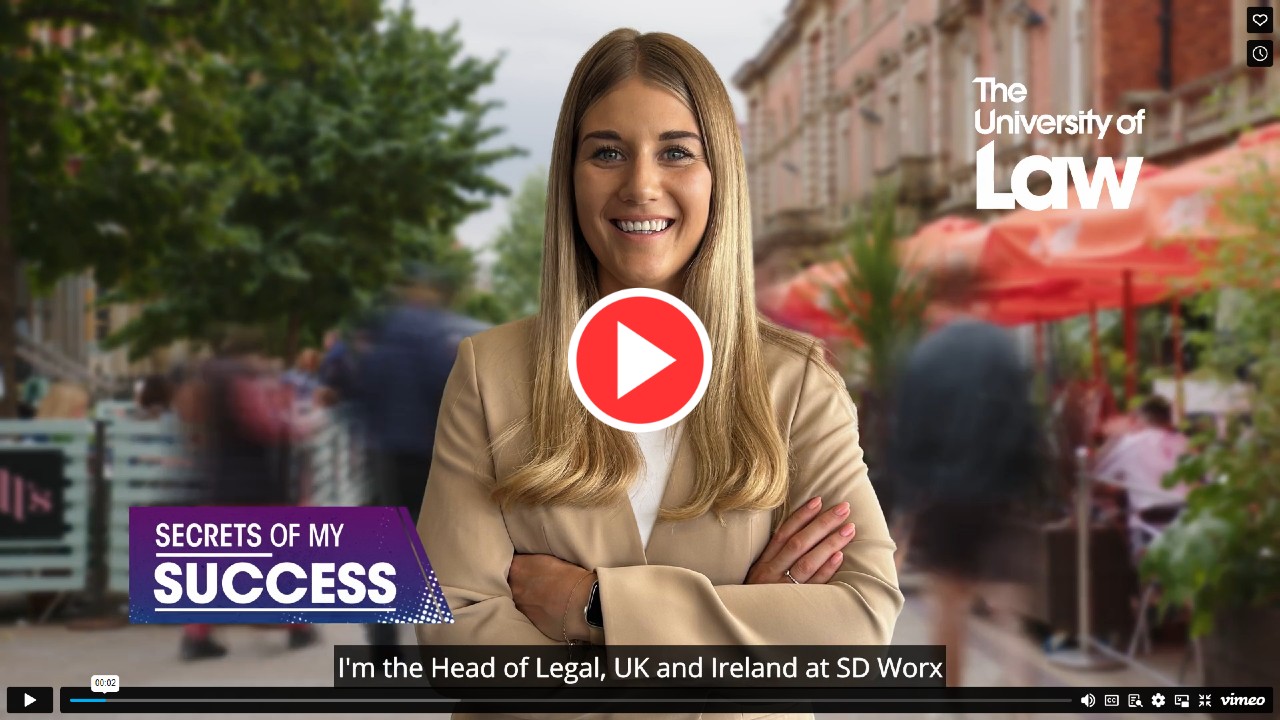 Alumna Emma Lilley studied the LPC with an MSc in Law, Business & Management at our Manchester campus and graduated in 2017. Since then, she has gone on to become Head of Legal (UK&I) at SD Worx and found her website, In-house Potter, to teach people more about working in-house. We caught up with Emma to discuss her career path and how we set her up for success.
I always wanted to be a musician, touring with artists as part of their band playing a classical instrument. I pursued music through school and college and applied to study for a music degree at university. Unfortunately, I didn't get the A-levels I needed to satisfy my offer and ended up enrolling on the LLB Law with Foundation Year (FY) through clearing. It wasn't until I took a gap year after the first year of my degree year, that I realised a legal career may be something I'd like to pursue, which is mainly down to discovering in-house. After lots of confusion and eventually finding my way, I set my sights on an in-house legal career. The rest is history.
I am currently Head of Legal (UK&I) at SD Worx, a leading European provider of people solutions with global reach. Within the SD Worx family, I am a member of several teams that work closely to meet the Group's aims. I am a part of a strong and inspiring legal team, within which I have a Legal Counsel based in Mauritius, a Legal Counsel based in Ireland and a Trainee Solicitor based in the UK reporting to me. I am also a member of the UK Senior Leadership Team, with whom I work in close collaboration.
Career wise, I'm proud to have carved out a path that works for me. I have made every career decision consciously, keeping in mind my personal goals and values. I'm proud that I have stayed true to myself through this process and haven't been swayed by external forces to follow a certain path just because it looks good to others. The happiness of myself and those I love is my priority, and I ensure that my career doesn't compromise this to the extent my life feels off balance.
If I could, I'd advise my 18-year-old self to remain true to herself and not doubt herself because of her background. She would grow to be torn between using her voice and standing up for what she believed in, but would eventually realise just how impactful using her voice can be, not only for herself but for others too.
The route I took to qualification was not traditional, and as a result, I thought it would be difficult to find a course that suited my path. However, The University of Law had just that, offering the LPC with an MSc part-time over the weekend. After visiting the Manchester campus and taking in those incredible northern vibes, I knew that ULaw was going to be the next step in my journey. I'm proud to still partner with them today as an ambassador through the community I founded, In-house Potter.
The flexibility and broad course offering provided by The University of Law sets its students up for success because it means individuals can shape their academics in a way that suits them best. For me, it was refreshing to have the opportunity to study an MSc as opposed to the LLM. Having the ability to make the timetable work around my full-time in-house training contract was pivotal to my personal success. This provided the framework for my future career, and I'm still grateful for those options to this day.
Another benefit of ULaw is the Alumni Network and being able to network with others in the profession who have also branched out further from the 'day job'. It is great to see others use their learnings from ULaw to excel in other areas of their career, not just law.
I owe a lot of my success at University to Matt Tomlinson, now Dean of the Leeds, Sheffield and Newcastle campuses. During my studies, I was the only one training in-house and felt quite different to the other students. As my tutor, Matt saw that I felt that way, and believed in my potential. He inspired me to make career decisions that worked for me, and not let my background and characteristics hold me back.
I got my training contract by asking for it. After proving myself as a paralegal, I pursued my goal of creating my own training contract opportunity with my employer. Thankfully, I'd proven myself enough for one to be offered, and with the support of my supervisor, I became the first trainee at the company. I went on to qualify at the company and had a great start to my legal career, being awarded a high level of responsibility from the start.
Any students considering in-house law should absolutely go for it. There are more opportunities out there than you realise. Don't wait a certain amount of time before you apply. If you are ready and have the time to dedicate to a full-time role while working your studies around it, then don't hesitate. In-house is the largest growing sector in the legal profession; ignore any archaic advice and don't let anyone hold you back.
When recruiting, we need someone who has the emotional intelligence to understand others' problems and needs (and be able to provide legal advice in a way that proves it). Having a good sense of intuition and being confident enough to exercise that by speaking up is also a positive. These skills require continuous development but can be fostered from an early stage in your career.
To be successful as an in-house solicitor, you need to be a good influencer and communicator. You need to be patient enough to help others and bold enough to set boundaries around your work. You should be resourceful and a sound risk assessor, using this to enable your priority setting. This may sound difficult, but these skills can be learned on the job. Focus on your ethics, relationships with people and learning as much as you can about applying the law in a business setting, and enjoy the ride.
My top three networking tips for students aiming to be an in-house solicitor are:
Attend specific in-house events.

Join webinars that are aimed at roles more senior than yours. i.e., if you are a trainee, sign up for NQ sessions.

Start a conversation. Reach out to those who have the career paths that inspire you.
My hope is that, through the SQE and Qualifying Work Experience (QWE), we will start to see the diverse talent emerge that we need to see in the legal profession. The pathway makes it easier for those with non-law degrees obtained in different parts of the world to pursue a legal career. The hope is that we have diverse thinkers and more unique problem solvers than we have ever had before.
To anyone else coming from a working-class background and wanting a career in law, do not make yourself small because the competition seems daunting. Do not change your accent because you feel out of place, and believe you have something special to bring to the profession despite not having as many connections within it as others.
You are you and that is your power.
Discover more about studying a postgraduate course with us.
Set for Success Hub
Find out more about how we help set you up for success.
Find out more
Our Alumni Profiles
If you enjoyed this article, why not check out some more of our alumni profiles?
See more