EDUCATION BACKGROUND
The University of Law (2016), Bar Professional Training Course (BPTC)
The University of Law (2015), GDL
London School of Economics (2011-2012), MSc Global Politics
McGill University, BA Political Science & International Development Studies
CURRENT ROLE
Barrister, Government Legal Department
CAREER PROGRESSION
Pupil Barrister at Lamb Building
Paralegal, Structured Finance & Debt Capital Markets at Freshfields Bruckhaus Deringer (2014-2015)
Programme Administrator, Human Rights Division at Commonwealth Secretariat (2012-2013)
Researcher & Fundraiser for UNICEF (2010-2011)
Director of Volunteer Services, Habitat for Humanity (2009-2010)
Office Administrator, Habitat for Humanity (2008-2009)
Founder and Director of redseven Charitable Foundation (2008-2012)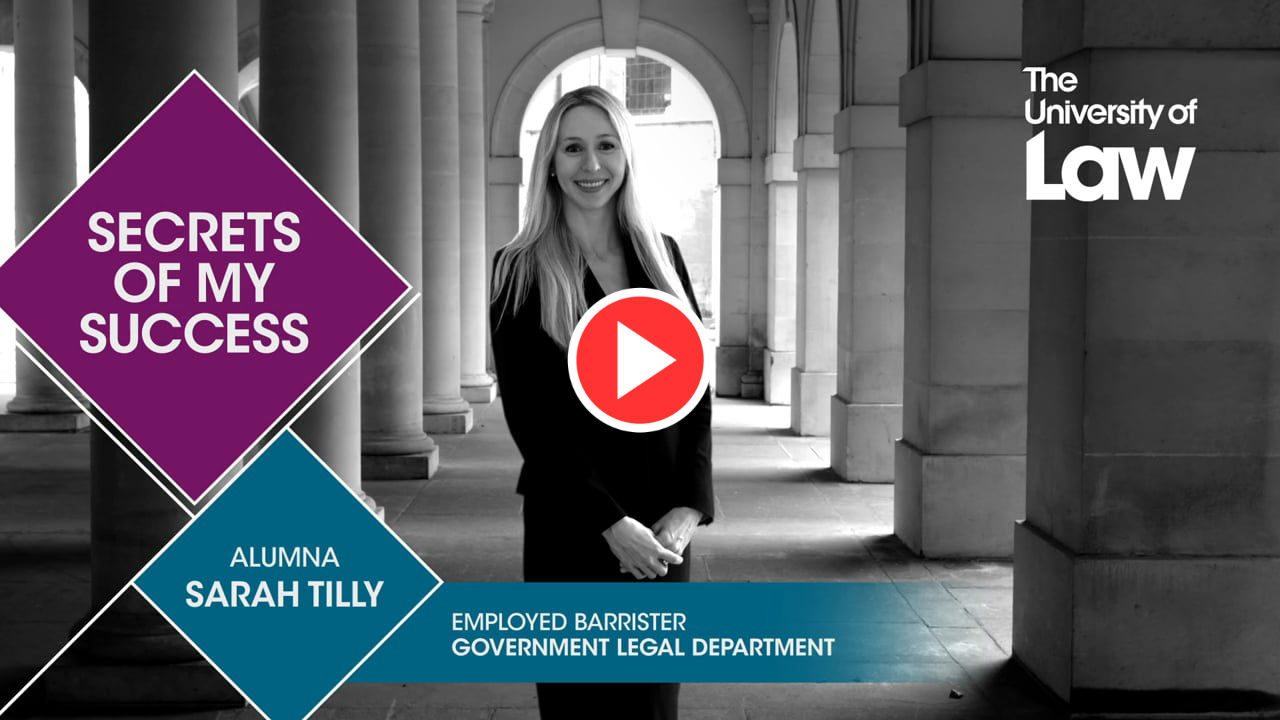 Sarah Tilly graduated from The University of Law's BPTC in 2016 and is now a pupil barrister at Lamb Building, a prestigious chambers located in the Temple in London, the heartlands of the English legal profession. Sarah specialises in criminal and immigration law, advocating for clients in court. Here she tells us why she became a barrister and how she made the most of her time studying with the University.
I chose to study law because I was attracted to the tangibility that comes with working with clients. I like being able to quantify my output at the end of the day.
I've really been inspired by Kirsty Brimelow QC at Doughty Street Chambers. She's inspired me to (attempt to) build a career that intersects law and politics.
A typical day for a pupil barrister involves a lot of running from one Magistrates' Court to another. We're mostly representing legally aided clients in all different types of criminal matters.
I'd have to say that the proudest moment of my career so far has to be the first trial I won. I was representing a young widower and father of four. The evidence pointed to the conclusion that he had been wrongfully accused. A conviction and any consequential sentence would have had a devastating impact on his family's life. When the bench announced his acquittal it was incredibly satisfying.
To be a successful barrister at Lamb Building you definitely need determination, thick skin and a strong work ethic. An ability to laugh goes a long way too. Anyone who wants to work at Lamb Building should certainly apply for a mini-pupillage to learn what life at the criminal, immigration or family bar is really all about. Real-life experience is unquestionably one of the most important things you can get.
Getting a pupillage takes a lot of hard work. That work encompasses mini-pupillages, advocacy courses, long hours revising pupillage applications, and plenty of preparing for interviews.
The careers service at ULaw is unparalleled. I don't know if I would have gotten pupillage without the vigilant, committed and incredibly insightful employability consultants. There were many excellent tutors who shaped my experience on the bar course too. One in particular was Monica Whyte: knowledgeable, fair and never judgmental, Monica was a real source of strength and inspiration for her students.
Find out how you, too, can set yourself up for success with a law qualification.
Set for Success Hub
Find out more about how we help set you up for success.
Find out more
Our Alumni Profiles
If you enjoyed this article, why not check out some more of our alumni profiles?
See more