EDUCATION BACKGROUND
BPTC, The University of Law (2015-2017)
LLB, The University of Law (2011-2015)
CURRENT ROLE
Barrister at Ropewalk Chambers
CAREER PROGESSION
Pupil Barrister at Ropewalk Chambers (2018 - 2019)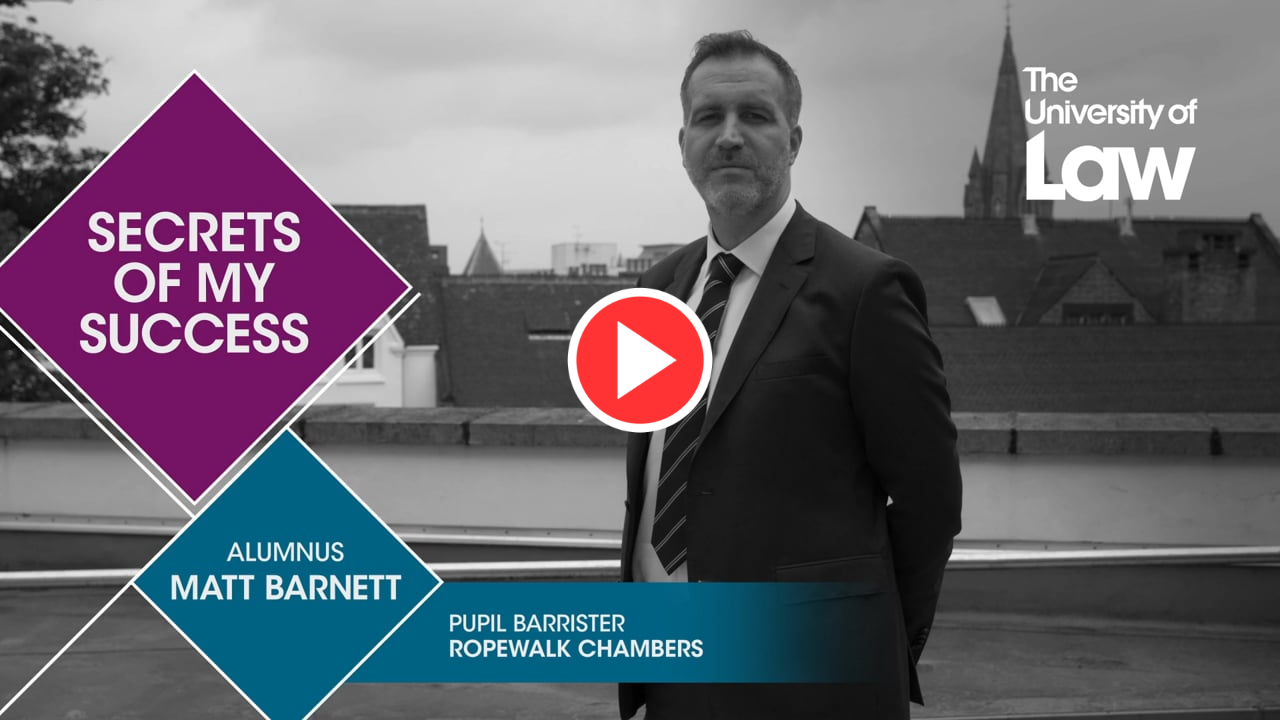 Matt Barnett studied the BPTC part-time with ULaw at ULaw Bloomsbury campus after becoming disillusioned with his career in banking. Since successfully completing his course in 2017 he has gone on to become a Pupil Barrister at Ropewalk Chambers. We caught up with Matt to discuss his pupillage experience and his most challenging case so far.
I chose to study law because I have always harboured an ambition to be a barrister and I decided to study at ULaw because they offer a part-time option for the BPTC. For as long as I can remember I have always wanted to be a barrister. Unfortunately, due to non-academic reasons, I was forced to defer the third year of my law degree in 2000. As a result, I ended up working abroad, met my wife and embarked on a new career in banking. Upon returning to the UK, I entered the banking profession and had a very successful career, culminating in my role as Operations and Control Manager for Santander where I was responsible for helping to develop practices and procedures for fighting fraud and other forms of financial crime.
However, my ambition to be a barrister never left me and, having studied part-time for six years, I was successful in attaining pupillage with Ropewalk Chambers in 2017. My pupillage began in 2018.
I'm currently a Pupil Barrister at Ropewalk Chambers and am in the final months of my second six where I am running my own cases alongside completing work for my pupil supervisor. My week consists of daily visits to the County Courts of England and Wales undertaking Small Claims involving RTA Trials, Credit Hire Trials, Negligence Trials, MOJ Stage Three Hearings, Infant Settlement Hearings, Pre-Action Disclosure Hearings and Watching Briefs.
When I returned to Nottingham from working abroad, I needed a job. Having tried a few things, I wandered into a careers fair and got talking with an area manager from the Royal Bank of Scotland. He sold me on the idea of a career within banking and the opportunities available to me.
Following many years within the sector, I was approached to review some training material with Santander. At this stage, I had completed my BPTC and could, therefore, view the material from the aspect of both a business banker and a legal person. As such, my observations regarding the lack of real-life application, and the risk of criminals being able to take advantage of loopholes within the system resulted in the training material being rejected in full and I was tasked with redesigning it from scratch. Following redesign, and trial sessions, I was asked to lead the roll-out of the training I had designed for the business banking sector. The success of this resulted in other areas seeking my guidance on aspects of fraud and/or risk and, eventually, I was brought into the Operations team, reporting directly to the Head of Operations and Control to work with all aspects of the bank on fighting financial crime.
However, finding myself somewhat disillusioned by the future prospects of a banking career in 2011, and wanting to set a good example to my children, I decided to complete my studies and see if there was a possibility to fulfil my ambition of becoming a barrister. Finance was never a career I sought out, it was a career that found me and treated me very well for quite some time. The law was always supposed to be my destination.
The proudest moment of my career so far was being offered pupillage at my number one choice of chambers. The joy I felt that day was only matched by the birth of my children and the day I married my wife. The culmination of 6 long years of study in attaining this position was overwhelming.
Ropewalk advertised their pupillage on their website (they now operate through the ULaw Portal). I was required to complete an application form and undertake two separate interviews wherein I was set a piece of work relating to the areas of work mostly undertaken by chambers.
While studying the BPTC it was extremely useful having access to, and assistance from, existing and past barrister practitioners. Their advice and insight into the challenges posed by the various hurdles I was facing allowed me to best prepare myself for pupillage interviews and the first few months of pupillage.
The practical application of the law is of paramount importance for preparing for a career at the bar. By the BPTC stage, all students should be able to research and write out their findings on the law. However, understanding the law is one thing, being able to communicate the law to an audience in quite something else. The constant practice and feedback you receive, from both tutors and fellow students, really enables you to hone your craft. Furthermore, the ability to create workable skeleton arguments and use them in for delivery is something I am still using now that I am in practice. You find your own method of working, the numerous opportunities to practice afforded to you by ULaw is crucial in finding what works best for you.
ULaw were also very helpful in reviewing my application, working with me on how I could utilise my individual achievements to best showcase myself, firstly on paper, and then in interview. In particular, the advice I received in relation to owning my successes was invaluable.
My most challenging case so far involved being instructed to attend a small claim trial in Sheffield to defend a fairly sizeable claim that incorporated property damage, loss of earnings and credit hire. When I arrived, I was greeted by opposing counsel who had gone through pupillage with my head of chambers. To say I was nervous was an understatement. That said, I had prepared the case thoroughly, felt comfortable with the details of the claim and had copies of all relevant authorities to hand.
My opponent attempted to introduce evidence that had not been served that bolstered the claim prior to the start of proceedings. As a result, we embarked on a technical argument about the rules of disclosure and the proper way to conduct proceedings. Fortunately, the Judge found in my favour and the evidence was not allowed.
The claimant was very evasive from the start and all of my cross examination questions were met with terse, one-word answers. However, by persevering, and utilising my previous experience within finance, I was able to walk the claimant through his finances, slowing down and repeating certain aspects for the benefit of the Judge taking notes, to reach the conclusion that the claimant had to admit he had guessed at his turnover when completing the Claim Notification Form. Having conceded this point, I took him through his exaggerated damages, again eliciting an admission that he had taken a verbal estimation from a friend. Finally, in an exasperated outburst, he admitted that he did not care what the final cost of the credit hire claim had been, he had not asked, did not check and did not care as someone else was paying for it. Needless to say, this was not found as properly mitigating his losses.
Not only did I get the claim struck out, but I also managed to make a successful application pursuant to CPR 27.14(2)(g) – unreasonable conduct. This was the first time I had ever attempted to run this argument in an actual court and when, having been successful, I informed my solicitor, the feeling of satisfaction was everything I had dreamt it would be.
Furthermore, and as evidence of the quality of personnel practicing at the bar, my opponent was very gracious in defeat. He complimented me on my performance and laughed when I informed him I was 6 weeks into my second six.
To succeed at a pupillage, first and foremost, you need to be prepared to work hard. There really is no substitute for thorough preparation. When presented with a bundle of papers that number in excess of 300, it would be very easy to skim read or skip large sections. However, the client is paying to ensure the work is done professionally and this means no corners can be cut. I have witnessed opposition counsel slip up by not putting in the work and it is not comfortable viewing.
In addition to hard work, you need to be able to communicate effectively. This may seem obvious for a career of advocacy but communicating with colleagues, instructing solicitors, clients, ushers, clerks and judges is very different but of equal importance. Being able to put a client at ease, coax an usher into moving you up the list, or developing relationships with your instructing solicitors takes skill and practice. Watching others, especially at court, quickly shows you those who understand the importance of this and those who do not.
Finally, I would say you require humility. You will need help, you will feel out of your depth at times, this is normal, and it is ok to say so and ask for help. The great news is everyone I have met so far both in chambers and among the wider community at the bar have been nothing but supportive.
I am not going to lie; it is extremely hard to maintain a work/life balance. The early part of your career at the bar is extremely busy. You receive case papers late in the day and are expected to complete your supervisors work on top of your own workload. This means working long hours which includes early starts, late nights and often weekends. Added to this, as Ropewalk is a national set, I can be instructed to appear in any court in England or Wales.
The key is to organise yourself, stay on top of your work and be honest with yourself and your supervisor in setting realistic time estimates for the completion of your work. They will want you to succeed and should be very supportive.
Above all else, I am extremely lucky to have a fabulously supportive wife and children. I make sure I attend the big things – football games, dance performances and award nights – and they forgive me missing some visits to the park or meeting up with friends and family.
If any students are interested in working at Ropewalk Chambers, come and spend some time with us. We offer mini-pupillages and are very keen for prospective pupils to undertake them. This was by far the most useful 3 days of my preparation pre-pupillage.
Nottingham, and the East Midlands in general have been crying out for another legal option for many years. I have no doubt that the course offered by the University of Nottingham is of a great standard, however, they have had no competition to ensure their standards are where they should be before now. With ULaw opening a campus in Nottingham and the possibility of a different option, a different style of teaching, a different voice in the sector can only be of benefit to the students in the local area.
My grandfather gave me some advice at 18. He said, "Die regretting some of the things you did, rather than all the things you wished you'd done." I followed his advice and it led me to a great wife, some wonderful adventures, two fantastic children and now, the career of my dreams.
Take your next step to a career as successful as Matt's by studying a postgraduate course with us.
Set for Success Hub
Find out more about how we help set you up for success.
Find out more
Our Alumni Profiles
If you enjoyed this article, why not check out some more of our alumni profiles?
See more