CURRENT ROLE
Legal Counsel – TikTok (Platform Monetisation)
PREVIOUS ROLES
Associate - Sheridans
Trainee - Warner Bros
Legal Intern - Warner Bros
EDUCATION BACKGROUND
Legal Practice Course (LPC) at The University of Law
LLB Law at The University of Liverpool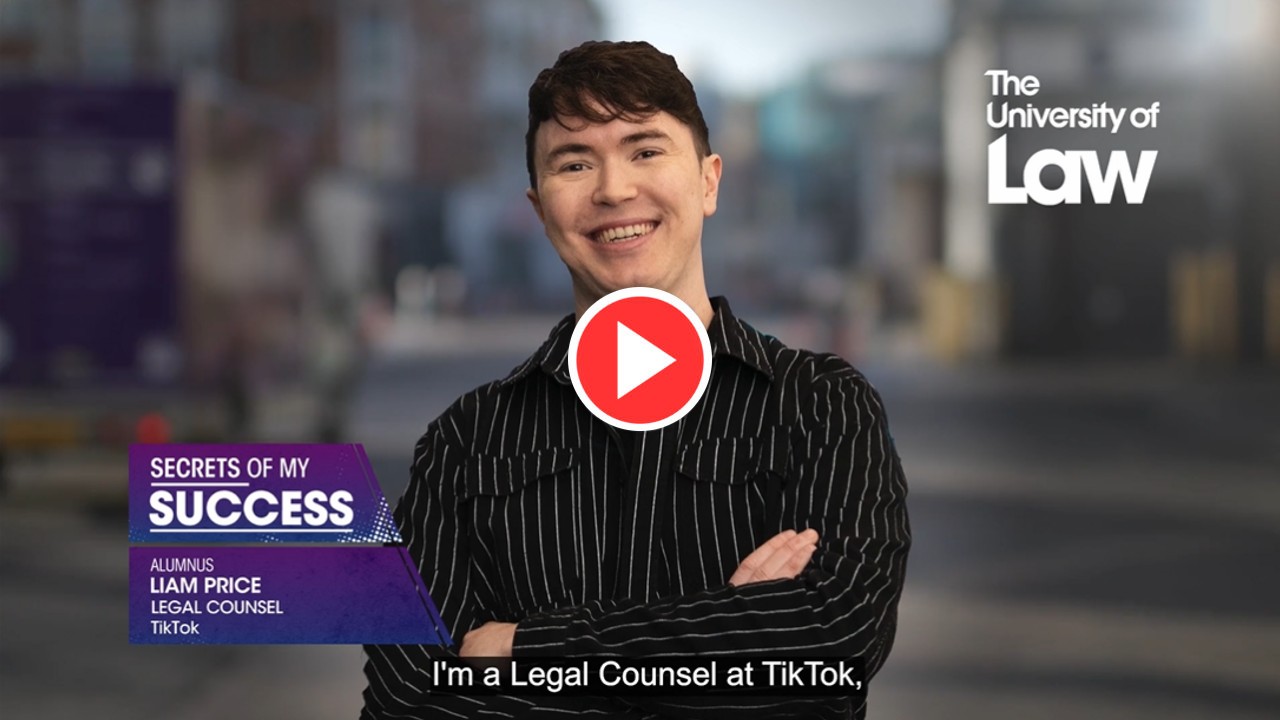 Liam Price joined us to study the LPC without a specific legal practice area in mind. After going out of his way to experience different areas, he discovered a passion for law in the entertainment industry. We catch up with Liam to discuss his role with TikTok and how our Employability Services helped him break into his dream profession.
I chose to study law because I found it interesting and I really wanted to study something that would lead to a long-term career. I also wanted to pick a degree that was recognised by lots of different employers as having value (even outside of the legal profession).
The University of Law has such a great reputation for excellence in legal studies; it was the clear choice for me to study for the LPC. I studied at the Manchester campus, which is very central and really convenient to get to. The quality of the teaching was excellent, and I knew the University would help me achieve my goals on the LPC.
The University set me up for success with its strong focus on practical application of the subject matter. The teaching covered not only the academic side of the law but also focused on its use in a legal career. The teaching staff often had practical, prior experience in the legal profession and that added great depth and value.
I used the Employability Services to help me get my first role in law. While I studied the LPC, I learned about a legal internship at Warner Bros. through the role announcements the Employability Service made. I discussed the role with Employability Team and they helped me prepare for it, which included assisting me with my CV. I was fortunate enough to get the Legal Intern role with Warner Bros., and that role became my first step into a legal career in the entertainment industry.
Early in my studies, I was unsure about what career path I wanted to take and whether a career in law was even right for me. I tried lots of different vacation schemes and bits of work experience with law firms and in-house legal teams to try and get a better understanding of the paths available.
When I gained my first full-time role in law, as a Legal Intern at Warner Bros., my career ambitions evolved. It became clear to me that I was well suited to - and really enjoyed - working in-house in the entertainment industry.
My current role is as a Legal Counsel at TikTok in London, UK. The team I'm in is called 'Platform Monetisation'. My main focus is providing legal support to the business teams who are developing and looking after TikTok's products and tools that are used by advertisers.
The TikTok recruitment team contacted me about my current role to begin a discussion about whether it could be a good fit. At the time, I was working as an Associate in the Interactive team of a wonderful private practice law firm based in Soho, London called Sheridans.
There are lots of incredible in-house roles for lawyers and a career in-house should not be overlooked. My tips for students who are considering becoming an in-house lawyer are:
Try to pick an industry you are really passionate about and have an understanding of.
Being an in-house lawyer means working very closely with business colleagues. Always look for opportunities to develop your understanding of how businesses operate.
Make sure you get your passion across in interviews. It's OK to say "I really want this".
The proudest moment of my career so far was in 2020. I was fortunate enough to be named a '30 Under 30' by MCV/Develop - a publication in the interactive entertainment industry. It was a goal of mine for a long time to be a '30 under 30' and it was fantastic to achieve that. It was a doubly proud moment because I was the only lawyer in the list.
I have a really great work/life balance and feel very well looked after at TikTok. One of the initiatives that is really useful, for example, is being able to work remotely for a few days each week if I would like to. It's great to mix, each week, days working in the office and days working from home. It helps a lot with general wellbeing and is really useful when I might need to be at home on a particular day.
In five years, I hope to have progressed into a more senior role in TikTok and be leading a team of lawyers focused on providing legal support to the business teams looking after TikTok's product features.
For students considering a legal career in the entertainment industry, it's a fantastic path. However, you should make sure you are really passionate about the industry, the products and businesses involved. There are lots of different career paths and industries out there - try to pick the one you will really get excited about.
Find out how we could set you up for a career as successful as Liam's by booking on an open day with us.
Set for Success Hub
Find out more about how we help set you up for success.
Find out more
Our Alumni Profiles
If you enjoyed this article, why not check out some more of our alumni profiles?
See more