EDUCATION BACKGROUND
LPC, The University of Law (2016-2018)
GDL, The University of Law (2013-2015)
Diploma in Aviation Studies, IATA Institute (2005-2007)
LLB (Hons) Law, Ovidius University (1999-2003)
CURRENT ROLE
Paralegal - Aviation and Aerospace, HFW
CAREER PROGRESSION
Translator, Meandros Shipping & Trading Co. (2002)
Inflight Manager/Purser, Service Delivery Department, The Emirates Group (2003-2013)
Corporate & Dispute Work Placement at Clyde & Co (Dubai) (2016)
Emirates Flight Catering Legal Team Internship, The Emirates Group (2016)
Legal Executive, Group Legal at The Emirates Group (2016-17)
Aircrew Instructor - Safety & Emergency Procedures, The Emirates Group (2013 - 2018)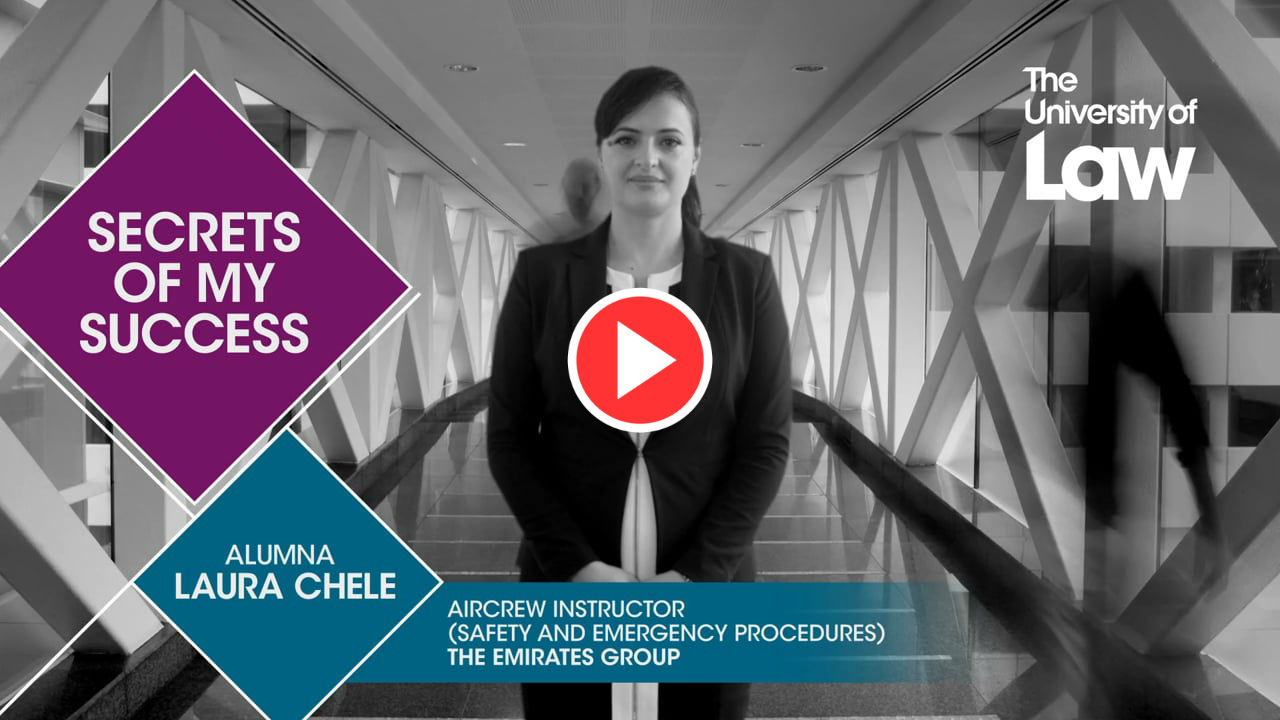 Alumna Laura Chele joined ULaw in 2013 to study the i-GDL. After its successful completion she decided to continue her studies and has now completed the i-LLM LPC. As well as studying, she also works for the Emirates Group in Dubai. Thanks to her legal education and employment in a progressive company, she has carried out a number of roles and her career has thrived. We caught up with Laura to ask how ULaw has helped her career progression with one of the fastest growing airlines in the world.
I grew up with a passion for learning more about other cultures, started learning English from an early age and saw it as the key to reaching out to people anywhere in the world. I was an avid reader, loved studying and the power that knowledge gives you. So when I read a very old civil code that belonged to my great grandfather I was impressed to see the significance of knowing these rules and regulations that our society goes by. I wanted to give back and use my knowledge in such a way as to help people with their problems. Legal issues come up frequently in our daily lives, and so the concept of law and justice was something I was interested in from an early age. So I decided to do an LLB in Romania and I furthered my legal education by completing a GDL and currently an LLM LPC, to get an English law degree.
As a Legal Executive I was mainly working for the dnata (Dubai National Air Transport Association) part of the business, supporting the Manager Commercial Agreements. I drafted amendments to various types of agreements, advised the business on contractual risks, assisted contract managers with hotel negotiations, produced the first draft of high-level advice, summarised and reviewed due diligence documents and performed other tasks such as proofreading documents and legal research.
I had already been working in Emirates both in the Safety and Emergency Training and the Service Delivery department when I fell pregnant with my second child and I could not safely continue my duties. However, I then became eligible to apply for work experience in other departments in Emirates. In addition to my commercial work experience and my 1st class LLB from Romania, having completed the GDL with ULaw really helped me get legal work experience within the Emirates Group legal department.
Once I started the LLB, I had the chance to help with English translation in a very successful lawyer's office. The lawyer was a retired sea captain who started practising law at a later stage in life. However, it was very obvious from his briefings that his experience on the sea had proven to be invaluable and was key to his success as a maritime lawyer. His wisdom and determination was very inspiring. After knowing more details about the subject and the opportunities it presented to work with people from different countries, I had decided to do my dissertation on a maritime law subject. In addition, whilst working in the Emirates Legal department I discovered role models amongst the very talented team of lawyers.
Considering that I am at the beginning of my career in the legal field (although I already have a career in aviation), I believe that having had the opportunity to work in the Emirates Group legal department was in itself a real privilege. I have learned a lot from high calibre legal advisors and they have all certainly inspired me. And as being part of the team that worked on a particular acquisition, it was really fulfilling to see the deal go through. It was challenging to work full-time while studying but I was rewarded by getting a distinction mark in my LLM LPC Business law exam that I sat just 10 days prior to giving birth to my second child.
ULaw's Careers and Employability services staff were very supportive, providing me with general career advice; this helped me get a mentoring scheme experience. The international electives for my LLM LPC were quite useful and relevant. Having obtained the GDL and LLM LPC from such a reputable university is a really valuable asset which will support me throughout my career. Also, when I first started the GDL I was awarded a Gold Award for my previous 1st class LLB. In addition to the financial incentive, this award really motivated and inspired me to continue the hard work.
Although the United Arab Emirates is essentially a civil law jurisdiction, commercially English law is widely used, especially in cross-border and international agreements. This gives me more international exposure and flexibility when it comes to practising law overseas. In addition, there are a lot of English and international law firms based in Dubai and therefore, in my opinion, the prospects of a career in law with one of these firms are higher when you hold an English law degree.
I already had a lot of transferable skills from my commercial work experience (organising for results, time management, negotiation, presentation, teamwork and leadership, etc.), but the legal drafting and client interviewing skills, in addition to attention to detail, were particularly helpful from my first day at work. My tasks initially involved getting input from contract managers, drafting amendments to commercial agreements and proofreading documents. Legal research was also a very powerful tool to master as this gave me confidence when drafting my advice to the business.
The online training with access to various legal databases, in addition to the mandatory attendance workshops, was really effective.
It allowed me the flexibility to study anywhere and anytime while working full-time, raising two small children and also while travelling
The content was varied and the teaching methods employed ensured that all aspects of a certain topic were covered
The i-tutorials and the demonstrations were really straight forward and helpful. The collaborative activities, the tutor's feedback and email queries answered all the remaining questions after the reading and workshop activity was done
The live and recorded webinars were really useful in preparing for exams, especially in regards to exam technique
Definitely choose ULaw, you won't regret it, especially if you are the one funding your studies. The online training, the support from tutors and admin staff, and the flexibility to sit the exams overseas are great. It makes studying for an English law degree whilst based overseas much more manageable.
2020 update
In 2019, I had intended to move internally within the Emirates Group but the legal project work that I had successfully interviewed for was cancelled three days prior to me starting the new role. I quickly realised that it would be some time until a new in-house opportunity would arise. I knew I had to look outside of Emirates if I wanted to expand my legal work experience. However, I also wanted to continue building on my aviation industry experience gained while working in various departments at Emirates.
Once I joined HFW's (formerly Holman Fenwick & Willan) Middle East Dubai office as a paralegal in the aviation and aerospace team, I became part of an award-winning international law firm. I felt really privileged to work with very experienced lawyers again and I knew my role at HFW would provide me with exposure to an array of legal matters that would allow me to grow as a legal professional. I still keep in touch with my former colleagues, some of which have moved on to other in-house teams or are now in private practice too.
HFW gave me the opportunity to gain international experience on a broad spectrum of legal matters, across multiple jurisdictions, specialising in liability and regulatory matters. I now work with various airlines, airports, operators and their insurers on a broad range of disputes. One day I might be involved in analysing case documents of a cargo, baggage or passenger claim. I would be preparing the draft defence arguments based on the applicable aviation liability convention and instructing local counsel in foreign jurisdictions. The next day, I may be reviewing client instructions, researching and analysing the circumstances of an aircraft or helicopter accident and the relevant civil aviation authority report on the cause of the accident.
Another day I might be conducting EU competition or data protection law research in relation to certain airlines' dealings and drafting English law employment advice. The next day I might be involved on the regulatory side of operating high altitude unmanned free balloons and researching the position at an international level as well as individual countries' approach. The workload is often diverse, complex and time driven, but there is never a typical day. This makes it both challenging and rewarding, this is what I love about my job.
The friendly and approachable nature of the aviation and aerospace team I work in and the multicultural environment has made the transition from Emirates to HFW very smooth. In my work, I provide legal support to two partners and a senior associate in advising aviation stakeholders on regulatory, commercial and employment matters. They are all very experienced lawyers and this meant I had to get up to speed in a short period of time. I had a steep learning curve but I was fortunate enough to have a great handover from the junior lawyer who I was replacing. In addition to my legal education, my aviation background has helped a lot in understanding the underlying legal issues on the disputes/aviation claims side as well as on the regulatory side.
The past year has seen unprecedented changes for the aviation industry. Global challenges included the political upheaval of Brexit, the China - US trade war, increased international competition and safety concerns following the Boeing 737 MAX grounding. Although the industry was growing, 2019 can be characterised as having seen a major spike in airline bankruptcies. This has continued into 2020 as a result of the Coronavirus pandemic, which saw most airlines grounding their fleet and facing major cash flow struggle. The pandemic has affected all aviation stakeholders and governments have been pressured to implement various measures to provide financial relief in support of this vital sector.
The next five years will see the aviation industry in a process of recovery from the unprecedented global downturn that the coronavirus pandemic brought about. This makes it challenging to predict when things will go back to the pre Covid-19 levels. Having said that, I am optimistic that this will happen before the five-year mark, although it may involve potentially significant changes. While major airlines will have to restructure their business models (some with the added benefit of state aid), low-cost carrier models will become more attractive, with narrow-bodied aircrafts set to become the core drivers of commercial aviation. Travel is expected to become more leisure oriented, and although business travel will most probably be the first to pick up, it is predicted that it will eventually settle at lower levels than pre Covid-19. Aviation is a global industry and will rebound as it continues to benefit enormously from globalisation, connecting people across the oceans more efficiently than other forms of transport.
As a student, if you have previous experience in a specific industry and you want to specialise in a certain field, do not be afraid to pursue it, despite hearing advice that you are narrowing down your choices. Expect that you will have to back up your passion with strong evidence of your commitment. It will eventually pay off and you will be thrilled to work in an industry sector you are passionate about.
If you're interested in making a difference through a career in law, find out how ULaw undergraduate and postgraduate law courses can help you make those first steps towards your aspirations.
Set for Success Hub
Find out more about how we help set you up for success.
Find out more
Our Alumni Profiles
If you enjoyed this article, why not check out some more of our alumni profiles?
See more