EDUCATION BACKGROUND
LLM, The University of Law (2018)
LPC, The University of Law (2014-2016)
CURRENT ROLE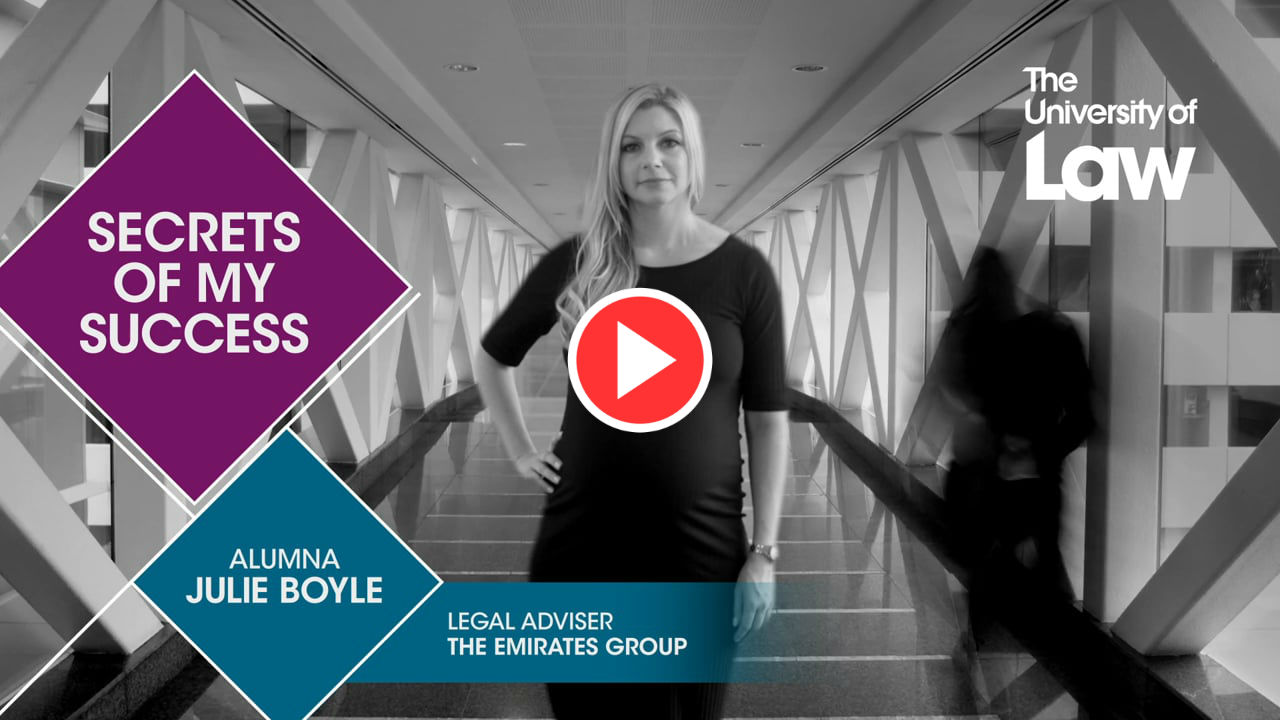 Julie Boyle studied the LPC LLM at ULaw London Bloomsbury Campus from 2014 to 2016 and is now employed as Legal Advisor for the Emirates Group based in Dubai. We caught up with Julie to learn more about her role and how studying at The University of Law has helped her on her career path and an exciting role overseas.
I choose to study law as I wanted to become a lawyer. However, whether you want to pursue a career as a lawyer or in another field of work, a good law degree can stand you in good stead in the competitive jobs market. In particular, you gain a lot of skills such as research, critical thinking and problem-solving. These can be applied to a variety of non-legal roles.
On leaving school I undertook a business course that included a law module which I found really interesting. On completing my business qualification, I decided I wanted to pursue a career in law, so I set about building up my legal experience, taking on roles in law firms and legal departments of multinational companies to further my legal exposure. In parallel to working, I also completed the LLB, the Legal Practice Course (LPC) and an International LLM (which was offered by ULaw as part of the LPC). These qualifications allowed me to crystallise my career ambitions. I initially qualified as a Chartered Legal Executive with CILEx and then I qualified as a solicitor.
I did not follow the traditional path to qualification. I was already working in the legal industry when I made the decision to embark on my LLB and ultimately qualify as a lawyer. I undertook extensive studies while working to achieve this goal, and I was lucky to work for a company that supported my career progression. It was a challenge working full time and studying, but I took inspiration and support from those around me. I was also very fortunate to have a wonderful mentor who supported and guided me along the way. My experience has shown that it is possible to follow an alternative path to qualification provided you have a development plan and the motivation and determination to succeed. Hard work pays off.
I am employed as a lawyer at Emirates (UAE). My role involves reviewing and providing contract and commercial advice to internal clients, including the review and negotiation of multi-million dollar sports sponsorships, artist agreements, TV advertising and filming and event related agreements. As part of my role, I also look after Emirates frequent flyer programme, Emirates Skywards, which includes drafting and negotiating a high volume of loyalty partnership agreements with large hotel, airline and lifestyle brands. The workload is often diverse, complex and time driven.
I was already working in the UAE when I applied for the position of Legal Support Services Manager. The position was advertised via Emirates Careers Portal. I knew the role at Emirates would provide exposure to a raft of legal matters that would allow me to grow as a legal professional. I gained great experience. During my employment with Emirates, I have been able to advance my professional qualifications. I completed my LLB, the LLM LPC at ULaw and, in December 2016 I qualified as a Solicitor. Following qualification, I was promoted to the role of Legal Adviser at the airline.
The proudest moment of my career so far has to be finally qualifying as a solicitor. This came after many years of working in the legal industry and studying to complete my qualifications.
There is never really a typical day in Emirates; this is something I really enjoy about my role. Every day in the Emirates Group Legal team is different, plans often change, and there is always something new to deal with, so you have to be able to adapt and manage a large number of complex and time sensitive matters at one time. This makes working as a lawyer at Emirates challenging and also extremely rewarding.
ULaw has been an integral part of my professional development for many years. I was already working at Emirates as a Legal Support Services Manager when I completed my ULaw degree in 2012. The ULaw degree allowed me to grow in my role at Emirates. I subsequently qualified as a Chartered Legal Executive with CILEx and in 2014, I undertook the part-time LPC with ULaw. By 2016 I had qualified as a Solicitor, following which I obtained my Masters with ULaw in 2018. Studying with ULaw in the UK while also working in Dubai was at times a challenge, but the structure of the ULaw programmes and the support I received during my studies enabled me to achieve my ultimate goal of qualifying as a solicitor while also developing my career at Emirates.
My legal education taught me valuable skills that are required to be a solicitor, including communication, research, analysis, problem solving and negotiation skills. Studying while working also teaches you to be self-disciplined and organised. By studying part time, I was able to immediately apply the legal theory and the skills I gained from my legal education to real legal issues.
I believe that the qualifications I have gained to date have helped in my professional development and enabled me to progress my career at Emirates. The structure of the courses and flexibility offered by ULaw, in particular the part-time and distance learning courses, provides an opportunity to study and work at the same time which enabled me to complete my qualifications while also developing my career at Emirates.
Dubai is a diverse and multi-cultural environment. It is also a fast-paced and growing business environment. If you are prepared to work hard, you have the opportunity to be exposed to high quality legal work. An English law degree and professional qualifications are widely recognised and valued in Dubai especially if you are looking at a legal career as transactions and contracts often have an international flavour and many are governed by the laws of England and Wales.
Based on my experience working both in the UK and Dubai, I believe working in Dubai gives you a different perspective both professionally and personally. The multi-cultural nature of a city like Dubai provides a diverse living and working environment. Being part of an in-house legal team for a company like Emirates in Dubai also provides an opportunity to gain international experience on a broad spectrum of legal matters across multiple jurisdictions.
Discover how you can study the LPC with The University of Law.
Set for Success Hub
Find out more about how we help set you up for success.
Find out more
Our Alumni Profiles
If you enjoyed this article, why not check out some more of our alumni profiles?
See more