BACKGROUND
College of Law, York
University of Sheffield
Tadcaster Grammar School
CURRENT ROLE
Commercial Legal Counsel – TikTok (Media & Entertainment)
CAREER PROGRESSION
Endeavor Content: Counsel
IMG Media: Associate Counsel/Counsel
Discovery Communications: Legal Counsel
Reed Smith: Associate
Watson, Farley & Williams: Trainee/Associate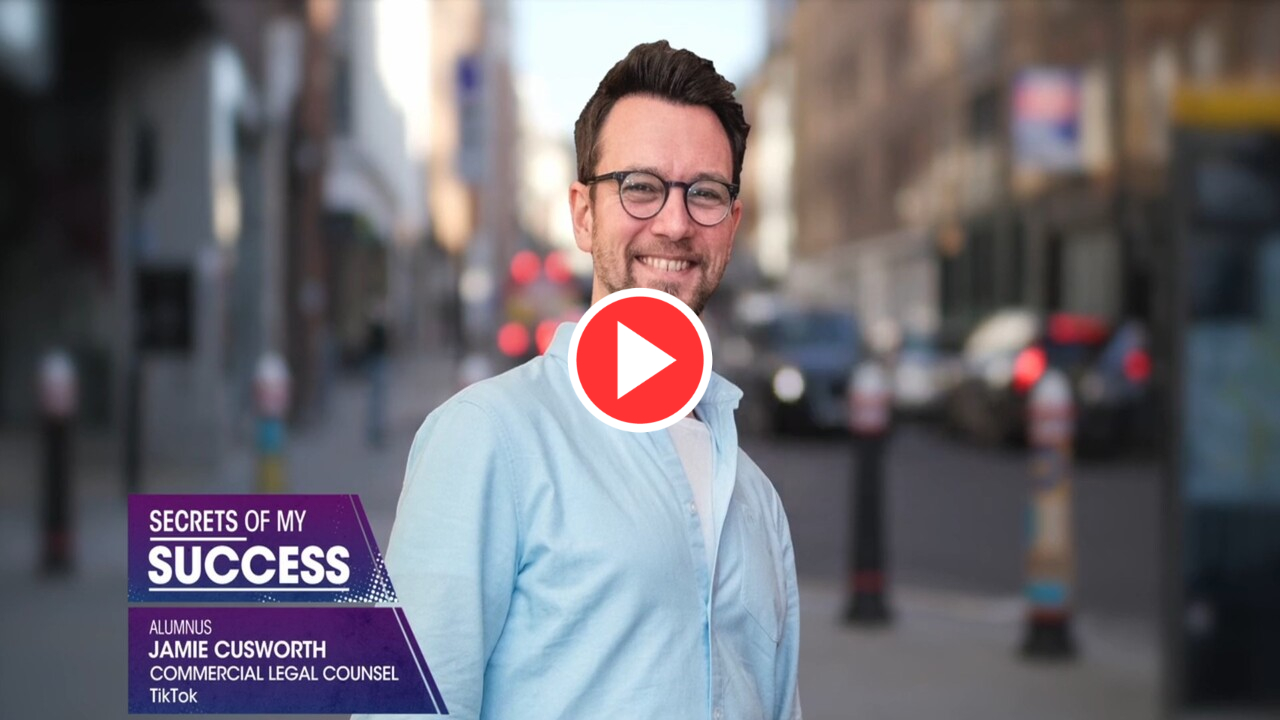 Jamie Cusworth studied the GDL (now PGDL) and the LPC with us. Since then, he has gone on to become commercial legal counsel at TikTok. Jamie shares his advice for students looking to follow in his footsteps and insights into what it is like to work with one of the world's largest content platforms.
I chose to study law because I always wanted to have a 'profession' and found the law to be both a stable career with clear prospects and intellectually stimulating. I was inspired by a family friend who had undertaken a legal career.
I chose to study at The University of Law due to the convenient location and the fact it was a recommended course provider of the firm I had a training contract with.
I originally wanted a career in finance in the City, but, after a few years, realised this was not the right environment for me and pivoted to an in-house role in the media industry. This was not so much an evolution as a complete career change, but it showed me that anything is possible if you set your mind to it.
After studying, I could see the difference in my courses. The GDL (now PGDL) provides you with academic theory which forms the basis of much of the work lawyers in England and Wales do. The LPC helps to set you up for the more practical or 'day-to-day' aspects of a legal career as a solicitor.
It's so long ago I can't remember the full names of my favourite people at The University of Law, but I had a land law tutor called Shona who was a tough cookie and taught me the everlasting importance of attention to detail.
It's hard to describe a 'day to day' experience at TikTok as every day can be very different. However, it largely involves advising the business on the risk associated with a multitude of projects related to bringing exciting content to the platform and growing our user base, while being at the forefront of a fast-paced and continually evolving industry and regulatory/legal framework.
I would advise all students entering the in-house legal sector to try to gain as much experience as they can prior to committing to a training contract. Find out what you enjoy and, more importantly, what you don't enjoy and be prepared to take your time about it. Paralegal roles are great for this, and businesses (not just law firms) often look for people who have completed the LPC for these types of roles. You can spend a year or two doing this before deciding what you are most interested in pursuing long term.
Qualifying as a solicitor was a hugely proud moment for me, followed by deciding to make a big career change, which ultimately led to being offered the role at TikTok as a culmination of all the years preceding it.
The advantage of working in-house is that it generally affords a better work/life balance. Private practice will often pay more, but you are less likely to be able to enjoy free evenings on a regular basis. I haven't yet needed to rely on any work/life balance initiatives at TikTok as this has not been an issue for me. It's generally a place where you are trusted to get things done. Colleagues and managers are very supportive of enjoying and making the most of free time and taking regular time out.
It's hard to say what I hope to be doing in five years. The industry moves at such a rapid pace it's difficult to imagine what the landscape will look like. So long as I am continuing to learn and develop my skills, I'm sure I'll be happy.
My advice to students is to be curious and take chances. You will likely be working for a long time so make sure it's doing something that suits you, fulfils your interests and gets you out of bed in the morning.
Find out how we could set you up for a career as successful as Jamie's by booking an open day with us.
Set for Success Hub
Find out more about how we help set you up for success.
Find out more
Our Alumni Profiles
If you enjoyed this article, why not check out some more of our alumni profiles?
See more