Outstanding students at The University of Law Guildford were honoured in a prize-giving ceremony this week.
Top performers from the LLB, Graduate Diploma in Law (GDL) and Legal Practice Course (LPC) were rewarded for their achievements with prizes sponsored by an array of law firms, The University of Law and other organisations.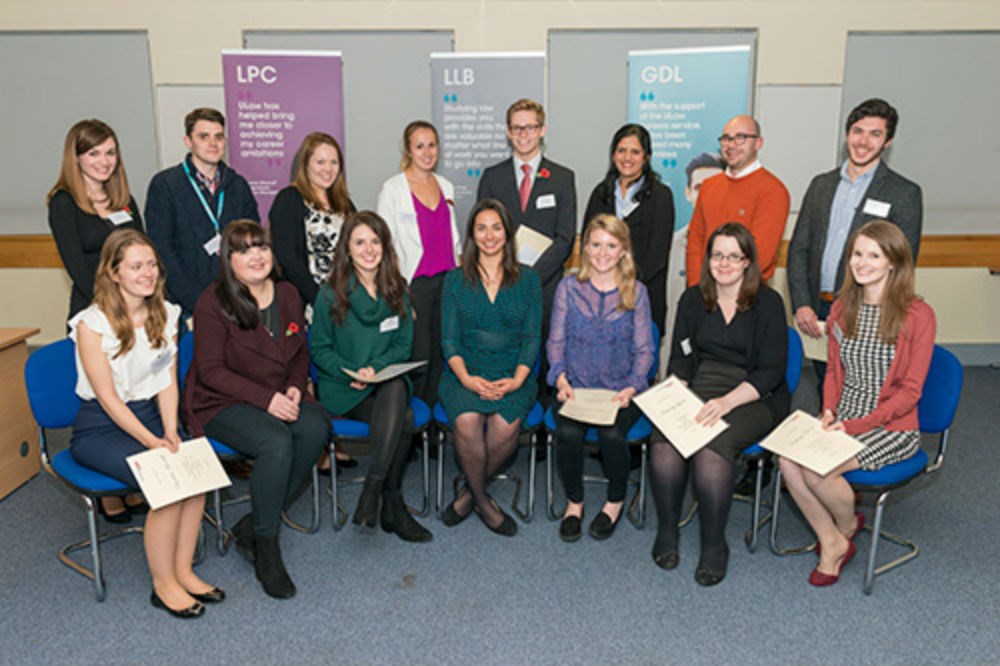 A number of students collected more than one prize, including Kizzie Fenner, who collected five awards for her outstanding work on the LPC.
Kizzie was joined by 16 students and their families for the evening, which gave the students, alumni and law firms in attendance an opportunity to network and celebrate together.
Legal firms who sponsored prizes were Clyde & Co. LLP, Fearon & Co., Coffin Mew LLP, Gordons Partnership LLP, Stevens & Bolton LLP, DLA Piper, GCL Solicitors, Howell Jones Solicitors, Penningtons Manches LLP, Charles Russell Speechlys LLP, and TWM Solicitors LLP. Other prizes were sponsored by property search company STL Group, the Surrey Law Society and family law organisation Resolution.
Sarah Pooley, Centre Director of The University of Law Guildford, said: "Our annual awards evening is an opportunity to celebrate the successes of our LL.B, GDL and LPC students. We were delighted to welcome back our prize-winners and to congratulate them on their outstanding examination results. The evening would not have been possible without the support of the local legal community and we would like to thank all the sponsoring firms and organisations for their generosity."
The full list of winners is as follows:
GDL
Surrey Law Society Prize for highest results in June examinations at Guildford - Henry Ashwell and Samuel Hartman
Clyde & Co. Prize for Tort - Samuel Hartman
Clyde & Co. Prize for Constitutional Law/Public Law - Sophia Dzwig
Fearon & Co. Prize for Land and Contract - Rosa Pritchard
Coffin Mew LLP Prize for the Research Project/Law of Organisations - Hugo Mason, Andrew Sims, and Laura White
LL.B
The University of Law Prize for the highest average mark on the LL.B 2014/2016 - Marc Burrows and Rachel Guidi
TWM LL.B Employability Prize - Ellen Fanning
LPC
The University of Law Prize for the highest average mark on the Full-Time LPC - Kizzie Fenner
The University of Law Prize for the highest average mark on the Part-Time LPC - Kirsten Lea
Resolution Prize for Family Law - Shabana Islam and Jennifer Peebles
Gordons Partnership LLP Prize for Civil Litigation - Tania Rahmany
Alasdair Benzie Prize for Business Law (presented by Stevens & Bolton) - Kizzie Fenner
DLA Piper Prize for Business and Commercial Law - Kizzie Fenner
GCL Prize for Property Law & Practice – part-time - Kimberley Lynch and Alison Murtha
STL Group Prize for Property Law and Practice - Kizzie Fenner
Howell Jones Prize for Employment Law - Kathryn Green
Michael Fellingham Memorial Prize for Private Client (presented by Penningtons Manches) - Charlotte Meredith
Charles Russell Speechlys Prize for Commercial Dispute Resolution - Kizzie Fenner
Surrey Resolution Prize for Excellence in Family Law and Overall on the LPC - Habiba Ahmed
Find out more about what it's like to study at our Guildford campus.