EDUCATION BACKGROUND
HKDSE, Hong Kong Diploma of Secondary Education (2006 -2012)
LPC + MSc, The University of Law (2015 - 2016)
CURRENT ROLE
CAREER PROGRESSION
Trainee Solicitor at Linklaters (2018 - 2020)
Corporate & Securities Paralegal, King & Wood Mallesons (2017)
Corporate Paralegal, Stevenson, Wong & Co. (2016 - 2017)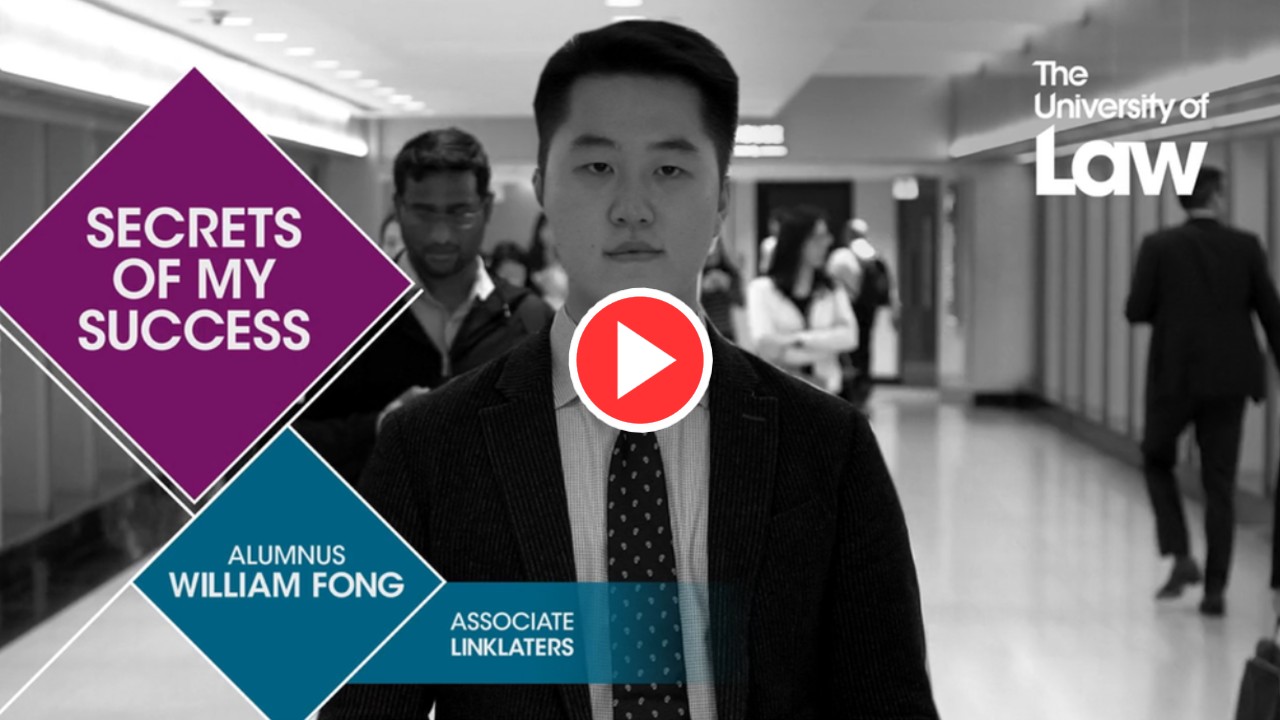 William Fong studied the LLB with ULaw and has gone on to become a trainee solicitor with the magic circle firm, Linklaters in Hong Kong where we have recently launched our new campus. We caught up with William to discuss the importance of a healthy work/life balance and how to impress in an interview.
The practical nature of the course was the key factor for me choosing to study at ULaw. It showed me a strong appreciation of and focus on the practical and commercial usage of legal knowledge from the very beginning.
I am currently a trainee solicitor in the structured finance and derivatives group of Linklaters' Hong Kong office (as an international secondee). A derivative is basically a financial security with its value being derived from (or reliant upon) an underlying asset / a group of assets, which can include commodities, stocks, market indexes, etc. As a trainee solicitor in this practice, one of my key jobs is to make sure that our legal documentation clearly captures what the client wants (e.g. making sure that the derivative contact does derive the intended asset in the intended way).
Working in a magic circle law firm, work/life balance isn't always easy. However, as lawyers become more senior, they have more control over timetables, deadlines, etc. Linklaters is a great firm in its visible effort to create an agile working environment. In fact, it has been exploring and has managed to create many agile working initiatives over the past few years. The firm's supportive culture has made maintaining work/life balance easier than other firms. Automation is one of the trends that will help to achieve work/life balance. Whilst I don't think this can ever get close to replacing lawyers, the profession will be more heavily reliant upon technology in the future.
For students interested in working at Linklaters, don't forget to show your personality. Linklaters is a firm that appreciates pretty much all the qualities that you possess. If you are genuinely interested in a career in law and are able to demonstrate your potential by giving the interviewers a glimpse of your qualities and skills, it will be a much easier for you to secure an opportunity. I wish I could have told myself to be more courageous and assertive because success is determined by the amount of uncertainty that one can comfortably handle.
ULaw's new campus in Hong Kong will provide non-law Hong Kong students with another choice to qualify as a lawyer, both locally and potentially in the UK. The online nature of the classes also makes studying easier for those who are already working / have other commitments during the day.
2020 update
After completing my training contract earlier this year, I decided to join Linklaters' Hong Kong office as a member of the structured finance and derivatives team.
To be honest, I was quite surprised by how smooth the transition was. No one magically becomes more skilled at something because of a change in his/her role. The entire two-year period of training is the real transition through which you obtain sufficient knowledge and experience to become an associate.
Since being in my current role there is no question that people have expected more of me which has caused me to up my game and become more independent than previously when I had associates supervising me. It was a bit stressful to begin with but once I got used to the change I was able to steadily develop my skillset.
I have had many challenges in my career; the toughest one has always been to maintain a healthy work-life balance. I haven't quite overcome this challenge just yet, but I am working on it. In fact, the Covid-19 pandemic has caused many laws firms to involuntarily experiment with agile working and I believe this could lead to a potential solution to achieving work-life balance in the long run.
Due to the Covid-19 pandemic, we have had to learn to work remotely with close to zero physical contact with our colleagues and clients. This is a new experience for many of us but, as I've mentioned, it is also an opportunity for us to explore new ways of working.
My area of law has been stable amid the pandemic mainly because hedging is a key component of it, and has been a key focus for many of our clients who wish to mitigate their risk and exposure to the unstable economy.
Discover more about our new Hong Kong campus now.
Set for Success Hub
Find out more about how we help set you up for success.
Find out more
Our Alumni Profiles
If you enjoyed this article, why not check out some more of our alumni profiles?
See more