CURRENT ROLE
Chair - Royal Pharmaceutical Society in England (Professional Body for Pharmacy)

Pharmacist

Healthcare Advisory and Inquest solicitor
PREVIOUS ROLES
Trainee Lawyer - Hempsons
Council Member - Pharmacy Management
Member -Board Of Trustees - OCDUK
EDUCATION BACKGROUND
LPC MSc in Law, Business and Management - The University of Law

Graduate Diploma in Law - The University of Law

Master of Pharmacy (Hons) - King's College London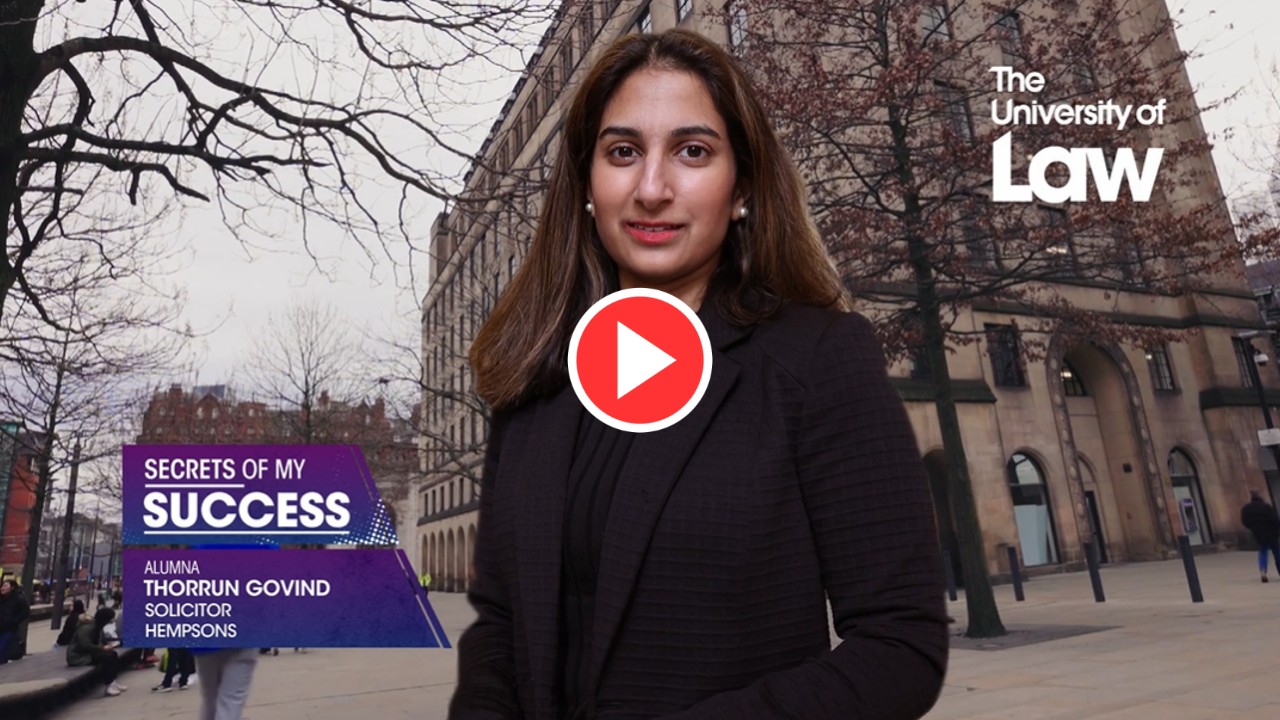 Alumna Thorrun Govind studied the GDL and LPC MSc in Law, Business and Management at our Manchester campus. Since studying with us, she's gone on to become a solicitor in healthcare and a practicing pharmacist. You may also recognise her name from her ongoing news appearances, where she comments on healthcare in the press as part of her role as the Chair of the English Pharmacy Board of the Royal Pharmaceutical Society. We caught up with Thorrun to discuss the highlights of her career so far and get her advice for any students looking to follow in her footsteps.
I always wanted to be a pharmacist, but I also had a keen interest in the media. At school I volunteered at a community radio station and reported for Newsround from Downing Street on the launch of a new newspaper for children.
When I applied for university, I considered, albeit briefly, applying for law and pharmacy entry. This was due to my keen interest in debating as a student and a visit to a court for a mock trial.
The legal aspects of my role as a pharmacist have always interested me, and now I am privileged to support healthcare professionals in a legal capacity.
I'm a solicitor in the Healthcare Advisory Team at Hempsons LLP. This role can involve representing individuals and organisations at Inquests, drafting advice and assisting individuals in regulatory proceedings.
I'm also a practicing pharmacist, and this involves ensuring the safe and effective use of medicines. We support patients with medical and lifestyle advice. We also work with other healthcare professionals to care for our patients.
Before I was even qualified as a pharmacist, I was sought opportunities to highlight the challenges of the profession, and the solutions that it offers.
This advocacy was recognised by my peers and in 2018 I was elected to the Royal Pharmaceutical Society's English Pharmacy Board; I was subsequently re-elected in 2021. The society is the equivalent of the Law Society for solicitors. It provides professional leadership, advocacy, and support for pharmacy practice in England across all sectors. It also supports members in their day-to-day practice and helps them contribute to the future of pharmacy.
The proudest moments of my career so far have been representing the pharmacy profession in the media, including on BBC Newsnight, BBC Victoria Derbyshire, BBC News, Sky News and Radio 1. Such opportunities have arisen due to my persistence and appreciation of the importance of networking outside the profession.
As a solicitor, gaining my Higher Rights (Civil) on qualification (as trainees were previously allowed to study for this) was a highlight.
If I could give my 18-year-old self any advice, it would be - don't let your age stop you from applying or making progress with your goals. For companies and organisations to survive and thrive they must make succession and continuity plans. They need people like you to engage and contribute to such plans. However, you also have to respect experience and learn from those who have been in a role longer than you.
Nevertheless, don't accept 'this is the way it's always been done' as an answer. Remember though, if you are going to challenge, you also need to offer practical solutions.
I chose to study at The University of Law due to the notable alumni as well as the facilities available. The Manchester campus is really modern, and the easily accessible location was also key, given I was juggling my other roles.
The small class sizes, never worrying about having to find a place in the library, the modern campus and the accessibility of tutors all support students and help set them up for success. I also appreciated the vast number of extracurricular activities available, and I have made lifelong friends.
My top three tips for students wanting to improve their personal brand are:
Keep showing up, being persistent is the way forward.
Find mentors.
Network - get out from behind your computer screen.
To be a successful healthcare advisory and inquest lawyer I need the ability to think on my feet in court, to understand medical terminology and to be able to manage to switch between cases. I also appreciate that it offers me the opportunity to be out and about at court, rather than stuck behind a desk.
My advice to career changers looking to get into law is to highlight your life experience - don't minimise everything you will bring to your practice of the law. As a qualified and practicing healthcare professional, I have first-hand experience in supporting patients - just like my legal clients.
Hempsons welcomes applications for training contracts from suitably qualified candidates from any background, including mature candidates, who have had other career experiences like myself.
In terms of academics, we look for good A-levels (or equivalent qualifications), a strong undergraduate law degree or non-law degree (with GDL) (expected or obtained) and you must have completed the LPC.
We would particularly like to hear from candidates who are already qualified in a medical discipline or who have experience in healthcare or third sector environments. There are three stages to our interview process for both our training contracts and graduate solicitor apprenticeships.
Follow in Thorrun's footsteps and study our PGDL Conversion course to expand your career potential or begin a new journey into law.
Set for Success Hub
Find out more about how we help set you up for success.
Find out more
Our Alumni Profiles
If you enjoyed this article, why not check out some more of our alumni profiles?
See more