EDUCATION BACKGROUND
2:1 Theology and History of Art, The University of Bristol (1993-1996)
CPE and LPC, The University of Law (1997-1999)
PhD Honorary Doctorate in Business, Middlesex University (2017)
CURRENT ROLE
Company Director and Co-Founder of Chocolate Films
CAREER PROGRESSION
Corporate Finance Executive - Beaumon Cornish Limited (1997-2001)
Company Director - Chocolate Films (2001-present)
Creative Director - 1000londoners.com (2012-present)
1000 Londoners Producer - Chocolate Films (2017-present)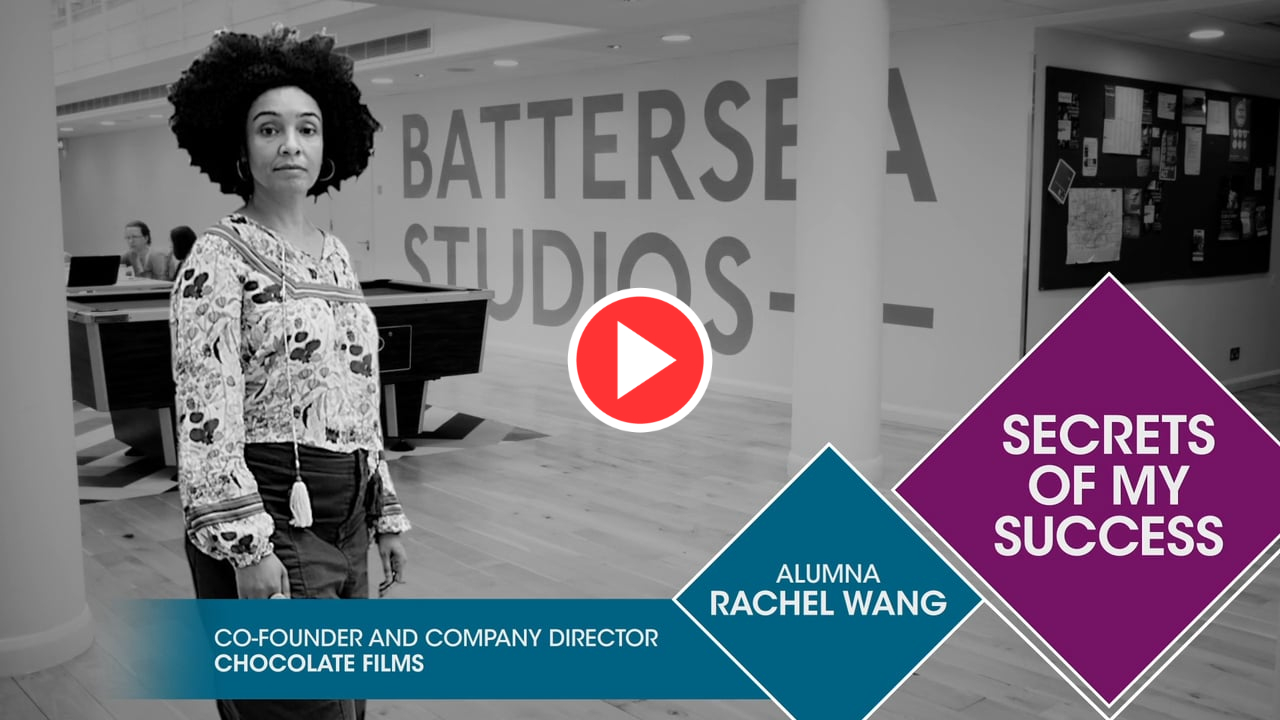 An Entrepreneur of the Year, Rachel Wang is an alumna of The University of Law who, after completing her LPC and working in corporate finance for four years, decided to set up her own video production company. It may not seem like the most obvious career digression, but Rachel's legal education has come in pretty handy over the years. We caught up with her to find out why and to learn more about the fascinating ventures her film company are involved in.
At heart I've always been an entrepreneur. I was interested in so many things when I was in my early twenties (and I still am), so my father thought studying law would enable me to focus my mind, give me discipline that I would be able to use in any field. He was completely right.
When I started out, I was fascinated by the philosophy of law. I really enjoyed finding out about all the different areas of law during my CPE (now the PGDL) course. I dabbled with the idea of becoming a barrister for a while, since I've always enjoyed performance, but it was quite a financially risky option at the time. When I chose to do the LPC, I was hoping to break into the media industry, but I soon realised that I actually wanted to spend my time producing and directing films rather than spending my days on contract law.
I am now the director of Chocolate Films. After completing the LPC I worked in corporate finance for four years, but wanted to get involved in a more creative industry, so I set up Chocolate Films from home. As the company director I'm responsible for the long-term vision of the company, which currently includes building a new studio in the Nine Elms development. I'm still very hands-on in a range of projects, such as producing content and our long-term documentary, 1000londoners.com.
Every day is different at Chocolate Films. Some days I'm on set and others I'm working in the office. The variety is part of what I love most about the work.
The proudest moment of my career so far has to be winning 'Entrepreneur of the Year' at the Black British Business Awards in 2015. I'm also very proud to have been appointed as a trustee to the National Portrait Gallery in 2017. I've always loved the gallery as the meeting point of art and history, and now I have the opportunity to be active in the future of the gallery.
ULaw gave me a great understanding of the foundations of the law. Having the confidence to understand the law and how to use that knowledge within business is so useful. For me, the biggest benefit has been handling contracts. While I'll often engage lawyers for specific pieces of work, I still read many contracts myself so having that skillset is really helpful. And never underestimate the power of attention to detail – that was something else I learned at ULaw which has paid dividends.
If you'd like to find out how a qualification from The University of Law can help set you up for success in any industry, learn more about our legal courses and the new business courses run by our Business School.
Set for Success Hub
Find out more about how we help set you up for success.
Find out more
Our Alumni Profiles
If you enjoyed this article, why not check out some more of our alumni profiles?
See more