EDUCATION BACKGROUND
UCL (1990-1993), LLB Law
The University of Law (1994), LPC
CURRENT ROLE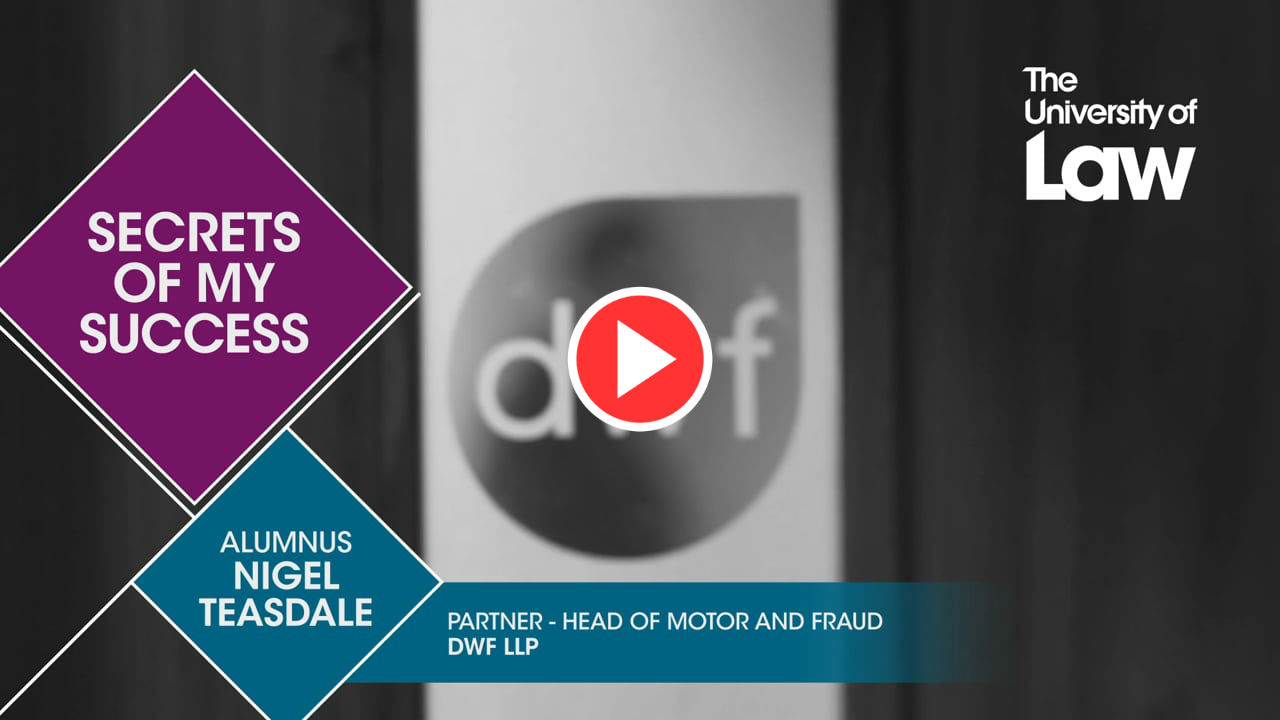 Nigel Teasdale studied the LPC at The University of Law's Chester Campus, graduating in 1994 before going on to Manchester-based niche insurance practice, Ricksons. A subsequent merger with DWF has seen Nigel progress his career to the level of Executive Committee member, now responsible for the Fraud and Motor teams. We sat down with Nigel to find out more about his career and how his time at ULaw has helped him achieve his success.
My father was a lawyer so growing up I spent a fair bit of time in and out of a solicitor's office. As his firm acted for Manchester United there were often footballers in, which might have helped add an element of glamour. Even so, right up until the last minute I was intending to study languages at university and it was a spur of the moment decision to go to UCL to study law.
The University of Law was, and to me remains, the standout provider for the LPC in the UK. It holds a strong reputation for quality and I knew it would give me the best chance of furthering my career prospects.
For me, the highlight of studying wasn't so much the academic side. I was meeting some great people who have become lifelong friends. There was a fantastic close-knit community around the College of Law in Chester.
Unlike a number of people I didn't have a training contract lined up when I went to Chester, or upon completing my course. I applied to numerous law firms and thankfully was given a chance by the managing partner of Ricksons, a niche insurance practice in Manchester/Preston. A distinction from The University of Law helped greatly. Ricksons subsequently merged with DWF and that merger was a significant catalyst in it becoming the international law firm it is today.
I'd offer today's law students two pieces of advice: Firstly, accept that rejection is a part of life and persevere, and secondly try to get as much practical experience under your belt as you can.
I currently sit on the Executive Committee of DWF and am responsible for operational delivery of the Fraud and Motor teams. This involves making sure we deliver a quality service, and also have responsibility for a number of client relationships with major insurers. Externally, I am a Director of MedCo and was President of FOIL (the Forum of Insurance Lawyers) for 2017.
I often have to pinch myself when I say what my current role is. I still think of myself as a trainee solicitor, so I think the highlight was probably being appointed to the equity partnership some years ago at a relatively young age. In my role a legal qualification is fairly crucial, but I have plenty of friends who have gone on to have great careers outside law where a legal qualification has helped them too.
Set for Success Hub
Find out more about how we help set you up for success.
Find out more
Our Alumni Profiles
If you enjoyed this article, why not check out some more of our alumni profiles?
See more