EDUCATION BACKGROUND
BA (Hons) Law, University of Nottingham (1979-1982)
LPC, The University of Law (2005-2007)
CURRENT ROLE
Managing Partner at Stowe Family Law
CAREER PROGRESSION
Associate Solicitor at Jarvis Family Law (2011-2014)
Associate Solicitor at Stowe Family Law (2014-present)
Managing Partner at Stowe Family Law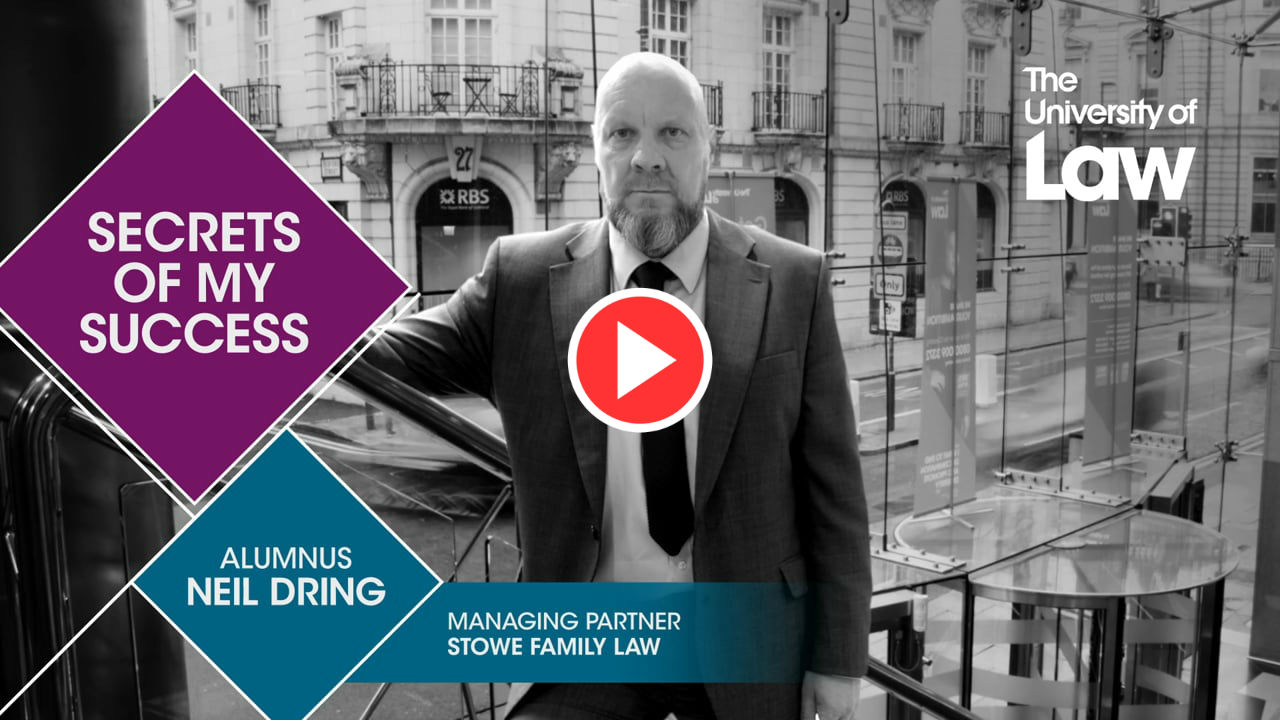 As Managing Partner at Stowe Family Law, Neil Dring runs their Wetherby office while representing clients in divorce and family cases. His career began after completing the Solicitor's Finals at our campus in Chester. Stowe Family Law is the UK's largest specialist family law firm with offices in Yorkshire, London, Hertfordshire, Sussex, Cheshire, Hampshire and Manchester. Neil told us how the university drove his ambition to succeed.
I went to Nottingham University where one of the first year options I had was law and by the end of the first week I realised that law was far more interesting than my chosen degree. We also then still lived in a world of Lord Denning and his fabulous short, punchy judgments that we used to read for fun. Luckily for me, I was able to switch courses at the end of the first year.
Well before I completed my training contract I knew I wanted to specialise in family law. After university my wife and I moved to the London area for a time. But we came back to Yorkshire when I completed my training contract. After a couple of years of mixed litigation in York I managed to find my way to a purely family role in South Yorkshire. After 20 years of specialising in family work, I joined Stowe, who had built a reputation as the biggest and best in that field outside London.
As Managing Partner, I run the Wetherby office and have a full active caseload of divorce and family cases that I handle on a daily basis. I also regularly attend court hearings as an advocate as well as instructing Counsel, drafting pleadings and court documents and representing clients in round-table settlement meetings.
I was inspired by my Principal, Steve, the fictional barrister "Rumpole of The Bailey" and then my late father-in-law, Jim. He was also a solicitor, but in a completely different field of work. He was a true intellectual. He could have worked in the City or in commercial law if money had been his motivation. But it never was and he spent his entire career in Local Authority, devoting himself to helping the people of the town where he lived and was brought up as a child. And my dad. He had been at my Grammar school before me and the only reason I was first-generation university in my family was because he had to leave school to go to work when his father died.
There is no "typical day" in the journey of the emotional roller-coaster that divorce clients can find themselves on. We have to be able to react instantly to any emergency that can crop up at any time. That's what makes it such a challenge, and so interesting.
Coming from a northern working-class family, I didn't have the confidence that I was "cut out" to be an actual real-life lawyer. The University of Law showed me the practical skills that were needed to work in the law. It showed me the daily problems that a lawyer would face and how to deal with and find solutions to those problems. It gave me the confidence that I could do this stuff, and allowed me to find that I could hold my own with other budding lawyers on the course, from all kinds of backgrounds. Incidentally, the same applies to my elder daughter who went through The University of Law and is also now a lawyer, though in a completely different area both legally and geographically. I'd like to pretend that I was her inspiration. But no, apparently it was Judge John Deed that swung it for her.
Family lawyers sometimes have to deal with clients in very difficult emotional situations. Sadly, we sometimes see the worst of people, at their lowest point. Patience, empathy, calmness and an ability to mix objective, realistic and honest advice and be supportive and encouraging at the same time. You will be called upon at various times to be a counsellor, psychologist, mediator, personal assistant and best (or only) friend. Occasionally a bit of law will rear its head, so it's best to keep up to date with that too! Most of all though it is the ability to communicate clearly and effectively, to lots of different people and agencies, with widely different needs and levels of understanding, that is key.
Students keen to work for Stowe Family Law should have an interest in people and a motivation to help solve real-life day to day problems. You must have a natural ability to care about your clients and give detached, honest advice at the same time. Get experience by working with specialist family lawyers in the holidays. Maybe take a year working as a paralegal. It can be difficult to deal with the emotional non-legal issues that arise, especially those that objectively might seem trivial but clearly matter greatly to the client. Not everyone can handle it.
The definition of success at Stowe Family Law varies with each individual and how that individual is motivated. There is no single generic bar to clear or target to hit to achieve success here. For me it's simply going home at the end of the day knowing you have made a difference and that because of something you did that day, however small, somebody else's life is a little bit better.
Find out how you use our Careers and Employability Service to secure experience in family and other areas of law.
Set for Success Hub
Find out more about how we help set you up for success.
Find out more
Our Alumni Profiles
If you enjoyed this article, why not check out some more of our alumni profiles?
See more