EDUCATION BACKGROUND
Bachelor's Degree in Social Anthropology & Law, LSE (2008 - 2011)
LLM Computer and Communications Law, Queen Mary, University of London (2012 - 2013)
LPC, The University of Law (2013 - 2014)
CURRENT ROLE
Senior Privacy Counsel UK & Northern EMEA, eBay UK
CAREER PROGRESSION
Privacy Counsel UK & Northern EMEA - eBay UK (2020 - 2021)
Privacy and Commercial Legal Counsel - StubHub (2019 - 2020)
Commercial Solicitor, eBay UK (2017 - 2018)
Trainee Solicitor, eBay UK (2016 - 2017)
Trainee (Secondee) - Fieldfisher (2016 - 2017)
Legal Intern - eBay UK (2015 - 2016)
Legal Assistant and Administrator - Camlon Ltd (2009 - 2013)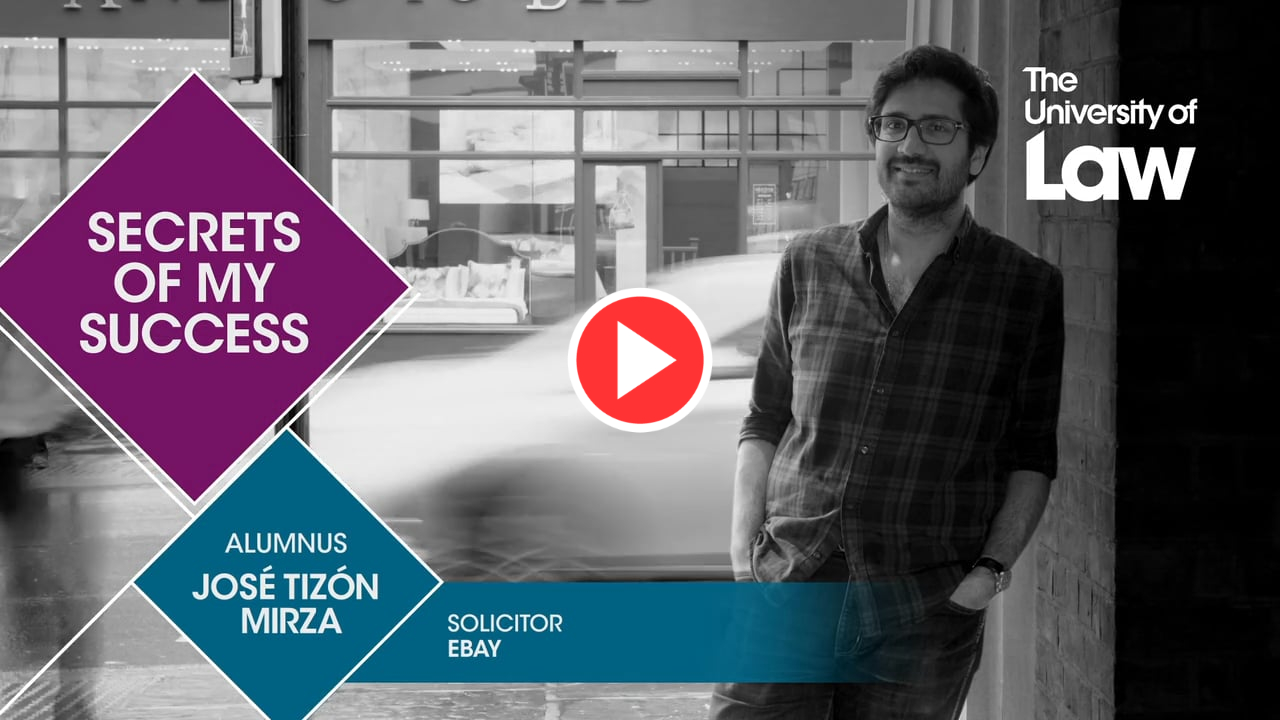 José Mirza completed his Legal Practice Course (LPC) at The University of Law (ULaw) in 2014 and has completed his training contract at eBay, advancing on to become a Commercial Lawyer for the giant online company. We wanted to find out what life is like for an in-house legal professional in the fast-growth e-commerce and online industries. Here José talks about his swift progress through eBay and how his time at ULaw helped set him up for success in finding his ideal job.
I work as legal counsel in eBay's Commercial, Compliance and Product team. The team has a very broad remit, covering a number of topics. I find that this variety makes the role really fascinating. One morning you could be negotiating a commercial agreement with a partner, then you'll be advising the business on consumer rights and assisting with the review of a new product – all before midday.
I've always been interested in e-commerce and online industries, so eBay is a great fit. It's a business that takes an unconventional approach and offers unique and varied opportunities. The business and legal challenges we face are diverse but holistic, making the legal department at the heart of the business. E-commerce was at the forefront of moving the internet forward; it's exciting to work at a company that helped lay the foundations of the legal frameworks we deal with today.
E-commerce and online businesses have an assortment of business models. You could have two competitors working in the same industry but with completely different business models. Understanding how different online companies carry out their operations is very important. It enables you to identify the challenges the business faces and how the legal department can assist. It also allows you to highlight any risks the legal department may need to deal with directly. Practicality and speed are of utmost importance in this industry, so you must ensure you've done the legwork to establish a strong position to provide this level of immediate support.
I see information technology and privacy law as the areas which are going to keep growing. My aim is to begin working towards the appropriate certifications in these areas to complement my other skills. This will hopefully put me in a better position to provide clients with holistic advice and become a better leader in the future.
Working in-house means you often get to experience small victories. I'm not generally working on colossal deals, but lots of little elements across the business. I always feel proud when my clients tell me that they're happy to work with a lawyer who is commercially aware and able to give them practical advice. It seems to be a significant issue a lot of people face when dealing with lawyers in this industry.
To do well in eBay's legal department you really need to be adaptable. You never know what the company is going to throw at you from one day to the next, which is exciting and interesting but requires you to be able to think on your feet and react quickly. Commercial awareness is vital too. It's a highly competitive environment which is continually shifting so you need to be on top of what's going in the world to ensure you're not missing any risks or opportunities. It's important to be attuned to the needs of the business too. When you're working on a demanding initiative or urgent project, you can't hide behind legal forms and processes. Being able to work out solutions for clients is an incredibly important quality.
Law is such a diverse discipline which can open up a number of opportunities. Like most teenagers, I had absolutely no idea what I wanted to do when I was trying to choose a career path. A legal education offered someone in my position a lot of options that could cater to different personalities and styles.
The ULaw employment team have a wealth of knowledge in the legal industry. They've built strong relations with a range of employers. At the end of the day, it was down to those relationships that I got my first position at eBay. I found a legal internship position at eBay through the ULaw employment service and then was offered a training contract after the internship ended.
I particularly remember the excellent range of external speakers at ULaw. It was great to receive insights and advice from experts in all areas of the legal profession, and even some outside of it.
Find out more about how ULaw can set you up for success with ULaw undergraduate and postgraduate courses.
Set for Success Hub
Find out more about how we help set you up for success.
Find out more
Our Alumni Profiles
If you enjoyed this article, why not check out some more of our alumni profiles?
See more