EDUCATION BACKGROUND
Part II Course, The University of Law (1974-75)
University of Southampton (1974)
CURRENT ROLE
CAREER PROGRESSION
Bishop of Swansea and Brecon (2008- to present)
Dean of Brecon, Diocese of Swansea and Brecon (2000-2008)
Parish Priest, Diocese of Monmouth (1984 – 2000)
Solicitor in Private Practice (1977 – 1982)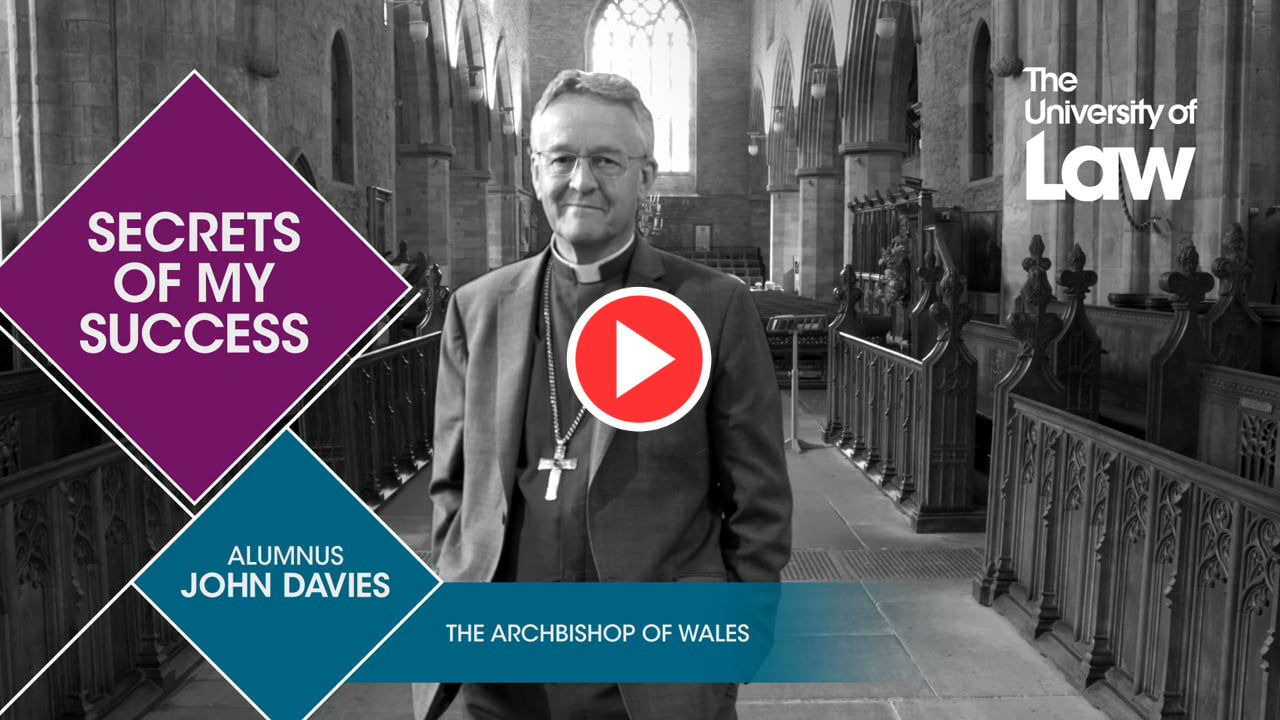 Not all of our alumni go on to practice law in the conventional way of joining a firm or chambers. Take John Davies, for example. John qualified as a solicitor at The University of Law in 1975 and, after a few years of practising in a firm in Newport, he decided to go back to his studies – only this time, at Theological College to study Canon Law. John became a parish priest in 1984 and has remained in the church ever since. He was elected as Archbishop of Wales in 2017. We visited John to find out about his life in the church and how his legal education has helped him in a different field.
I chose to study law because I wanted to study something which I had not previously studied and which would open up opportunities for my future work and employment. My early career ambitions were simply to qualify and ultimately to secure a partnership in a firm. I chose to practice Criminal Law because it was recognised that I had an aptitude for advocacy in the magistrates' court.
I obtained my first legal job by applying to various firms of Solicitors in Newport who were seeking to employ Article Clerks. I had no connections with the legal profession but was fortunate to find Articles with a firm that had a varied practice, chiefly conveyancing, probate and trusts, but with some civil and criminal litigation (including family law).
I was inspired to study Canon Law because I wanted to understand more about it, but it was also an opportunity for me to continue my legal studies despite leaving legal practice. I moved away from criminal law practice for one very straightforward reason: One of the clerics in the parish where I was the Director of Music overheard me speaking to a group of my choristers about a forthcoming service. I was, at the time, explaining to those choristers something about the biblical readings being used in the service and why particular pieces of music and hymns had been chosen. The cleric posed a simple question to me: 'Have you ever thought about being ordained?' Whilst I did not take this comment seriously, it remained with me and, when offered a partnership in the firm where I was then working, I felt that I ought to explore my vocation first, which I proceeded to do.
Canon Law is the study of the church's Law. All branches of the church have their own rules and regulations which, in many cases, have little force other than as 'club rules'. This is the case with the Church in Wales of which I am the Archbishop but, in relation to the Church of England, its Measures are deemed to be part of the law of the land because of the Established status of the Church of England. In most cases, however, the Canon Law of the various churches seeks to govern their own internal relationships and, in some cases, their relationships with external organisations.
I have the proudest moment in both my careers. In relation to the law, it was qualifying and subsequently being offered a partnership. As far as my role in the church is concerned, the proudest moment was being elected as Archbishop of Wales and recognising that, because it is an election rather than by means of application, others had confidence in my ability to be a good leader.
Each day as Archbishop is so varied. I'm always working on a mixture of services, meetings, both diocesan and provincial, public engagements and speaking commitments, as well as preparing liturgy and composing sermons.
I think that the most obvious qualities and skills I've taken from my legal education into the church come from my practice of criminal law. I developed the ability to both speak and think on my feet, frequently without a script, which is a great skill to have in many professions.
Find out how more about the Undergraduate and Postgraduate courses offered at The University of Law.
Set for Success Hub
Find out more about how we help set you up for success.
Find out more
Our Alumni Profiles
If you enjoyed this article, why not check out some more of our alumni profiles?
See more