BACKGROUND
CPE & Law Society Finals (GDL & LPC equivalent),
The University of Law (1989 & 1991)
2:1 English & Arabic, The University of Leeds (1984 - 1987)
CURRENT ROLE
Head of Mischon Private and Partner, Mishcon de Reya
CAREER PROGRESSION
Executive Partner at Mishcon de Reya and Head of Mishcon Private
Head of Litigation at Mischon de Reya
Solicitor at Mishcon de Reya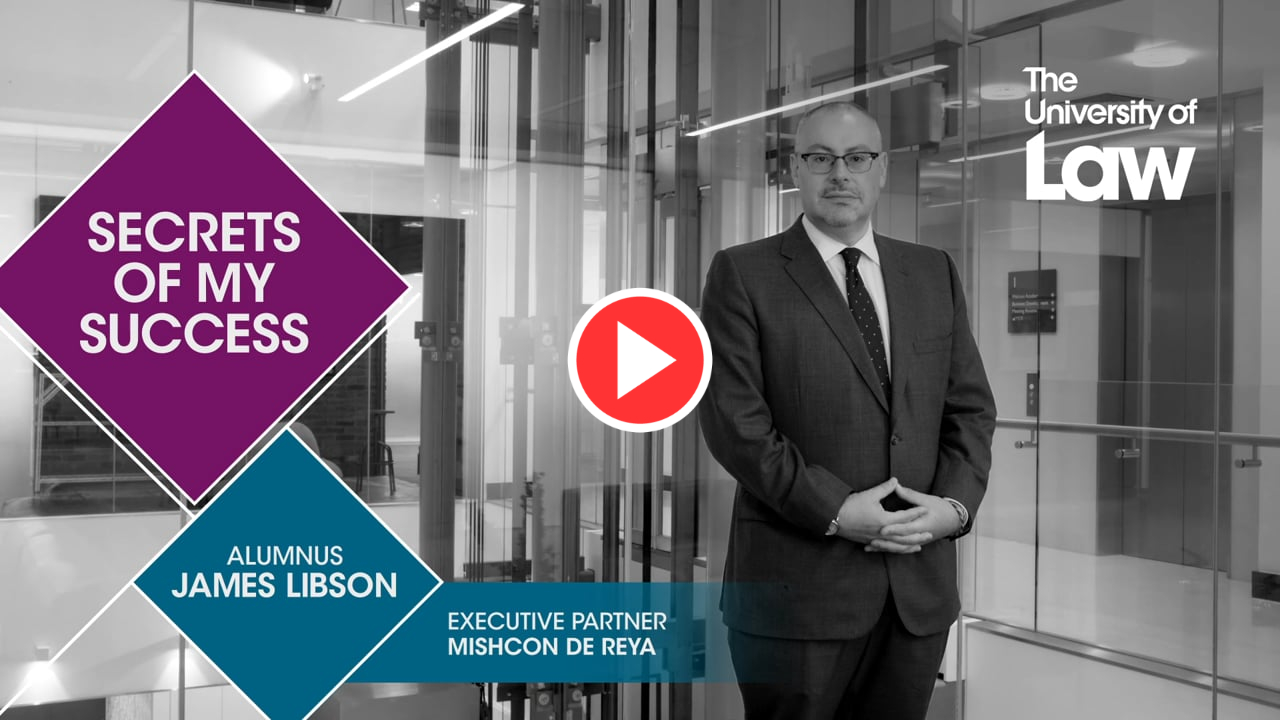 James Libson graduated from The University of Law in 1991 and began working at Mishcon de Reya as a newly qualified solicitor almost immediately. He's been with the firm for over 26 years and is now an Executive Partner and the Head of Private for the firm. James' career has seen him involved in some landmark cases, including advising Gina Miller during the Brexit Article 50 case and Deborah Lipstadt during the Holocaust denier libel case of the 90s.
In recognition of his valuable involvement in such pre-eminent cases, James has recently become one of the first recipients of The University of Law History Maker Award. He was also awarded an Honorary Doctorate by ULaw as part of the University's graduation ceremony held at the Barbican in April 2018. We sat down with James to find out more about his career, how his becoming a lawyer was a happy accident, and what the future might hold.
Choosing to study law was a bit of a fluke for me.I'd been doing a few other things in marketing and youth work, but neither had captured my imagination as something I'd like to do long-term. I couldn't make up my mind, but I had to get my parents off my back so decided to study law to buy myself some time.
The teaching at The University of Law was excellent.I'm a great fan of the way in which the courses are structured and massively enjoyed the learning. Much of what I learnt I still recall today, which must be a good sign.
Joining Mishcon de Reya was about being in the right place at the right time. I entered the profession during a recession and there were redundancies being made across the sector. There were even some more obviously suitable candidates in my intake. It simply came down to fortunate encounters and a stroke of luck that I came to work at Mishcon de Reya. I have been very lucky. I stumbled into law, stumbled into Mishcon de Reya, and stumbled into a fantastic career.
I'm now an Executive Partner and the Head of Private for Mishcon de Reya. I help run the firm, with particular emphasis on our systems, working practices and risk. I also run one of our larger departments with about 120 people and a variety of practices. I like to maintain a client practice too.
I feel great pride whenever someone I work with achieves a success. I know it sounds cheesy, but seeing a close colleague receive a promotion or win a case or prize genuinely makes me feel so much better than a personal success does. After all, personal success can only ever come with huge amounts of teamwork anyway.
I've been really fortunate to work with lots of inspirational people throughout my career. Our Managing Partner is an incredibly inspiring person and a visionary leader of a law firm. I was lucky to be able to see Lord Mishcon in action, and I've worked with one of the finest lawyers of our generation, Anthony Julius, for the entirety of my career. Outside of the legal sector I also do voluntary work, which has provided other inspirations, especially from the CEO of the development agency I chaired for five years and the head teacher of the school where I chaired the board of governors.
There are exciting (and a bit frightening) changes happening in our world, and in our industry. We have so much to do, and the firm is in a really exciting place. Our success has given us a lot of opportunities which we must use wisely and not overreach. I see enormous changes in the ways people want to work, and in the use of technology. We want to respond to these changes while ensuring we have a firm that stays true to its values and remains a great place to work.
I think that to be a successful lawyer at Mishcon de Reya you need to have a restless curiosity. Our work is very varied. You need to have a passion for the law and for looking after your clients in the most efficient and intellectually rigorous way possible. It takes a sense of fun and, on occasion, stamina. The most important thing I can advise anyone thinking of applying to Mishcon de Reya is to find out what makes us tick. If it's the same as what makes you tick, then make sure you reflect that effectively in your own experiences.
Find out how more about the Undergraduate and Postgraduate courses offered at The University of Law.
Set for Success Hub
Find out more about how we help set you up for success.
Find out more
Our Alumni Profiles
If you enjoyed this article, why not check out some more of our alumni profiles?
See more