BACKGROUND
The University of Law (then known as The College of Law)
University of Leicester
Epsom College
Aberdour School
CURRENT ROLE
Chair of Litigation Division and CDR Team Lead, Moore Barlow
CAREER PROGRESSION
Partner, Barlows (merged with Robbins Olivey to become Barlow Robbins, which merged in 2020 to become Moore Barlow)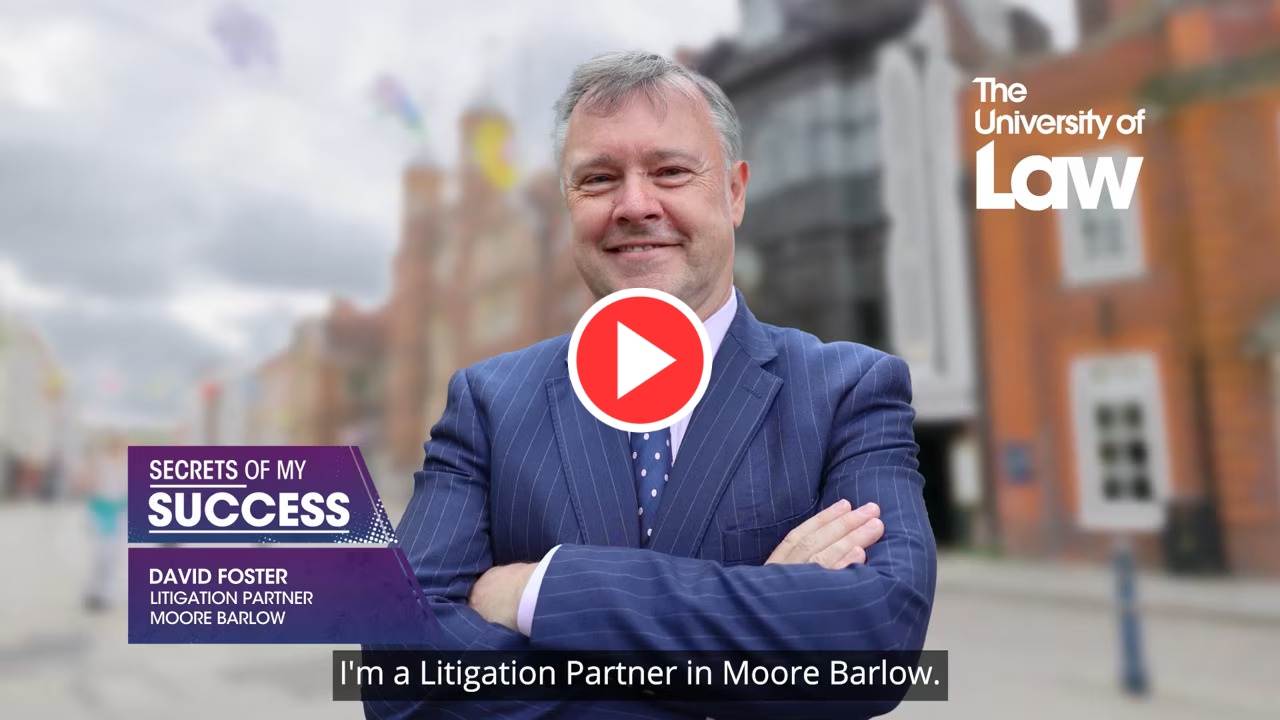 Alumnus David Foster has had a rich and inspiring career, having gone on to become a Board member of Moore Barlow, Chair of the Litigation Division and lead of the Commercial Dispute Resolution team. We caught up with David to discuss his career highlights so far and get his advice for students looking to work in dispute resolution.
Early on, I wanted to do politics as a degree, but my parents, who were from hard-working farming families, would not fund that - so we agreed on law. I am grateful for that now; law was the better choice to politics.
I wasn't sure if I wanted to have a legal career, but I thought it would be a gateway to other options if I wanted them. At university, I was on the steering group of the Social Democratic Party when it was flying high after a breakaway from Labour.
When I got to the end of my degree, I wanted to be a church pastor but was encouraged to become a lawyer first, and once I qualified, I never felt a strong enough call to change direction. I felt comfortable and fulfilled in being a lawyer and have done some work that has been important to me.
I chose to study at The University of Law because it had the best academic standards, and still does. I was brought up in Carshalton, so the beautiful Guildford campus was convenient. The wide range of good technical skills is great for building knowledge of the law and the world. Now the skills taught at the University are even broader than my time there. I made lifelong close friends from there, one of whom I have been in partnership with professionally for over 20 years.
I am a Board member of Moore Barlow, Chair of the Litigation Division and also the Lead of the Commercial Dispute Resolution team. There are 9 litigation partners and 5 teams in commercial dispute resolution, insolvency and recoveries, real estate disputes, private wealth disputes and financial services litigation.
Both dispute resolution roles involve me using my mediation and people skills to ensure the teams work well and that everyone enjoys their role. The commercial dispute resolution role in particular employs my commercial and technical skills.
Moore Barlow has a positive, values-led culture that I seek to model and encourage in my team.
There are several stand out moments during my career that I am proud of, including:
Handling Court of Appeal and Supreme Court cases
Looking after and growing a good team
Being a deputy for a man with a brain injury since 1996 - I speak to him a couple of times a week to make sure he is okay.
Travelling to Kenya to see the justice system and prisons, and how the lawyers their work in difficult situations.
Going abroad and meeting lawyers from other jurisdictions
Quietly just keeping on going with a positive purpose.
I have a judicial review specialism and have done several cases on end-of-life situations. Generally, I act for the parents of children where hospital trusts want to end care. They are all important because they are life or death cases. One of my last cases was for Archie Battersbee, who appeared to have been doing a challenge that went wrong and asphyxiated.
The parents in these cases are often impressive in their desire and diligence to protect their child.
The advantage of working for a regional firm is a shorter commute and a better work/life balance. I am involved in a good deal of life outside of work, especially with a wife, 3 children, all of whom are married, and a grandchild. I also have 2 dogs, which make me exercise.
I try to make the most of my free time. Surrey is the most wooded county and there are many beautiful places to relax. There are times where my professional responsibilities require some extra time and focus outside of normal working hours, particularly when I have a large profile or time sensitive case. However, I try to take time to invest in other people and areas of my life whenever I can.
If you are interested in working with us at Moore Barlow, send us your CV and talk to us. Know your passion as far as you can. Before you apply, do take time to understand Moore Barlow and our values and ethos. We look for good characters, good academics (whilst being open to those who qualify via alternative means) and people who will put a smile on their colleagues' and clients' faces.
If you want to be a successful leader in a firm like ours, you need to:
Have good technical skills and a secure track record for credibility.
Care of people.
Care over decision making so you look at all the facts and options.
Persevere
My top three tips for students looking to work in dispute resolution are:
Understand conflict and that you will be okay being there when the going gets hot.

Read a newspaper so you know what is going on, especially in current cases in court.

Network with litigators and join organisations which align with your career aims. Look to join junior lawyer networks and get involved in pro bono work.
Law is always changing and over the next few years I predict continued progress in IT use; more international work and, like everywhere, more challenges surrounding people's wellbeing and mental health.
My final piece of advice is - don't just go into law for the money. Law is a great career and those in the profession are guided by good ethical principles which helps legal culture. I have enjoyed my legal career and being in partnership with lawyers I appreciate as colleagues and close friends.
Learn more about Moore Barlow's early careers recruitment now.
By Cara Fielder. Published 3 November 2023.
Set for Success Hub
Find out more about how we help set you up for success.
Find out more
Our Alumni Profiles
If you enjoyed this article, why not check out some more of our alumni profiles?
See more