EDUCATION BACKGROUND
BA Hons, History, University of Exeter - 2011 – 2014
GDL, The University of Law – 2017 – 2018
LPC, The University of Law – 2019 – 2021
CURRENT ROLE
Trainee Solicitor, Aardman
CAREER PROGRESSION

Associate Music Supervisor, Media Arts Lab, 2020 – 2021
Associate Business Affairs Manager, Media Arts Lab, 2020
Business Affairs Executive, [PIAS] UK Limited, 2018 – 2019
CRM Executive, Sony Music UK, 2015 – 2017
Freelance music journalist, 2013 – 2017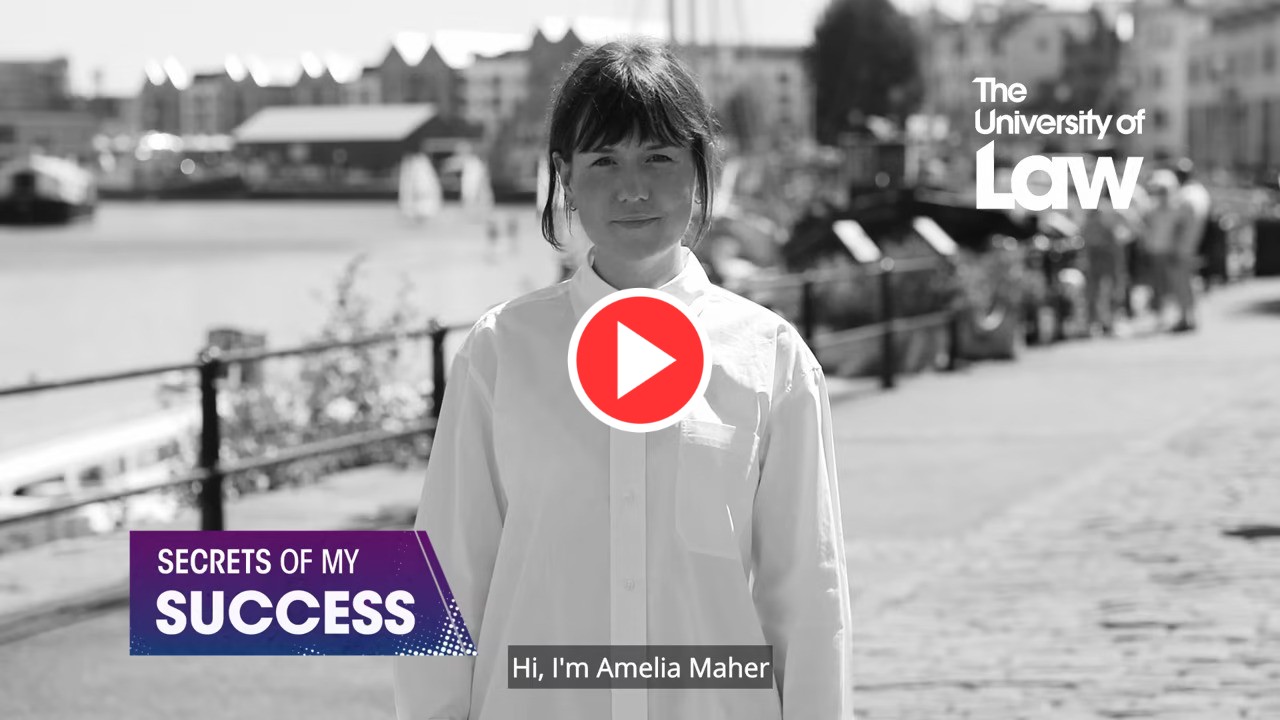 Amelia Maher always knew she wanted to work in entertainment, she just wasn't sure where she belonged in such a wide-ranging sector. It was only when she met the legal team at a major record label that Amelia realised media law was the career path for her. We spoke with Amelia about her journey from music blogger to trainee solicitor, creative legal work, and the role The University of Law played in her recent success.
I began writing a music blog during my undergraduate degree, and it wasn't long before I started writing for various music publications. This meant I was able to meet lots of people from across the music industry. I frequently went to gigs on my own and struck up conversations with people who I thought looked important. Following university, I continued to work as a music journalist, and also set up a small, independent label. I realised I still had lots to learn and applied for Sony Music's internship programme. I was successful and placed in the CRM (Customer Relationship Management) team.
When I started working at Sony Music I was exposed to music lawyers and became interested in the work they were doing. I remember very clearly that our team had a meeting with the lawyers about some issues we were facing. It all clicked into place. I realised I enjoyed the problem-solving element of my role, and a career in law was what I wanted.
I organised coffee meetings with the lawyers at the label and asked them to explain what their roles involved and how they got their jobs. They were all so helpful and had some excellent advice. Some of them even let me look over the agreements they were working on so I could get an idea of what their day-to-day work looked like. I was lucky. It completely transformed my understanding of what I thought a legal career involved, and a whole new world opened up for me.
I went to an open day at The University of Law's Moorgate campus. The minute I walked through the door I knew it was the right place for me. I remember watching one of the talks, the tutors were explaining the GDL (now the PGDL), and thought they were extremely impressive and inspiring. I applied for the GDL the following week.
Now, I'm a trainee solicitor at Aardman, the award-winning animation studio behind the likes of Wallace & Gromit, Chicken Run and Morph. On a day-to-day basis I could be asked to do anything; reviewing prop designs, helping with music synch licences for feature films, helping with business leases, testing new VR games. The work is extremely varied.
By far the most rewarding part of my role is that I get to work alongside some of the best creative minds in the business, helping bring their brilliant – and sometimes completely bonkers – ideas to life. The reason I wanted to work in media law is so I can use my skills to help protect creatives and ensure their ideas are brought to life in the most efficient way. It can be challenging, but it's extremely rewarding when you get to see the end result of a project.
People often think a legal career isn't creative, but it frequently involves having to think beyond the immediate issue in front of you and consider the wider implications, which leads to some creative problem solving. This is what I love about my work. It's also quite cool I get to spend my training contract working on the next Chicken Run film. It's a constant learning experience. I work alongside some brilliant legal minds. The training they provide helps ensure I keep developing my legal skillset and deepen my understanding of how best to work across different parts of the business.
My advice for students looking for a training contract would be to narrow your search, look at the exact criteria firms and companies are asking for, and seriously consider if you can tick those boxes. I had a list of criteria I was looking for in a training contract, which included having access to creatives and the wider media and entertainment space. I also looked at what I could realistically offer as a trainee and tried to match my skillset to the job descriptions. If there are gaps you can't currently fill, ask yourself how you can gain experience elsewhere so you can put yourself in the strongest possible position.
I used the University's Employability Service and attended sessions to review my CV. These helped me understand exactly what employers and firms are looking for and how to effectively highlight my strengths and achievements. I also attended sessions regarding training contract applications, which again helped me understand how to clearly structure and articulate my answers.
The GDL and LPC can be challenging at times, but the tutors always push you intellectually and encourage you to form your own opinions. Questions are always encouraged, and the fact that so many of the teachers are still active solicitors helps, as they understand exactly what knowledge you need to take out of the classroom and into the workplace.
I was particularly inspired by John Van-Issum who taught dispute resolution and commercial dispute resolution on the LPC and was extremely good at making complex matters more digestible. John always ensured everyone in the class understood the subject matter he was teaching. He also gave brilliant, real-life examples from his extensive legal experience as a barrister, which helped bring law to life. His stories really stuck with me and made revision a lot easier.
My final piece of advice for students interested in a career in media law would be to try and gain experience in any way you can. Speak to as many people as you can in the wider media industry. Always be polite and respectful. You never know where your next job will come from.
Considering a change of direction? Explore our range of postgraduate courses and kickstart your new career now.
Set for Success Hub
Find out more about how we help set you up for success.
Find out more
Our Alumni Profiles
If you enjoyed this article, why not check out some more of our alumni profiles?
See more