ULaw was one of the key sponsors of Legal Cheek's Legal Ed Conference 2022 held last week in London to discuss the future of the SQE (Solicitors Qualifying Examination), diversity at the bar and the experience of a solicitor apprentices.
Among the speakers were renowned law firms, Maxine Warr head of the Solicitor Regulation Authority (SRA) and lecturers at top universities.
ULaw's Director of Business Development Morette Jackson discussed the SQE in practice and Jacqueline Cheltenham, ULaw's Director of National Programme and Student Affairs spoke about diversity at the bar.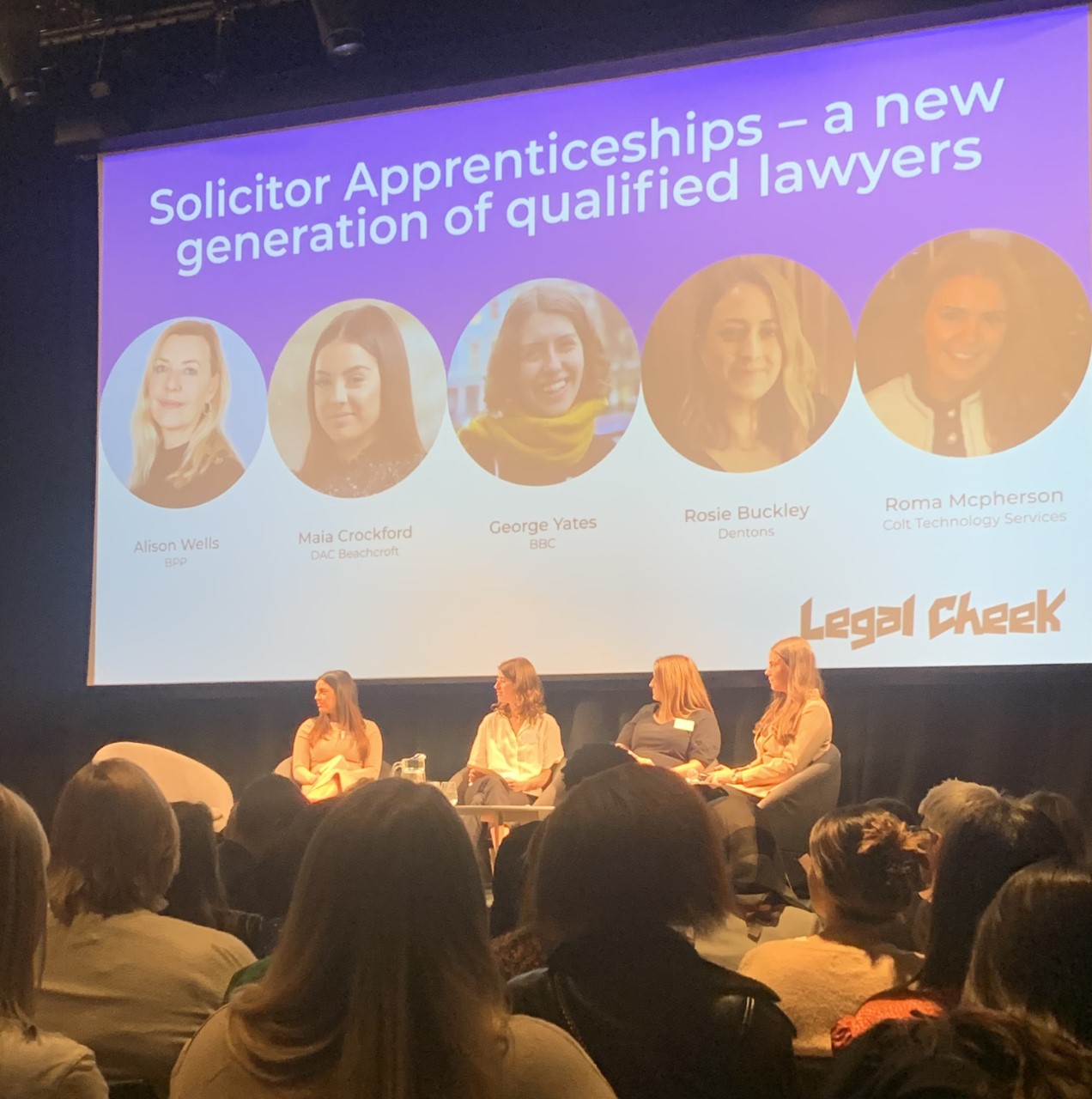 SQE in practice
The SQE is the new assessed standardised exam which all solicitor students are required to sit to become a qualified solicitor. The Legal Services Board (LSB) approved the SQE in 2020 and the first SQE1 examination, a five-hour multiple choice exam sat in Pearson test centres was held in 2021. The goal of the SQE is to enable any student to become a solicitor regardless of their route or educational background.
Morette Jackson was a member of the SQE in practice panel advising firms how to choose the right SQE course for their trainees and ULaw's approach to the new qualification. Morette Jackson highlighted three principle areas which firms should consider when looking for SQE courses:
Choice: finding the right SQE course for the firm
Content: choosing the course which will give trainees the knowledge and skills right for the firm
Student Wellbeing: ensure the students are properly supported on their journey
Ms Jackson underlined choosing an SQE course will be different for every firm and cannot be viewed as a one size fits all scenario: "Firms may choose one route for future trainees and it may be front loaded, sponsored and a complete programme."
However, it is imperative firms think about which "course is right for paralegals, lawyers qualified in other jurisdictions, all these other legal professionals they need help and guidance too." The reason being that SQE courses can be "quite different" from one provider to the next, in contrast to LPCs which "are heavily regulated and (students) experience are not going to be that different wherever they study."
At ULaw there are a range of programmes designed for these areas including preparatory courses for SQE1 and SQE2. The modules on ULaw's SQE courses help upskill students in areas of technical excellence including: family law or private client view, debt and equity finance mergers and acquisition.
Ms Jackson reminded firms the SQE does not represent the complete entirety of any person's training and should be considered as "a licence to be a safe, competent solicitor not necessarily an advance driver certificate. It is likely your future trainees will need upskilling beyond the mere regulatory requirements of the SQE."
Ms Jackson concluded pastoral care towards the students goes beyond the course content: "Do not concentrate on content and scheduling at the expense of their experience."
Hearing from apprentice solicitors
On the solicitor apprenticeship panel, we heard from four solicitor apprentices: Georgie Yates, Roma McPherson and Maia Crockford alongside Rosie Buckley who is part of the Early Careers Recruitment team at Dentons. Georgie Yates an apprentice at the BBC and student on ULaw's apprenticeship course shared that the apprenticeship allowed her the opportunity to be independent alongside her studies.
They collectively agreed managing studying alongside working in the office was sometimes challenging, underlining the importance of having a supporting employer who respects their four-day work week. In addition, they all agreed social events put on by their employers meant they did not feel they missed out on the university experience.
Diversity at the bar
ULaw's Director of National Programme and Student Affairs, Jacqueline Cheltenham, discussed the importance of diversity at the bar and visibility in a male white dominated sector. Drawing upon her own experiences as a barrister and women of colour, she encouraged those at the bar of different diversities and backgrounds to show to aspiring students that "you can make it."
Learn more about our SQE courses here. Information on ULaw's apprenticeship programmes can be found here.