EDUCATION BACKGROUND
The University of Law, LPC
The University of Law, GDL
University of Cambridge, LLM
East China University of Political Science and Law, LLB
CURRENT ROLE
Career Progression
Trainee Solicitor at Linklaters (2017 - 2019)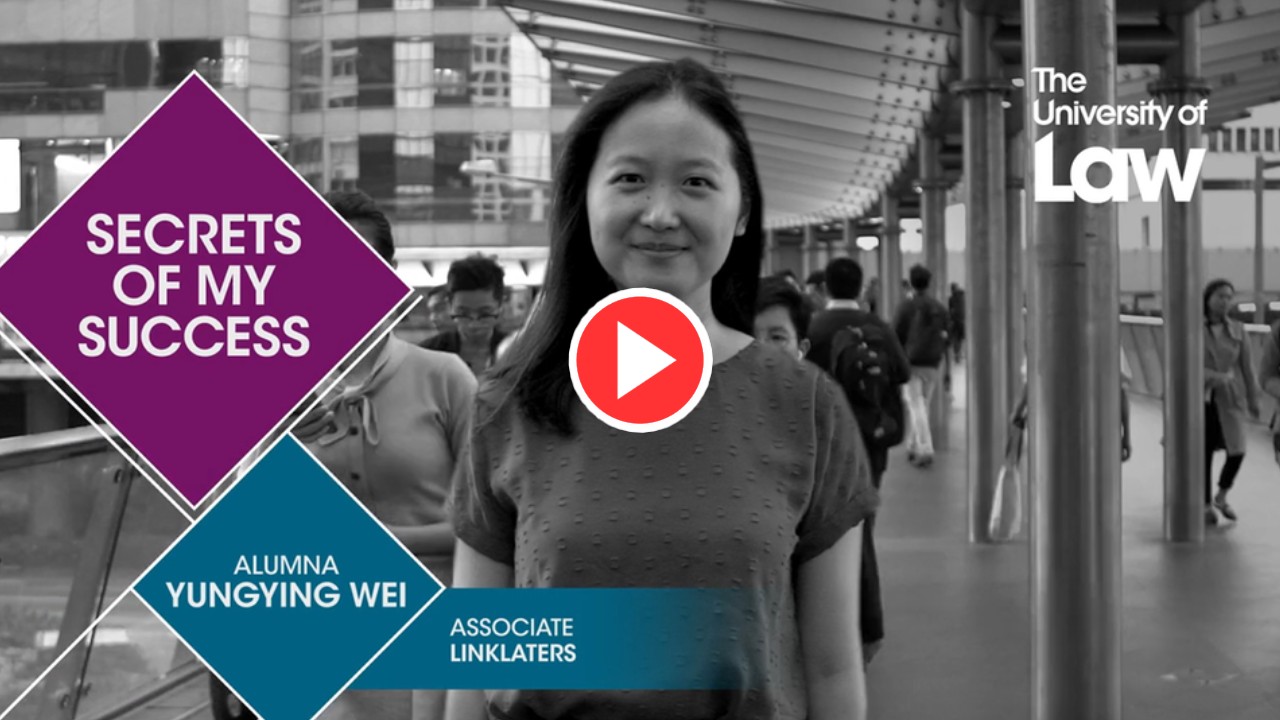 Yunying Wei studied her GDL and LPC with The University of Law and has since gone on to become a trainee solicitor at the global law firm, Linklaters. We caught up with her to discuss what areas she's worked in so far and how studying English law has helped her while working in Hong Kong where we have recently launched a new campus.
Coming from a non-common law background, I found it difficult to understand my LLM subjects in depth. This is because all the advanced legal subjects offered at the LLM programme are built on those core English law subjects, like contracts, tort and trusts. Therefore, I decided to study the GDL & LPC so that I can understand English law, apply English law principles and practice English law.
I am currently a trainee solicitor in the Disputes Resolution department at Linklaters. Last week, I worked with the finance team on fee updates, drafted some simple documents (to the court and to the other party), analysed evidence, checked the English translation of some People's Republic of China (PRC) law provisions and reviewed amendments to the statement of case. My principal does all his conference calls on speaker and has been copying me in on all the emails, so I can keep up-to-date on all the correspondence to get myself up to speed.
I am still at an early stage of my career, but my plan is to make the most of my English law and PRC law background as well as the platform offered by Linklaters. During my role in Hong Kong, I am seeing many deals where we build on our London knowhow, adding Asia specific features and help our clients with the "firsts" in the Asia markets. I'm very proud to work on deals that have been awarded 'deal of the year' or 'firsts' in the market.
I applied for a training contract when I was doing the LLM. I attended the annual law fair and spoke with the graduate recruitment team, the trainees and the campus ambassador. I also attended quite a few workshops organised jointly by the career service and different law firms on how to prepare for interviews.
When I started at ULaw, I found the international student induction very helpful. I made friends with some other international students who were also new to London/the UK but from different tutorial groups. We supported each other when we were homesick and visited interesting places in London together during holidays.
ULaw tutor Peter Goodchild inspired me during my studies. When I was doing the GDL, as the only non-native speaker, I was very shy and scared of making mistakes. He would direct some of the questions to me in a friendly way and encouraged me to express my opinions. I am very grateful and will try to do the same for others during my career.
Law is a profession that requires long hours, but I am trying to finish everything during work days and save my weekends for unwinding. The country parks are all very accessible in Hong Kong and there are so many different great restaurants. I also try to exercise two to three times a week during work days.
To be a successful trainee at Linklaters you are required to have good attention to detail, to be passionate about what you do and be a team player. Firstly though, do your best to get good grades as you need these to secure an interview. Find something you are passionate about and get to know that well so you can have something to talk about confidently in the interview. Trust yourself and apply. Linklaters is a very friendly firm and we encourage diversity here, so do not ever let your self-doubt stop you.
It was very helpful at ULaw that all the tutors have private practice experience either in a law firm or in house. The tutors know how lawyers actually apply law in real life, they adopt the same approach when running the tutorials and this prepares students for their legal career.
I have done Projects and Derivatives, and Structured Finance during my training contract. I enjoyed Projects because we work on so many 'deal of the year' deals and none of them could be done without team work. We supported each other during those late nights and worked shifts before closing so that everyone could get some rest. There was always someone monitoring the deal and taking things forward. We have a very broad practice and none of the deals are the same. I worked on infrastructure and energy, corporate documents and finance documents, renewable and traditional coal/gas, new projects and refinancing during my six month sitting at Projects. We work from the legal aspect, but we also support the business decision making.
I also enjoyed Derivatives and Structured Finance. I like how we take an idea from the clients and develop them into short but complex documents. I especially enjoy analysing the cash flow of the structure to make sure the documents are clear about who pays what in each situation and where the money will be from.
I really enjoyed the small group tutorials at ULaw. We did case studies as a group and presented our outcome as a group. The small group teaching also ensures that the tutors have time to answer questions from each student. I'd recommend the LPC because it helps you to develop your self-studying skills, teamwork skills and presentation skills which are all important in the legal practice.
I also appreciated that I did the LPC with all the Linklaters future trainees. We developed friendships during the LPC, which has made the training contract easier as I always have people I know well to talk to and we can support each other.
I think it is a good idea that ULaw is branching out in Hong Kong as it does not have a conversion course route for non-law/non-common law students. If they want to enter the legal profession, they will need to do the JD, which is a full-time two-year programme. The GDL (replaced by the PGDL) offers more flexibility. The full-time GDL will be the quickest way to finish the requisite legal education and varies versions of part-time GDL allows people to cater for their personal situations.
2020 update
I am currently an associate in the Capital Markets Structured Finance and Derivatives practice. As a team, we cover areas including derivatives clearing (and related regulatory advice), margin requirements for non-centrally cleared over-the-counter derivatives, synthetic securitisations, European Securities and Markets Authority (ESMA) compliant balance sheet securitised derivatives, bespoke repackaging, longevity derivatives, fund-linked derivatives, complex equity derivatives and commodity title transfer financings. My involvement varies depending on the nature and size of the deal, but broadly speaking, I work with trainees to produce first drafts, deal with comments and handle execution with supervision and support from managing associates and partners.
Transitioning from trainee to associate has been a natural progression, like moving from one seat to the next. There were definitely changes I had to adjust to, but fortunately I was going to an environment I was already familiar with, with the support of the people in my team.
A major change I found was that, as an associate, I needed to think about how to best approach things and work with trainees. Whereas during my trainee time, when my seniors instructed me, they also tended to tell me how to approach the task at hand and I could then simply follow their instructions. While there was some thinking and planning involved, it was more task-specific for trainees. Now that I have more responsibility, I need to think about how to efficiently manage the entire situation; which tasks can be delegated to trainees, how to instruct them and help them get to know the practice while also ensuring I complete my own individual tasks.
I think the general skills I learned as a trainee are still helpful and relevant, like practice specific technical skills, communication skills, drafting skills and deal management skills. I am still developing these every day, but I definitely feel more confident now than I did when I was a trainee.
Being a lawyer is not easy, and different challenges arise every day (after all, our job is to help people solve their problems) and I find it very helpful to talk through things. For deal-specific challenges, I usually speak with the relevant managing associate, partner or professional support lawyer (PSL). For general challenges, I talk with my mentor, the colleague I share an office with, our practice resource manager or other associates of my level. Everyone in the team is very friendly and willing to help, and they always come up with something I had not yet thought of.
My advice to law students it to just keep doing what you are doing. I learned many of my core skills through making mistakes, and I when look back, I realise that my most stressful experiences were the ones that helped me to be a stronger person and a better lawyer. People are not looking for a finished product from a trainee and there is room for mistakes. I received a lot of useful guidance and mentoring from my principals and the people I worked with, through making mistakes on their deals. I had a great time being a trainee, so I wouldn't want to change a thing.
Living in such unprecedented times, I think it is important to keep positive, be open-minded and work out your own way of dealing with changes.
Due to the Covid-19 pandemic, I'm currently working from home. We are lucky to some extent as the firm had already been promoting agile working for some time so we all had our work laptops, mobile phones and video conference systems fully set up long before the lockdown. There was also already a culture of working in an agile way if you prefer, so aside from not being able to print documents and being stationery for the majority of the day, I have not experienced any issues in working from home from a logistical point of view.
In terms of our practice area, we are learning lots of interesting lessons from queries arising from the pandemic; for example how to interpret certain provisions in commodity derivatives contracts in the context of negative oil price, how to serve termination notices when everyone is working from home, whether the situation of certain companies falls within the definition of insolvency and therefore triggers default and possible close out of derivatives. Overall, I am happy to see that it is still generally business as usual in the Hong Kong SAR office with lots going on to keep me and the rest of the team busy.
Find out how we could set you up for a career as successful as Yungying's by booking on an open day with us and also discover more about our new ULaw Hong Kong campus.
Set for Success Hub
Find out more about how we help set you up for success.
Find out more
Our Alumni Profiles
If you enjoyed this article, why not check out some more of our alumni profiles?
See more