CURRENT ROLE
Solicitor (Emerging Tech) at Stephenson Law
PREVIOUS ROLES
Trainee Solicitor at Stephenson Law (2019-2022)
EDUCATION BACKGROUND
Legal Practice Course (LPC) and LLM at The University of Law (2018-2019)
Graduate Diploma in Law (GDL) at The University of Law (2017-2018)
Bachelor of Science in Pre-Law and Public Administration with Political Science at Upper Iowa University (2014-2016)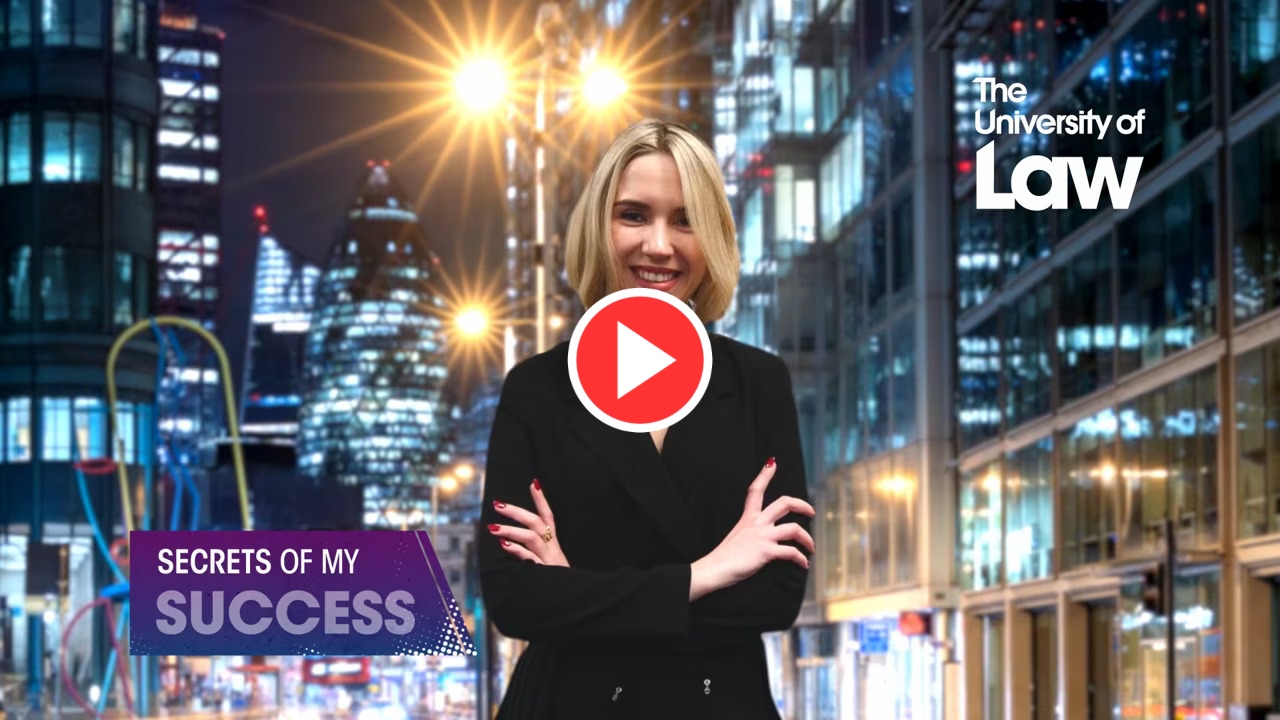 A former aspiring tennis pro, Yuliya Prokopyshyn studied the GDL (now PDGL) and LPC with us before going on to become a solicitor at Stephenson Law, focusing on emerging technology. We caught up with Yuliya to discuss her pathway into emerging tech law and get her insight into what her firm looks for in future trainees.
I chose to study at The University of Law because I need to be challenged and mentally stimulated to stay engaged, and law has always succeeded in keeping me on my toes. Even though I always knew that I wanted to be a lawyer - and that a legal degree is necessary for that - I also knew that it would help me to develop several transferrable skills for many different industries.
I'm one of those people who truly wanted to be a lawyer since I was a child and my dad was the reason. Being a lawyer himself (as well as one of the smartest, hardworking and dedicated people I know), I have always been inspired to be like him and becoming a lawyer was a part of that.
While my reasoning probably wasn't too thought out when I was younger, the more I learned about the job, the more interested in it I became.
While I thought about becoming a tennis player (which I played for a good chunk of my life), becoming a lawyer has always been my number one goal and I'm glad I finally accomplished it. I love being a lawyer and thankfully my childhood ambition has not let me down.
I chose to study the GDL and LPC with LLM at The University of Law because it's one of the few providers to teach the GDL alongside the opportunity to study the LLM with LPC. After two years of studying, I was able to convert my US bachelor's degree into a UK legal degree, complete a postgraduate legal course and finish my masters. It's very impressive that you can do all of that in such a short period of time and I have not seen similar opportunities at other universities.
I currently work as a Solicitor for the Emerging Tech team at Stephenson Law, where I assist Web3 (the newest version of the internet) businesses with their commercial, corporate, intellectual property, and regulatory needs. I also help traditional companies to understand and legally implement blockchain technology. What I love about my job the most is that it really varies from day to day. One day I help an artist to launch their non-fungible token (NFT) collection, another day I advise a metaverse creator on a virtual land sale, and the day after that I assist a brand with their digital clothing or jewellery collection. It's never a dull moment at work.
I got my current role after completing my training contract with Stephenson Law. At the time, the business was just two years old, and I discovered the firm through a LinkedIn advert. Believe it or not, I nearly missed the chance by almost not attending the interview as I was certain I wouldn't get the job. You can't even imagine how thankful I am that I did. My training contract at Stephenson Law helped me to secure a job that I love and am truly passionate about.
While The University of Law has excellent teaching staff, my biggest inspiration during my studies was the Employability Manager, Clare Stapleton at the Birmingham campus. You know that person who really knows their stuff? That's her. Not only does she know every little detail about each law firm's application process (and has the best tips for finding the right job for you) but she is also ready to help whenever you need it.
The proudest moment of my career so far was being selected as one of the speakers at NFT.London 2022, which is one of the largest events supported by the most innovative brands and projects in the NFT ecosystem. As part of my 'Launching an NFT Project Legally' panel, I'll be discussing the key considerations that both artists and creators need to take into account when launching an NFT collection.
The University of Law sets its students up for success by offering an excellent level of teaching materials, experienced teaching staff, and great employability services to its students. The study manuals are well written and usually self-explanatory, tutors are always willing to help you with your coursework, and the Employability Team is always there to help you with your training contract and job applications. Oh, and don't forget, this is also the place where you might make friends for life.
When I started working in the Emerging Tech team, the blockchain space was very unregulated and the laws that applied to it were quite outdated and not fit for the purpose. The situation has notably changed over the last couple of years, and we've started seeing more clarity and guidance from the government. I think the next few years will be particularly exciting for this sector, with more people being educated about the potential of blockchain technology. I expect more businesses to utilise it in future, and more laws to evolve to appropriately regulate this decentralised ecosystem. While the laws and regulations in this space vary quite drastically from jurisdiction to jurisdiction, it's very refreshing to see the blockchain-friendly approach the UK government is taking and I'm genuinely very excited to see what the future holds for this space.
Lawyers often have this belief that unless we overachieve at our studies, work and extracurricular activities, we will not secure that 'dream job'. Having decided to become a lawyer at an early age, that's exactly what I did since primary school. This belief caused me many sleepless nights and stress, and despite graduating from my school and university with a first, having various work experiences and being part of different clubs and societies, I still struggled to secure a job.
I have secured that 'dream job' and I do believe that hard work was a big element of that. However, now that I look back at it, I think that I would have still secured it even if I got a B in that Political Anthropology class or not become a member of yet another university club. If I met 18-year-old me, I would tell her to relax a bit and enjoy her university life, as what's meant for her, will eventually come to her.
I believe you need to be independent, organised and, contrary to many people's opinions, a nice person to be successful as a solicitor. Solicitors need to be able to manage their own workload and meet a deadline in to provide a great service and being independent and organised is crucial. As to being a nice person, treating people with respect will make them want to work with you, whether it's a colleague or a client. Kindness is often underrated in the legal industry, but it's a key to providing a great service and we should really encourage it.
While grades might be important to some law firms, your motivation, determination, personality, and belief in our values is what is truly important to Stephenson Law. Show your personality and desire to work with us and your chances of becoming one of us will be pretty high.
We recently had an internal discussion about adding "nice people only" to the list of recruitment requirements at Stephenson Law. While it was a joke, it's equally true. It doesn't matter to us where you come from, what school you went to, who your parents are, who you love, what gender you identify with or which god you worship. All that matters is that you are a nice human being who shares our values and tries to perform to the best of their abilities to support our team and clients.
Our recruitment process varies from role to role. When I was applying for my training contract, there were two stages: an application and a full day in the office full of practical tasks and interviews. Now that we are fully remote, the process is slightly different, but it usually involves an application stage and one or two interviews with directors or senior solicitors. I would say our application process is much more laid back than most traditional law firms, but don't let it fool you - the competition is high so be ready to show your best self.
Discover more about studying the MSc Legal Technology with us.
Set for Success Hub
Find out more about how we help set you up for success.
Find out more
Our Alumni Profiles
If you enjoyed this article, why not check out some more of our alumni profiles?
See more