CURRENT ROLE
Senior Partner - Moore Barlow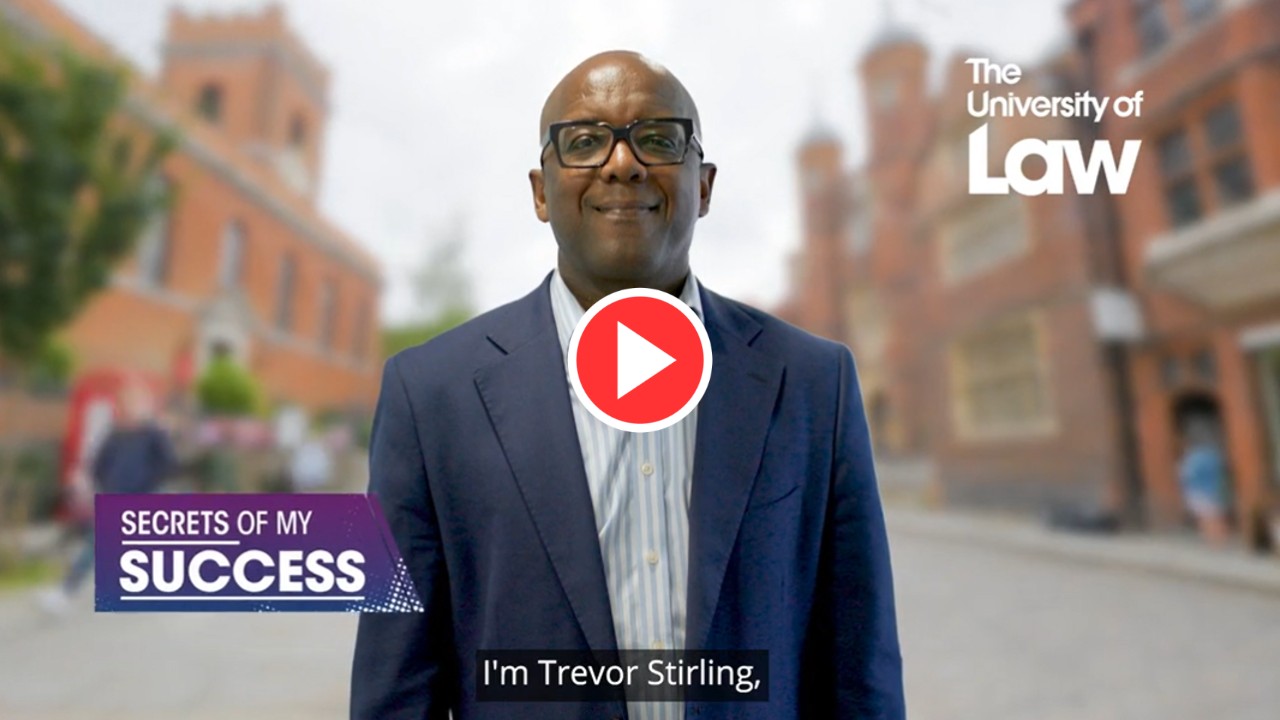 Trevor Sterling is a Senior Partner and Head of Major Trauma at Moore Barlow. After studying with us, he's worked on ground-breaking cases and dedicated his time to diversity and inclusion both inside and outside of the legal sector. We caught up with Trevor to discuss him becoming the first Black Senior Partner to be appointed at a UK top 100 law firm and get his tips for students considering a career in injury law.
My parents are part of the Windrush generation having come to England from Jamaica in 1960. My father was in the building trade, therefore my initial inclination was to follow in his footsteps.
My school years were, however, difficult, resulting in underachievement. On leaving school at seventeen, I was offered 3 job opportunities by a careers adviser, namely; a Tennis Racket Stringer, Warehouseman or an Outdoor Clerk for a local firm of solicitors. By good fortune, I chose the latter and was then inspired by the idea of qualifying as a Lawyer.
I fell in love with the law, began studying and qualified as a Legal Executive and then a Solicitor. I was admitted as a Solicitor at age 25 and appointed a Partner at age 28.
I am currently Senior Partner and Head of Major Trauma. I am also Chair of the firm's Personal Injury/Medical Negligence Division.
My role as Senior Partner is both ambassadorial and pastoral. I work alongside our Chair and Managing Partner, ensuring that whilst we are resilient as a business, we always speak to the values of Moore Barlow. We ensure that we live these values i.e. human first, lead the way, stronger together and make it happen. I have a particular emphasis in my role on human first with respect to Diversity and Inclusion.
I use my experience to support our Partners and people generally from a pastoral perspective. I am also visible externally with the aim of attracting talent and helping us to 'lead the way' in many areas.
As Head of Major Trauma, I lead our award-winning major trauma team which supports major trauma patients. Our Major Trauma Service was launched in 2016 and was the first of its type, working in conjunction with the Major Trauma Signposting Partnership. We support these patients who have a personal injury claim but with a focus on rehabilitation, improving health outcomes and quality of life, rather than simply recovering compensation.
I have many moments of which I am proud during my career. I achieved success in the House of Lords with a landmark employer's liability suicide case, the first of its type since 1957. I am also proud to have been involved in a number of high-profile cases of significance, including being the co–lead acting for the largest cohort of victims in respect of the Jimmy Savile child abuse action. However, I would say my proudest moment was being elected Senior Partner at Moore Barlow in 2021, as, in doing so, I became the first Black partner in a top 100 UK law firm.
If I could give my 18-year-old self any advice, it would be - have a vision and not just aspire to climb the ladder but aspire to be the ladder. If you truly want to make a difference, help others along the way. This enables you to create a movement for positive and long-lasting change.
When I talk about "being on the ladder", this means taking what you have learned and your experience and helping others to achieve by being the ladder for them. We must not be self-serving if we want to achieve positive change and improvement. In my role this is particularly important given my experience of social inequality, it is important that I help others overcome hurdles if we are to achieve equality in society.
I do not see work as "work", I see it as a role I have in life, which is to help make a difference to the lives of others. This is also my motivation for doing the significant charity work I do as Chair of the Mary Seacole Trust. The balance comes from understanding that to do my best for others, I must manage my own health and well-being. Therefore, I fill my life with things that make me smile, whether that be helping a client or watching my daughter do gymnastics.
My advice for students who would like to work at Moore Barlow is - be true to your authentic self. You are unique and it is that uniqueness that sets you apart and will help us make a difference. You make the lawyer, the lawyer does not make you.
To be a leader in a firm, you need vision. You need to be able to bring people with you, which requires listening skills and an understanding that a good leader supports others to enable them to achieve their best, not for them to enable the leader to be the best.
Working in personal injury requires three vital skills:
Be empathetic. It is fundamental that you care.
Understand the importance of rehabilitation and improving health outcomes
Be a team player.
As for the future of personal injury, there are always regulatory challenges which erode the principle that the losing party pays the winning party's costs. Fixed costs have been extended to higher-value cases which will increase pressure on law firms. However, this is likely to present positive opportunities for more junior lawyers as it will not be cost-effective for senior lawyers to continue to conduct these cases. They are more likely to have a more supervisory role helping to develop more junior lawyers.
One of the most interesting and important cases I have worked on was the case of Corr v IBC Vehicles Ltd which was the first successful employer's liability suicide case since 1957. The case went to the House of Lords and was an important landmark decision which recognised that significant psychological injury caused as a result of life-changing injuries could lead to depression and in turn suicide. The law had previously been that the act of suicide in such a situation was always the victim's "fault" and not the party causing the life-changing injuries.
Alongside my role with Moore Barlow, I also do a significant amount of work with the Mary Seacole Trust. Mary Seacole was a Jamaican Crimean War nurse hero who went to the Crimea war (at the same time as Florence Nightingale) using her own funds, having had a request to provide support for the British soldiers rejected by Britain. She was age 50 at the time and became famous as a result of her role in supporting soldiers. Whilst Florence Nightingale is well known, sadly Mary Seacole was forgotten following her death in 1881.
The Mary Seacole Trust aims to restore Mary Seacole to the history books. A historic statue was unveiled of her at St. Thomas's Hospital in London in 2016, this was the first bronze statue of a named Black female in the UK.
The Trust actively promotes social equality by using Mary as a role model. It has an education programme for schools and a leadership programme to enable individuals to break through the glass ceiling.
Later this year the Royal Mint, in collaboration with the Mary Seacole Trust, will release a new £5 coin with Mary Seacole's image. I am very proud to have been involved in the coin's design.
The University of Law has an excellent reputation which in turn presents students with an excellent opportunity to enter the profession.
You can hear more from Trevor Sterling by listening to a recording of his keynote speech our recent London Alumni Network (LAN) Event.
Set for Success Hub
Find out more about how we help set you up for success.
Find out more
Our Alumni Profiles
If you enjoyed this article, why not check out some more of our alumni profiles?
See more