EDUCATION BACKGROUND
Law Society's Final Examination, The University of Law
Bachelor of Arts, Oxford University
Bsc, Economics, Queen Mary University of London
CURRENT ROLE
Managing Partner, Bryan Cave Leighton Paisner
CAREER PROGRESSION
Senior Associate, then Partner, DLA Piper
Associate, Eversheds
Trainee, then Associate, Wilde Sapte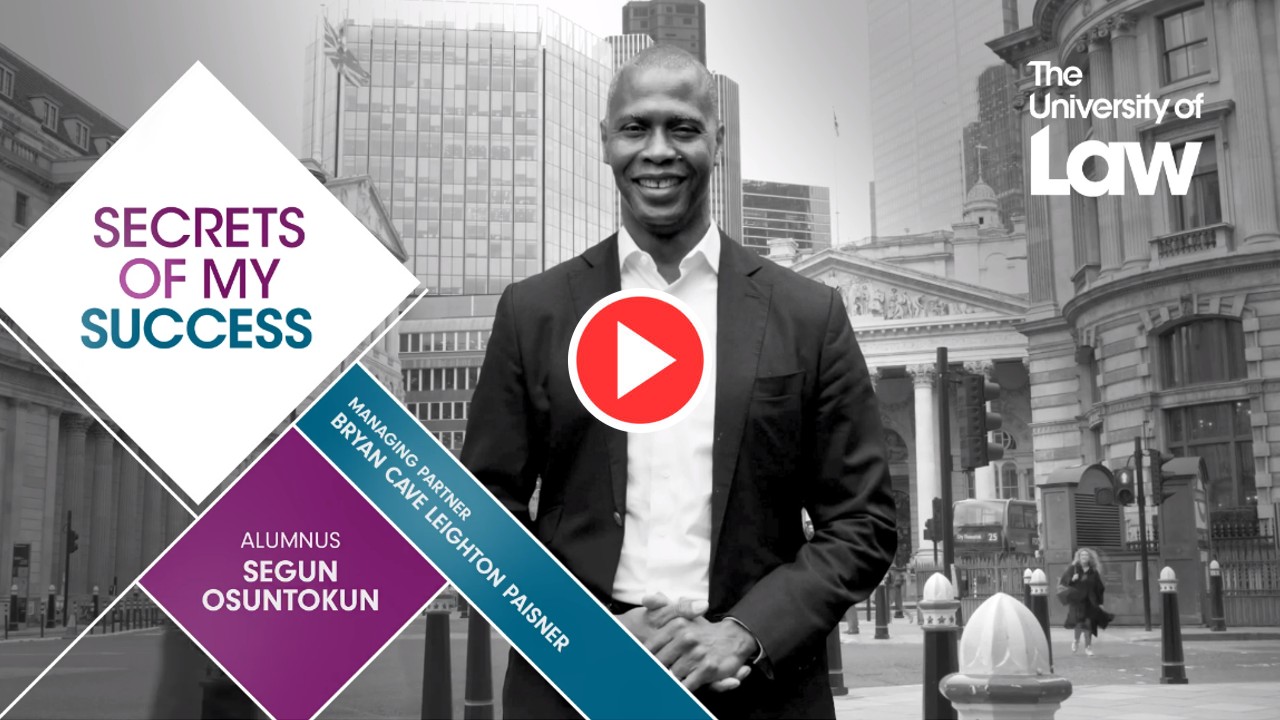 ULaw alumni Segun Osuntokun has gone on to become a solicitor with 29 years' experience in commercial dispute resolution. He leads the Civil Fraud Litigation practice and the Africa Group at global law firm Bryan Cave Leighton Paisner (BCLP) and is also the Partner in Charge of BCLP's UK offices, including its London office where he is based. We sat down with Segun to discuss his current roles and the highlights of his career so far.
I was born in Nigeria and, after the equivalent of GCSEs, I came to England to do my A-Levels at boarding school. After that, I went to London University to read economics. Following my degree, I spent a year back in Nigeria where I worked as part of a national youth community scheme; every graduate is obliged to put something back into the community. I then returned to England to do a law degree at Oxford University, rather than do a conversion. At that point, it was a quicker route to independence.
ULaw is so much more than a university; I formed great bonds with many people, some of whom I have lost touch with, but I still remember them vividly. I remember getting the course papers and, I'm not kidding, they were about a foot and a half tall. I thought - what I have I let myself in for?
The exams were hard. I imagine it's very different today but it was largely a memory test back then. You simply had to absorb as much information as you could. In those days, the results would be published in The Times, so there was always a gathering of students around midnight in Leicester Square, where the first papers were delivered. You would have to scramble to get your copy.
It was a fantastic time. There were great friendships between students, teachers and lecturers. I met two of my best friends at Lancaster Gate and we're still friends now. I have very fond memories of ULaw.
Friends are important as you need to have support around you. You need to collaborate, to learn together and have a little bit of rivalry, a little bit of a competitive spirit. That really worked for us.
The normal path into law was getting a training contract, stay on after qualifying, become an associate and then a partner. The trajectory was always clear. You took each day as it came, but the solicitor's profession had quite a clearly marked path. By default, you walked on it, unless something came along which knocked you off course - maybe going in-house or going to the bar. I followed the normal path and I assumed that, if I was doing well, the next stages would follow.
I wanted to stay in the profession, so that progression seemed natural. However, once you make partner, you realise there's a journey to become a better partner and go up the ranks.
I'm the partner in charge of the UK for BCLP. Which means I'm head of the three UK offices, London being the major one. We also have an office in Manchester and a small hub in Southampton, which are satellite offices.
I work alongside a few other leaders in the UK, particularly those who are running practice teams and are responsible for generating revenue. My role is to help coordinate all the activities so we can represent the UK as a unified whole, within the structure of BCLP.
My day-to-day outward facing work includes speaking to the press, students and prospective students. I am an ambassador for BCLP in the UK and assist internally with the administration and coordination of firm services. My role is a mixed bag but client work is still a significant aspect of what I do.
The highlights of my career so far have been making partnership and winning some big cases. It feels really good to deliver a positive result for clients. Also, being named the Black British Business Person of the Year by the Black British Business Awards two years ago was a very proud moment for me. I am uncomfortable being in the limelight but seeing other people take genuine pride in my achievements is satisfying.
One of my cases that stands out was when I was acting for a Nigerian bank that had been the victim of a scam by its chief executive officer. He had overseen an unlawful scheme to artificially boost the bank's share price on the stock exchange. The decision was taken to sue the chief executive officer. It involved allegations of fraud and there were logistical difficulties because, at one point, the defendant went back to Nigeria. When we came to the trial, the legal teams had to go out to Nigeria. This was before the wide use of video conferencing software. We had very rudimentary video facilities back in 2010 and 2011. Back then, it was astonishing to hold a trial with a judge sitting in London and the defendant in Lagos, with the legal teams flying out to Nigeria to conduct the cross examination.
My work at BCLP has changed so much over the last few years because of the pandemic. I think that's the same for everyone. Both individuals and corporations have paused for thought and asked - what is the purpose of work? What is the purpose of your organisation? What do you want your people to experience? How do you balance the demands on our time? It's a very interesting time and I think good things can come out of it.
We want to encourage people to spend time in the office. Not all the time, but a good amount, depending on client and team needs. Sometimes people have to be together to make sure documents are in order, that signings take place, etc. There's also the team dynamic that comes from having people together. There is a transactional aspect to it, but also a relational aspect of being in the office. Collaboration, social interaction, all those things are elements of what makes us human.
I very much enjoy the greater flexibility around where you work that has become the norm. I tend to go into the office most days a week, but not necessarily nine to five – I frequently alternate my work location during the day. We're still in the experimental phase of the next phase of working. We'll see how it pans out in the medium to long term. If we need to tweak it, we'll tweak it. But I think flexibility is key.
One of the top skills law students need is empathy; to put yourself in others' shoes. Emotional intelligence is so important. Communication and legal skills are the basic minimum. There are lots of lots of good lawyers, but the difference lies in how you deploy those skills. Also, don't take yourself too seriously. It's hard work, it's important work and you want to do it right, but it's not the most important thing in life. Family, friends, relationships are important, and you want to get that balance right.
Within law, we need to be mindful of our mental state and do whatever we can to ensure it flourishes. Rightly so, there is a big push around positive mental health and wellness. It's not a fad, I think it's just part of being human. We all stress a little bit at work but we need to look after ourselves, and each other, a little better.
Interested in pursuing a career as a lawyer? Choose from our range of law courses and study with the UK's longest-established specialist provider of legal education.
Set for Success Hub
Find out more about how we help set you up for success.
Find out more
Our Alumni Profiles
If you enjoyed this article, why not check out some more of our alumni profiles?
See more