BACKGROUND
LPC (ULaw)
Music and video production
CURRENT ROLE
Derivatives Associate, Barclays
CAREER PROGRESSION

Derivatives Associate, Barclays Legal
Derivatives Associate, Citibank
ISDA Negotiator, Credit Suisse
ISDA Negotiator, JP Morgan Chase & Co
ISDA Negotiator, Barclays
ISDA Negotiator, Citibank
Financial Crime Defence, Hickman & Rose
Restructuring and Insolvency, Allen & Overy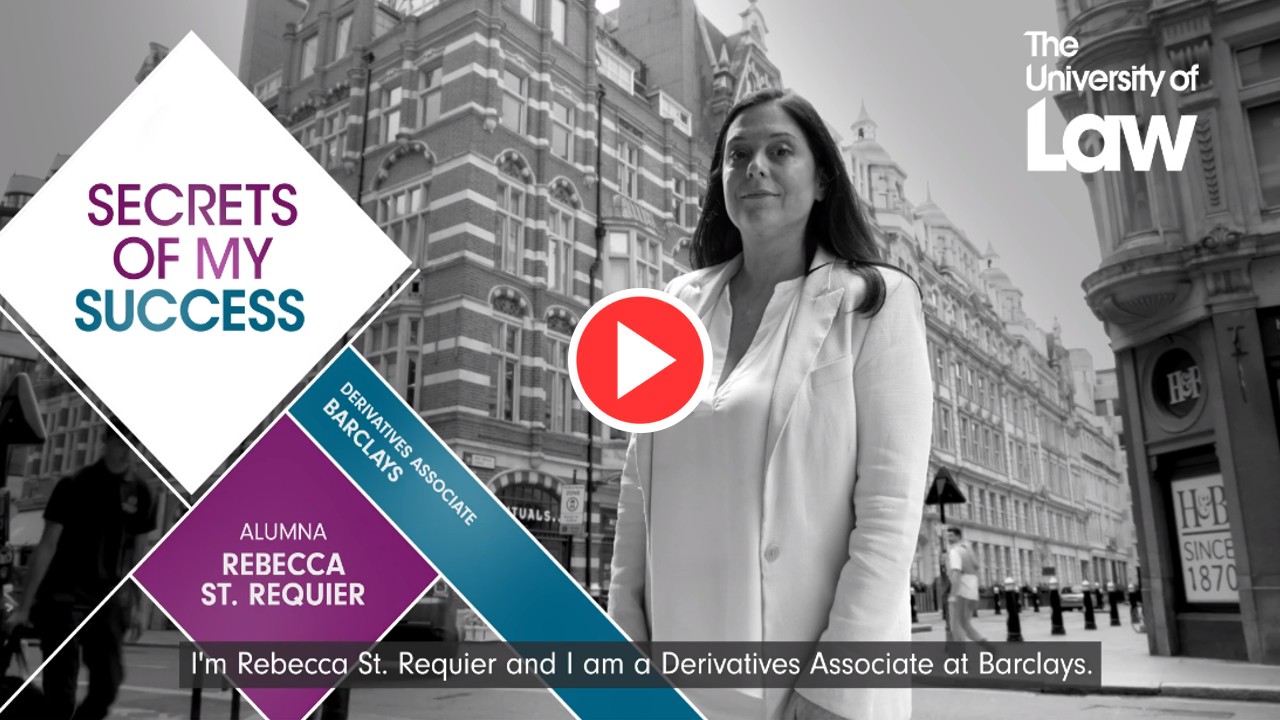 Rebecca St. Requier is a Derivatives Associate at Barclays. After working in music and video production in the UK and US, she retrained as a Corporate Lawyer and has not looked back. She tells us how studying at ULaw set her up for success.
There's a misconception that law is an elite profession, only open to certain people in society. Actually to pass the educational and employment hurdles required you need to demonstrate knowledge and competency. That isn't to say that there isn't cronyism within the law, there is some, as with any other profession.
I wanted to be a filmmaker, I set up a business doing live music events in the United States, while also trading. I then returned to England and moved into music video production during the garage era in the early noughties. After that, I retrained in corporate law and now work for investment banks negotiating derivatives. This excites me – I love working with big, global companies.
I got my first legal job through meeting a lawyer on the bus. If you think about it, a considerable number of people work in settings that are either directly or indirectly related to law - the likelihood of meeting a potential colleague is quite high. I would urge students to be open to opportunities as well as ideas and to stay curious about yourself and your surroundings.
Increasingly, law firms and companies don't just require good qualifications; they want to invest in a person and you must create a brand for yourself with recruiters. ULaw offered the whole package in terms of giving knowledge and providing introductions to firms and recruiters. I also accessed the counselling service during my LPC. I had a back issue which, although triggered by the Brick Lane explosion of 1999, was further impacted by a climbing accident. This meant that I had to access much of the course material via audio. I listened to my course materials. This was particularly convenient as a single Mum who needed to keep moving and study while taking my kids to the park. ULaw provided me with excellent alternative methods of studying and the vital support I needed through the Counselling service.
We are also living in an era when dealing with the psychological and political landscape in your workplace is as important as technical skill. Competitive and aggressive behaviours in the workplace are on the rise, largely motivated by insecurity and jealously. I was fortunate enough to find a mentor in Monica Meade, who taught me how to navigate this with positivity and by shifting the focus back to myself. She is an inspiration and is now head of global at one of the world's most recognisable brands.
For students, excellence and good grades are the first stepping-stone. Make sure you try to get a First Class LLB and a distinction at LPC because it will help get your CV lifted out of the pile. Most importantly, have faith in the face of challenge and always look for solutions.
If you would like to follow in Rebecca's footsteps and ensure that you are set for success, see our Postgraduate course pages here.
Set for Success Hub
Find out more about how we help set you up for success.
Find out more
Our Alumni Profiles
If you enjoyed this article, why not check out some more of our alumni profiles?
See more