EDUCATION BACKGROUND
BA (Hons) Modern History & Politics, University of Southampton (1989-1992)
MA Political Science, American University (1992-1993)
GDL & LPC, The University of Law (1994 - 1996)
CURRENT ROLE
CAREER PROGRESSION
Paralegal - United States Congress, Washington DC (1992 - 1993)
Associate and Trainee – SJ Berwin, London (1996-2002)
Secondee – Goldman Sachs, London (2002)
Associate – Hogan Lovells, London (2002-2004)
Partner and Associate – SJ Berwin, London (2004-2013)
Partner – Dentons UKMEA LLP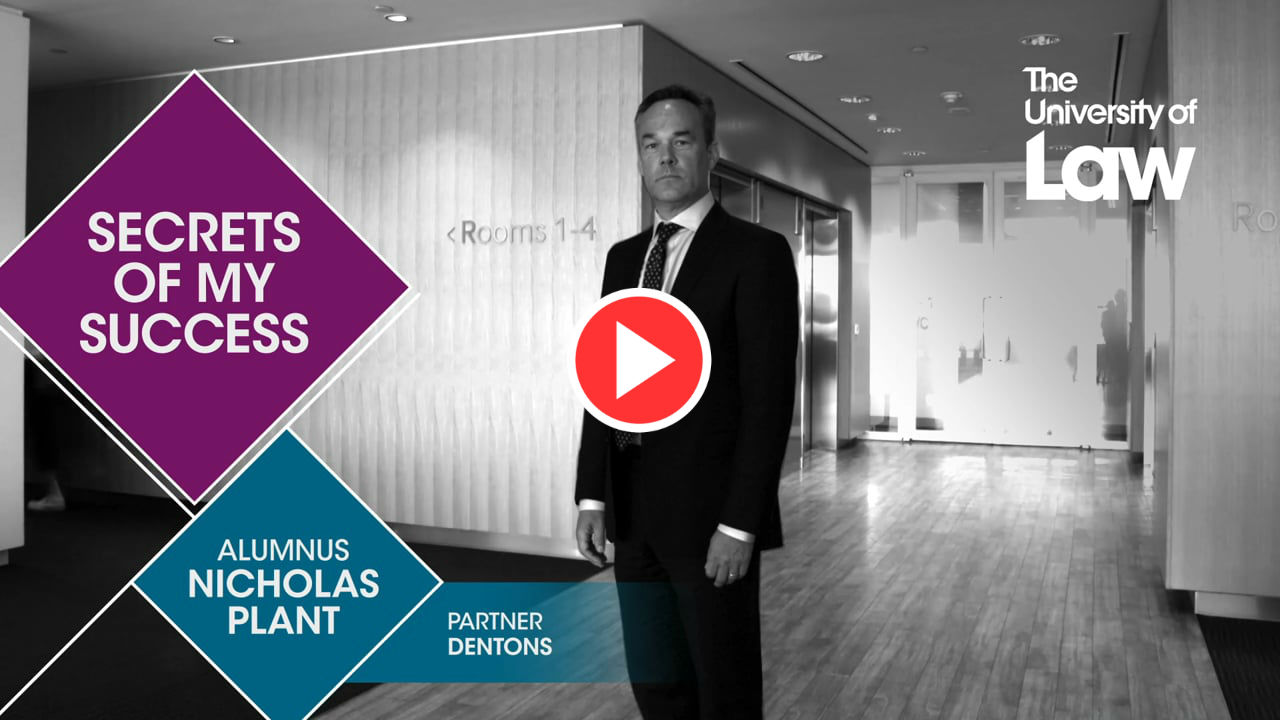 Alumnus Nicholas Plant heads up the private equity practice at the world's largest law firm, Dentons. Here he shares what his law firm looks for and explains how a law degree can set you up for success.
I chose The College of Law (now The University of Law) as it was the 'go to' provider in my day.
I did both the CPE (now the PGDL) and the LPC. The CPE was really hard because we had to master six different courses in around 9 months. I know it wasn't exactly compressing a 3 year law degree into 9 months, but it certainly felt like it.
I remember seeing it as an extension of my student days – which I liked. You keep in touch with many of the people you meet for the rest of your career. It's also been fascinating to watch a number of them progress to the highest reaches of the profession.
I did a masters degree in politics in Washington DC before I started at The College of Law. During that time I worked in Congress and was also a paralegal for Kenneth Starr – the man who requisitioned Monica Lewinsky's dress.
I head the private equity practice at Dentons, which is now the largest law firm in the world.
We're in over 50 countries and I have shaped my practice accordingly to take advantage of that unique offering. We work with some of the largest private equity houses on their cross-border transactions, working in exotic locations such as Africa as well as doing the traditional UK mid-market work that I grew up on.
A law degree gives you skills in analysis and tenacity, which will set you up for life.
Combine them and you will go a long way in most professions.
I was reading recently about the new Financial Director of Goldman Sachs. He talked about what investment bankers call 'optionality', which means ensuring you keep as many options open as possible.
In law, that means: (a) as a Trainee, doing your best in all 4 of your seats; (b) as an Associate, obtaining the broadest experience in your chosen department; and (c) as a Partner, maintaining as many client relationships as you can and obtaining experience in as many sectors as you can.
At Dentons we want great Associates.
They are the people who really think through the issue at hand and are also proactive. Those are the characteristics that separate the best from the rest (the rest just do what they're asked; no more, no less).
2020 Update
I recently advised on a £1.1 billion acquisition of Imperial Brands' hand rolled cigar business, which required perseverance and optimism. The transaction started in August 2019, stopped, re-started, and then stopped until February 2020 when it accelerated again.
Other skills you need for a transaction like this are the art of delegation, trusting your colleagues and, keeping sight of the key issues. This transaction needed all of those skills because of its complexity. The target group had operations in 129 countries and required both share and asset acquisitions and multiple closings. We also had to navigate the US sanctions against Cuba and Covid-19.
This acquisition has definitely been one of the most challenging and interesting cases of my career. It's also the case I'm most proud of so far. This transaction included the acquisition of all the joint ventures with the Cuban state and therefore the entire cigar output from Cuba. Brands included Cohiba, Montecristo and Romeo y Julieta.
My personal secret to overcoming Covid-19 at work was to buy a large second monitor (no need for a printer when you have one of those).
Since we last spoke, I've seen an increase in standardisation of the work product, along US/UK lines. However, over the next five year there will be greater use of technology in the legal sector. Examples are generating template documents, generating due diligence reports and dictation. Only those doing premium work will be insulated from the impact this will have on profitability; albeit they will make good use of these technologies.
My advice for law students is to always keep your options open. Be brave. Aim high.
Find out more about studying law at ULaw.
Set for Success Hub
Find out more about how we help set you up for success.
Find out more
Our Alumni Profiles
If you enjoyed this article, why not check out some more of our alumni profiles?
See more