EDUCATION BACKGROUND
LLB Hons - Teesside University (2003 - 2006)
LPC, The University of Law (2006 - 2007)
CURRENT ROLE
CAREER PROGRESSION
CEO, DCAB (2011 - 2018)
National Citizens Advice (2010 - 2012)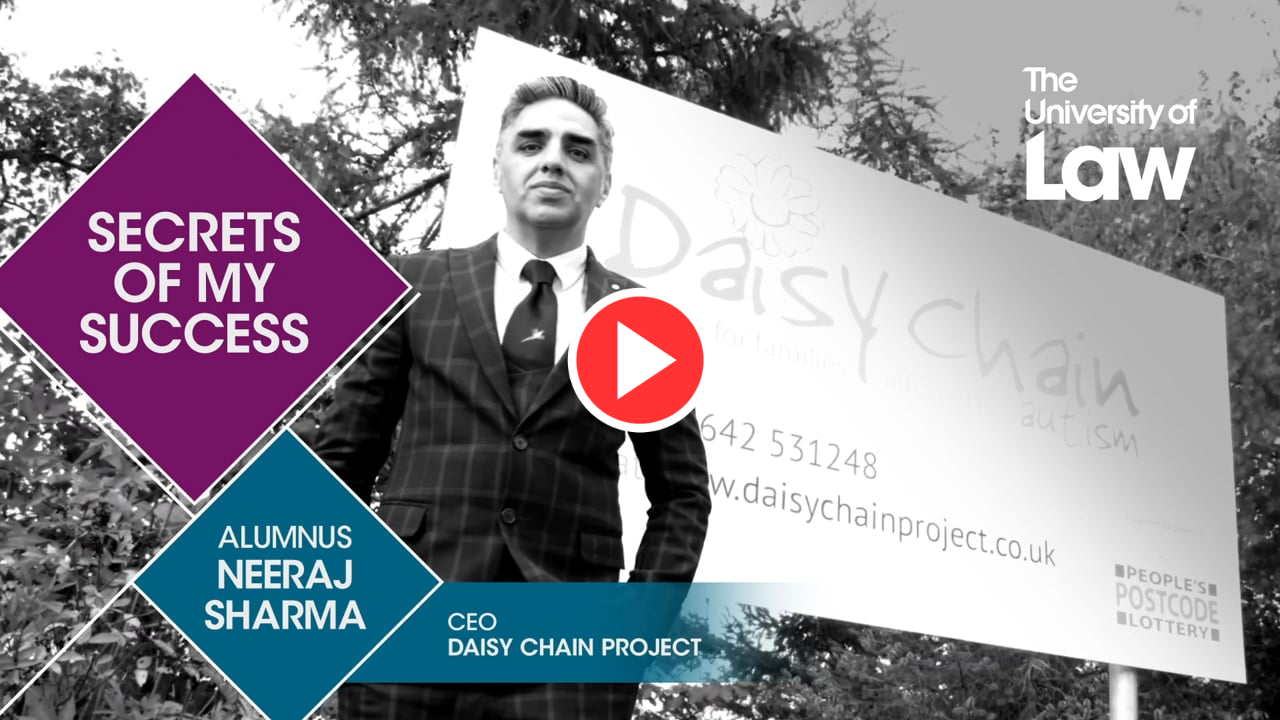 Alumnus Neeraj Sharma studied the LPC at our former campus in York in 2006. Neeraj trained as a solicitor, went on to spend seven years as CEO of the Citizens Advice Bureau in Darlington and is now using his skills to help families affected by autism as the CEO of the charity Daisy Chain. We caught up with Neeraj to discuss his career journey and his time studying with us.
As a first generation BAME young man growing up in the North East of England, it was important for me to move into work as early as I could to help contribute to the family unit. Consequently, at the age of 17 I entered the civil service (Department for Education). My career accelerated rapidly and, by the age of 25, I was managing 16 separate private sector pension schemes. The nature of my work meant that I was frequently required to interpret pension scheme rules and regulations and changes in government legislation. Despite my accomplishments within the workplace, I felt that I had compromised my earliest aspirations of going to university.
I joined ULaw and went on to study, what was in essence, a one year LPC programme and I took a lot away from all of my tutors as a cumulative invaluable resource. I learnt the importance of structure, resilience and analytical teaching skills. I chose to study at The University of Law due to its reputation, standing and expertise. It invests in the core foundation planning skills necessary to bring about success.
I kick started my career with Darlington Citizen's Advice as a legal representative and, after 12 months I was promoted to Head of Advice Services. I then progressed to National Citizen's Advice where I headed up Financial Literacy and Money Management.
I moved on from this position because of the contraction of legal aid and a reduction in specialist legal services which meant that free legal advice sector was becoming less complex. In contrast, Daisy Chain was far broader in scope and provided me with the real opportunity to evolve and build upon my existing skillset in a new and growing area.
My current role as CEO at Daisy Chain involves strategy, finance, change management, contractual & safeguarding and legislative compliance. I achieved the role through a highly competitive recruitment process. To excel in a position like mine you need to be passionate, committed, driven, resourceful, analytical, proactive and determined. My earlier work centred on ensuring that struggling families and individuals are supported to overcome key developmental barriers through access to free advice, information, advocacy and training. It is important that families and individuals are able to access all the support they are entitled to so they can have the best possible life outcomes. Until recently, my work has been with people who have been deprived of the support they need and have reached a crisis point. I've harnessed the skills that I have acquired working in a rights based arena and redeploy these to the autism support services provided by Daisy Chain.
Daisy Chain's mission was to create a haven of support, whereby individuals and families affected by autism are supported to overcome developmental barriers. In 15 years, the service has evolved in line with beneficiary need. Annually over 2000 families access our services, which includes respite care, parent/sibling support groups, independent living training, out of school hours clubs, work placement schemes and much more.
The proudest moment of my career was transforming the Citizen's Advice Bureau in Darlington, which was earmarked for closure into a viable, fit for purpose, sustainable business.
I would advise any student looking to work with the Citizen's Advice Bureau to undertake work within a specialist legal team, seize the opportunity to undertake any court work, legal representation or drafting that comes your way. Be proactive in seeking out opportunities rather than reactive.
If you're interested in working with charities you need to understand the diversity of the charity sector, together with company law and employment law requirements. Seek out opportunities to assist such organisations to remain compliant. Also, stay aware of forthcoming changes in the industry such as increased compliance and safeguarding, combined with more robust and challenging HR and employment law issues.
If I could advise my 18 year old self, it would be easy to reflect in hindsight and state that I would have advised myself to follow the traditional route of undertaking undergraduate degree followed by legal training. However I am certain that 18-year-old me would have disregarded such advice in favour of seeking a solid financial foundation in which to build his dreams.
Discover how you can study the LPC with The University of Law.
Set for Success Hub
Find out more about how we help set you up for success.
Find out more
Our Alumni Profiles
If you enjoyed this article, why not check out some more of our alumni profiles?
See more