EDUCATION BACKGROUND
University of Hull - undergraduate study
LPC at The University of Law – York
CURRENT ROLE
Employment Solicitor, Partner – Freeths LLP
CAREER PROGRESSION
Employment Law Partner, Freeths LLP, 2018 - Present
Co Creator & Director, Lawstory Limited, 2015 - present
Partner, Child & Child, 2016 - 2018
Editor at Large, Solicitors Journal, Wilmington Group plc, 2014 - 2016
Legal Director, Bircham Dyson Bell, 2011 - 2016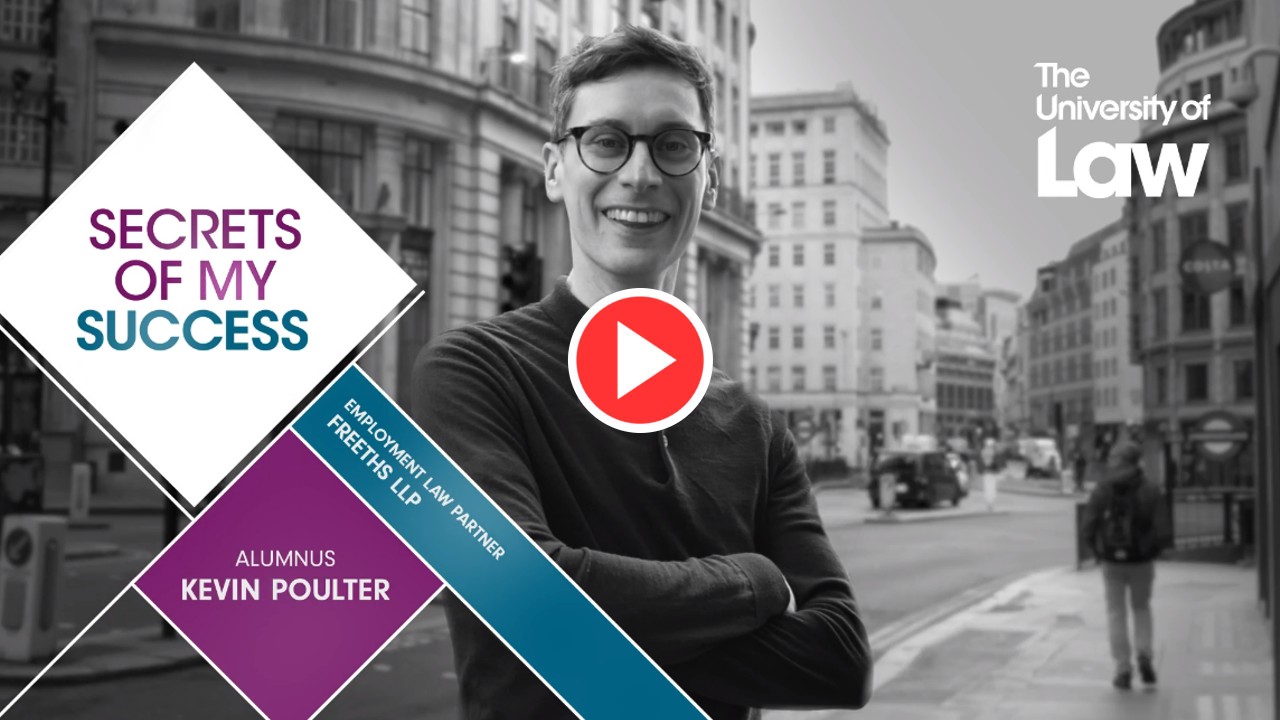 ULaw alumnus Kevin Poulter studied his LPC at the former ULaw campus in York and has since had a varied career within law. Starting from work experience with a law firm as a schoolboy, Kevin is now an employment solicitor and partner in the London office of Freeths LLP. We spoke to Kevin about his journey into the legal sector and employment law.
I was the first generation of our family to go to University. I had no legal connections through family or friends yet for as long as I can remember I had an ambition to be a lawyer. I've always struggled to answer why, or where that came from. However, I remember being told off at school for something I hadn't done and being made to stand against the 'naughty wall'. I suspect I may have felt a sense of injustice, even at eight years old and wanted to shine a light on it. Even now, the part of the job I enjoy the most is giving people a voice or the tools they need to access a fair hearing or ensuring that companies act in a fair way. Employment law is all about fairness, reasonableness, and this appeals to me. It's also about people and relationships; I am interested in people and their lives.
For the first 20 or so years of my life I felt like I was working through a process, just to get to the next stage. GCSEs to A-Levels, A-Levels to University, University to law school, law school to training contract, training contract to qualification. Then what? Rather than a sense of relief and satisfaction, there was a sense of 'what now'? From that point I realised that it was for me to forge my own career path. Moving from the firm where I had been the work experience boy, to a firm where I was unknown, was a great opportunity to reconsider what I wanted and the work I wanted to do. At that point I shifted to more commercial work, advising business clients on how to get things right and helping them when they got it wrong.
Now, I work broadly across all employment law, with private companies large and small, charities, industry and manufacturing through to digital start-ups and international fashion labels. I really can't plan each day – anything can happen and it often does. I also work with employees. One part of the job is being objective and identifying right and wrong, good and bad, and having a view from both sides of the fence is really helpful.
It can be quite a big step to becoming a partner. I was familiar with Freeths, or Freeth Cartwright as it was then, but had no idea they opened a London office in 2013. The firm has often described itself as a hidden gem, and that's certainly what I found. Since then, it has joined the top 50 firms in the country and grown to around 1000 people across 12 offices. It's by far the biggest firm I have worked at and being part of a larger team, while also being in a smaller office of around 80, is a good way to work.
One of the proudest moments of my career so far was attending my solicitor admission ceremony at the Law Society. A lot of people don't attend, which is a real shame because I remember mine well. Although it was a proud day for me, it was also a special day for my parents too. I was pleased to make them proud and thank them for the support they have given me.
It was also a proud moment to walk alongside friends and colleagues in the Pride march in London way back in 2009. This was the first year that lawyers from across the solicitors profession, bar and chartered legal executives came together. Walking through central London, while being cheered by hundreds of thousands of supporters, never ceases to make me feel proud of being a gay man, but also part of a profession which deserves to be celebrated for all the good work it achieves.
To be successful in employment law, communication is key. Knowing your client, how to communicate sometimes very technical laws, ensure understanding and equipping them with all the information they need to make the decisions which affect their lives and their business. It's broadly a quite conciliatory area of work but also one that relies on sharing experiences between colleagues. It's very collaborative, which I really enjoy. I'm quite a sociable person and, a bit nosey, which ticks all the boxes.
Freeths has developed its own Legal Assistants Programme, which brings in new recruits at a junior level and supports them through to a training contract – the traditional version or the SQE route. If you come in with a willingness to help, are keen to learn and have the right attitude, I believe you will flourish. It's about the individual. Expect to talk about yourself. Freeths is always looking for that special person who will fit in with the culture of the firm and the office where they will work. Academic qualifications are important, of course, but the key to success is the person. Speak up and stand out – for the right reasons.
A lot has changed since I was back at the College of Law, not least the name. But by staying in touch through the Alumni programme I've followed ULaw's development. Seeing how it has changed with the times and remained so successful is a testament to the experience and standard of qualification that ULaw provides and is recognised for globally.

When I was studying in York, I had two great tutors, Jayne Laws and Rebecca Dearden. They really made the year memorable, aside from the people I was in classes with of course. Neither are teaching anymore, so I was lucky to have them while they were there.
While I was a trainee up in Yorkshire, I was elected to the Law Society's then Trainee Solicitors Group which, along with the Young Solicitors Group, is now the Junior Lawyers Division. I wrote an article for the magazine about life as a lawyer in Leeds and was soon asked to step in as editor. I read a lot about the profession generally, as well as the media. Through a variety of opportunities and saying 'yes', I built a reputation for being able to speak on a range of topics affecting the legal profession and employment law specifically.
I've been very fortunate to do things I would never have expected or could have planned for. I met Alex Aldridge, the editor of Legal Cheek, at a ULaw lunch in York. When I moved to London we started a podcast together, talking to students and members of the legal profession, way before podcasts and Legal Cheek were a thing. Via a stint as the legal expert on an ITV daytime show with Alan Titchmarsh, sitting next to anyone from Joan Collins to Bradley Walsh, and recording over 50 episodes of The Hearing podcast with Thomson Reuters before the pandemic, I now share some experience and advice on the law with the BBC and anyone else who calls up.
At the moment, my focus is on building the employment team at Freeths and keeping my clients happy. That said, I find it hard to say no to opportunities that come along, so who knows what might be around the corner. I would like to carry on speaking with lawyers about their lives and work, so I hope to revisit that at some point.
The most rewarding aspect of what I do is probably the good and comfortable lifestyle that most solicitors are able to enjoy financially but also the knowledge that in some small way you are keeping the wheels of justice and industry turning. What I enjoy most is getting to know people. Colleagues and clients, their businesses and pointing them in the right direction. Correcting an injustice will always be my driving force and keep me coming back to work each day.
We've also been waiting for the Government to come good on their promise to introduce the most needed elements of the Good Work Plan (the plan that sets out our vision for the future of the UK labour market), and truly create a basic legal framework for modern ways of working. The pandemic has shone a light on some of the old-fashioned laws that needed to be reinterpreted for this century, from health and safety laws to flexible working, and now the true globalisation of the workforce and 'work from anywhere' culture.
Advice for current students? Get some life experience. I didn't take a gap year, mainly for financial reasons while I was studying and I was keen to get on with my career, but I have worked in many different jobs. From the more obvious student jobs like waiting tables and being a shop assistant, to being a postman and railway porter, understanding people and how workplaces function is something that can't easily be taught – even at The University of Law.

If you're interested in becoming an employment solicitor take a look at our range of Postgraduate courses and see which one is right for you.
Set for Success Hub
Find out more about how we help set you up for success.
Find out more
Our Alumni Profiles
If you enjoyed this article, why not check out some more of our alumni profiles?
See more