BACKGROUND
LPC, The University of Law (2004 - 2005)
LLB Law, University of Reading (2001 - 2004)
CURRENT ROLE
Regional Affairs Manager (Corporate Affairs), Virgin Media
CAREER PROGRESSION
Regional Affairs Manager (Corporate Affairs), Virgin Media (2017 - present)
Senior Economic Development Officer, Ashford Borough Council (2008 - 2017)
Infrastructure Project Officer, Ashford's Future (2007 - 2008)
Regeneration and Economy Assistant, Kent County Council (2006 - 2007)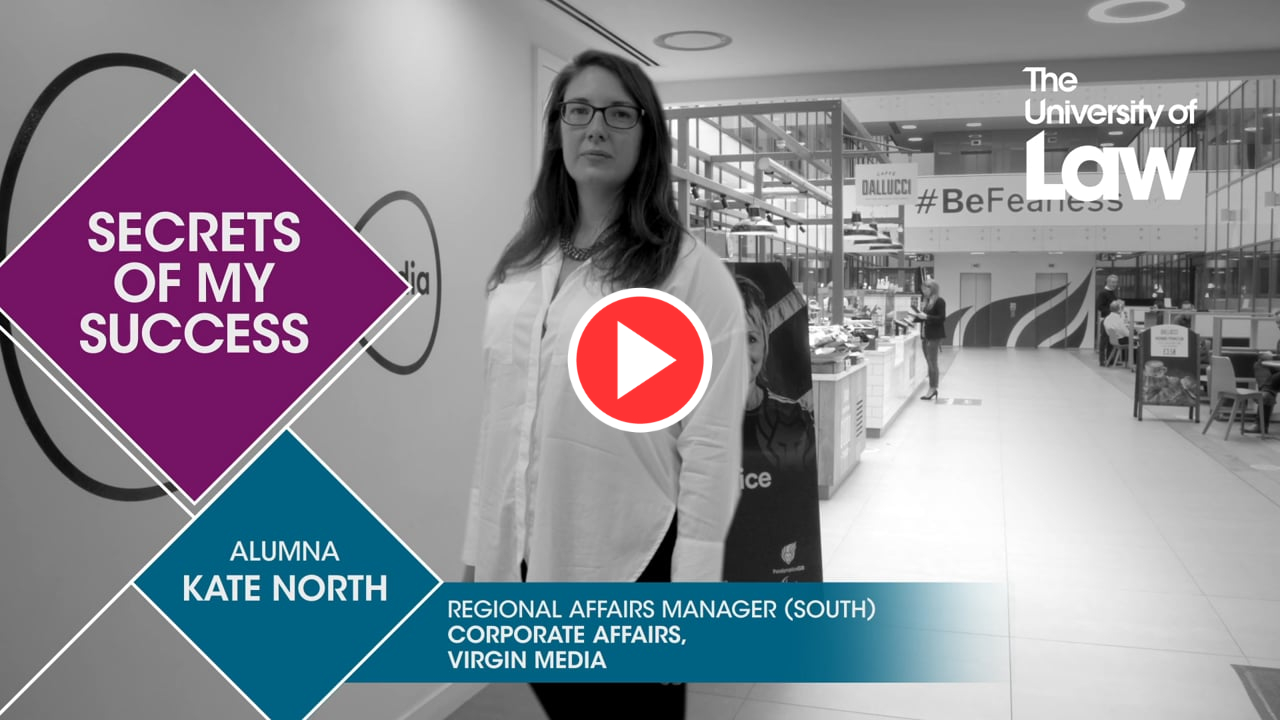 Kate North studied her LPC at ULaw Birmingham Campus and qualified as a solicitor in 2005. After initially working within local councils, she now works at Virgin Media as the Regional Affairs Manager for the South. We sat down with Kate to find out about her career and how her legal education has helped her to achieve her ambitions.
I always wanted to be a lawyer. As soon as I realised that my artistic talents weren't up to my ambition of becoming a fashion designer, I turned to my other passion of helping people and solving problems – which is what the law is all about after all. Helping people and problem-solving is still a big motivator for me.
I currently work at Virgin Media as the Regional Affairs Manager for the South. My goal is to maximise Virgin Media's multi-billion pound investment in the UK's broadband infrastructure. My main focus is developing productive relationships with local authorities and overcoming barriers to investment. Virgin Media is a great place to work. It's fast paced and never slows down but it's somewhere you are able to make a contribution and your views are heard. It's somewhere I know I am making a difference.
After completing my LPC I was working as a temp in a large local authority. I was asked if I would like to join a specialised government team by the newly appointed Chief Executive. The team specialised in funding and infrastructure provision for large scale development.
The proudest moment of my career so far has to be when I lobbied the government on the issue of broadband infrastructure provision forming part of national planning policy. I was so proud when the government published the first white paper containing the recommendation.
There is no such thing as a typical day in my job. Some days I will be peering into trenches by the side of a road, trying to work with our technical teams and the local authority to find a solution to a deployment problem. The next I can be in the Houses of Parliament discussing our deployment plans with an MP.
ULaw definitely made me realise that my training wasn't only beneficial for a career in law. Many employers from many different sectors were interested in ULaw graduates and I felt I had a wide range of options to choose from when I graduated.
I've taken so many skills and qualities from my law studies into my work. Negotiation; the ability to see both sides of an issue; problem-solving; translating technical language into plain English; thinking on your feet. These are all great skills to have in many fields, and a legal education definitely helps you develop them.
Discover the perfect course for you at The University of Law.
Set for Success Hub
Find out more about how we help set you up for success.
Find out more
Our Alumni Profiles
If you enjoyed this article, why not check out some more of our alumni profiles?
See more