EDUCATION BACKGROUND
University of Bristol, BSc Politics and Sociology
The University of Law, GDL (2002 - 2003)
The University of Law, LPC (2003 - 2004)
CURRENT ROLE
Managing Director, The Jonathan Lea Network
CAREER PROGRESSION
Trainee Solicitor - Clyde & Co (2004 - 2006)
Assistant Solicitor - Hammonds (2006 - 2007)
Assistant Solicitor - Rosenblatt Solicitors (2007 - 2009)
Assistant Solicitor - Follet Stock (2011 - 2013)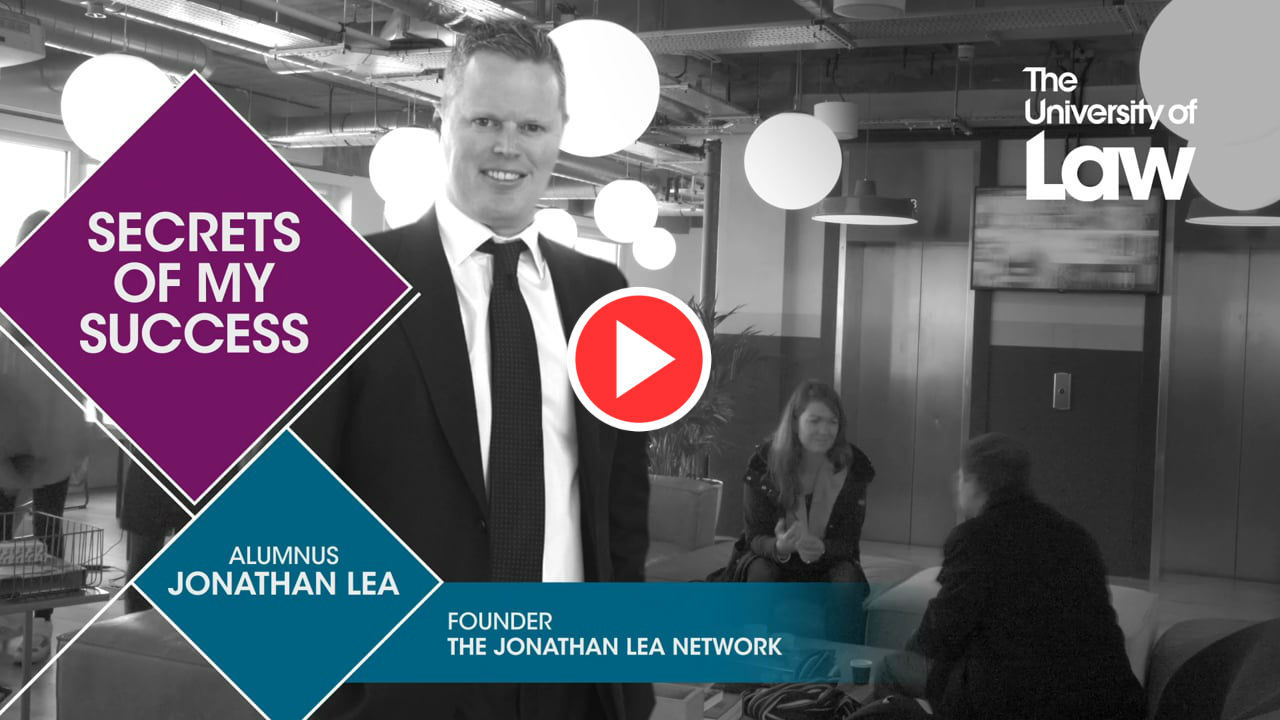 Jonathan Lea studied his GDL and LPC at ULaw Guildford campus, graduating in 2004. He's since gone on to work for a few different firms before starting his own – The Jonathan Lea Network – in 2013. We caught up with Jonathan to find out about his career progression and how he kept his sights firmly set on his dream of having his own practice.
I chose to study law because I wanted a business qualification, to work in the City and maybe one day to run my own business. The idea of running and growing my own small law practice appealed as a future option. I also thought that my written, communication and analytical skills developed from my Politics degree were well suited to a career as a solicitor.
I also considered careers in banking and finance, accountancy, journalism and teaching. I did work experience in a high street firm of solicitors when I was 16, but this initially put me off. It was only after I finished my BSc Joint Hons Politics and Sociology degree at the University of Bristol and spent a week in their careers library that I decided to pursue a career in law.
My flatmate at Bristol University was studying law and eventually got a training contract with Linklaters. His experience meant I gained a better understanding of what was involved in working as a solicitor both in a commercial context and in the City. He encouraged me to research a career in law further and this led me to apply for and gain a Christmas vacation placement with Norton Rose in my final year of my Politics and Sociology degree.
Before completing my GDL I must have submitted about 50 training contract application forms. I attended numerous vacation placements, assessment days and interviews over a two year period too. I was eventually offered a training contract with Clyde & Co just before my LPC was due to start. This then allowed me to also get work as a paralegal with Barlow Lyde & Gilbert (who I'd previously done a vacation scheme with) immediately after my LPC ended, although this paralegal job was cut short after a month when Clyde & Co brought my training contract forward a year.
From the outset of my law career my long term ambition was to start my own law practice. Not having any access to capital to start my own regulated firm from scratch, it was more straightforward to start off as a self-employed solicitor contracting on a virtual basis through established law firms. I also wanted to create my own brand (which I saw as key to being more secure and successful in my career), be creative (particularly in respect of marketing) and make my own decisions. I wanted to create a healthier, more productive and entrepreneurial environment within which lawyers could practice.
A key driver was the opportunities I saw to generate work from the internet. I wanted to act on my knowledge of web marketing (which I couldn't do as an employee) to create my own powerful web presence from which I could build a successful business. I spoke to a couple of people I knew who had started their own consultancies and this encouraged me to finally give up employment.
I am now Managing Director of Jonathan Lea Limited t/a 'The Jonathan Lea Network', which started off as my own legal consultancy and is now a SRA regulated firm. I currently employ two solicitors and two paralegals who work with me in a small office, while we also work on a day-to-day basis with a self-employed virtual assistant and a UK solicitor who lives in Montreal. Our income derives mostly from three main practice areas, being mergers and acquisitions, early stage companies raising investment and IP/IT related commercial contracts We generate a high number of new work enquires, primarily through The Jonathan Lea Network blog (which currently receives almost 300,000 page views a year), meaning we are always operating at full capacity and have a solid base from which to grow further and create a sizeable law firm with both a national and international client base.
Our future plans are to create a hybrid virtual firm as well as add ecommerce functionality to our website. As well as continuing to employ more solicitors directly, we also plan to contract a lot more with self-employed solicitors via a virtual business model. We are also finalising the ecommerce legal content download functionality of our website. This will allow us to more fully capitalise on our high visitor numbers by earning passive income from productising our legal know-how.
The most significant and proudest specific moment of my career remains the day I found out I had secured a training contract with Clyde & Co. This was the culmination of a lot of determined effort and was an achievement that allowed me to get a great training that would open many more doors in the future.
Studying at ULaw enabled me to get a thorough grounding in law, both from an academic perspective on the GDL and learning more about applying law in practice on the LPC. The main skills I came out of my studies with were the basics of how to practice law, how to analyse a lot of information and how to communicate complex issues in a clear and persuasive manner. For me to achieve my goal of working for myself, I also needed the desire to be an entrepreneur, an appetite for risk and the ability to learn about other areas of business. I wouldn't have gotten anywhere working on a self-employed basis without being good at practising law though.
For anyone considering working in a legal consultancy business, I'd offer two main pieces of advice:
Work at a smaller law firm before you do. You'll learn more about the business of law and develop a wider skills base in the process, including an ability to deal with varied matters as opposed to being over specialised.
Build your network and client base as early as possible. Winning work is never easy and you will need to enjoy business development, building relationships and learning how to effectively use online marketing to your advantage.
Find out how studying at The University of Law can help set you up for success.
Set for Success Hub
Find out more about how we help set you up for success.
Find out more
Our Alumni Profiles
If you enjoyed this article, why not check out some more of our alumni profiles?
See more