EDUCATION BACKGROUND
Master of Arts in Arbitration and Dispute Resolution , Arbitration and Mediation, Master with credit, City University of Hong Kong, (2004)
The University of Law GDL (1988) and LPC equivalent (1989)
CURRENT ROLE
Consultant Solicitor, Kwok, Ng & Chan Solicitors and Notaries
CAREER PROGRESSION
Adjunct Professor, City University of Hong Kong (2017)
Adjunct Professor, Hong Kong Shue Yan University (2015)
Deputy Presiding Officer, Labour Tribunal (Night Court), Hong Kong Judiciary (2002 – 2003)
Solicitor, Supreme Court of England and Wales (1992)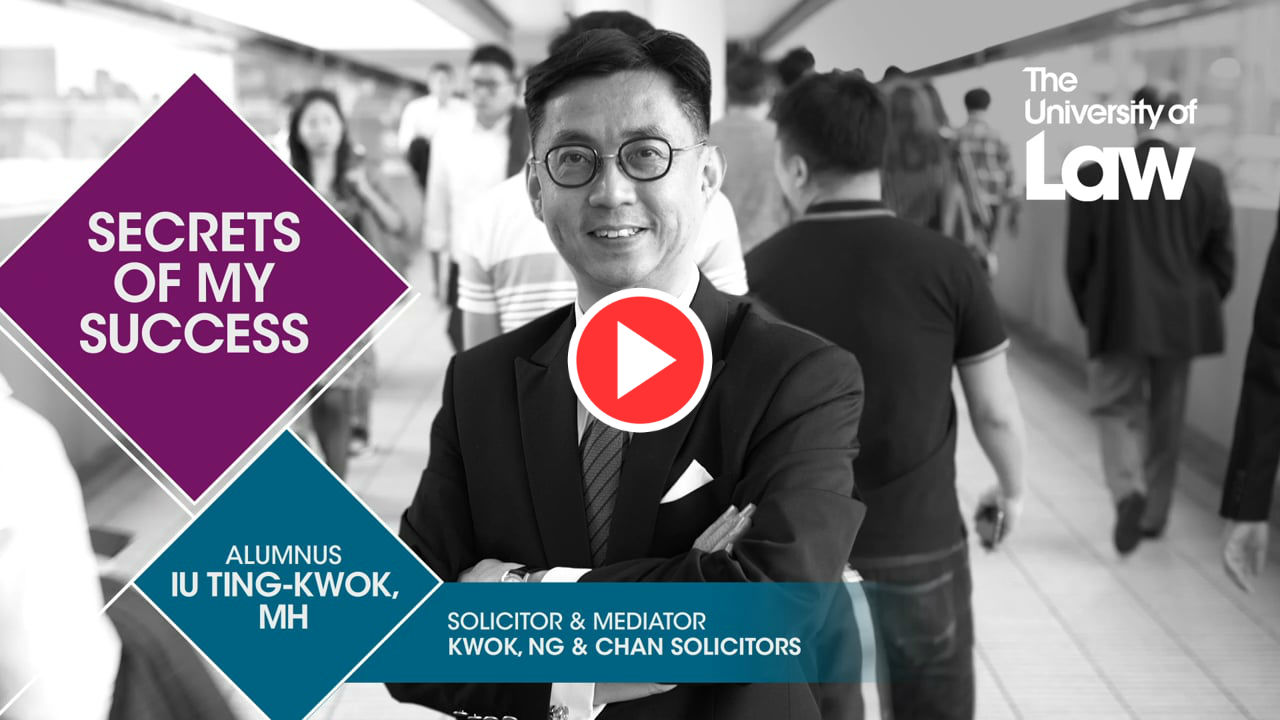 IU Ting-Kwok, MH, is a leading mediator in Hong Kong, with near 30 years of legal experience. He studied at ULaw Chester campus and is now an active alumnus of The University of Law, consulting on the launch of our Hong Kong Campus.
I had an offer to study law in London in 1983 but I wasn't in a position to take it up at the time. Instead, I completed a general degree in Hong Kong and worked as a civil servant. With some savings, I managed to travel to England and study in The University of Law's Chester Campus for two years. I received the very highest quality legal education. The law teachers that I had were not only knowledgeable but also very helpful. Peter Wilde and Alison Smith deserve special mentions as they were extremely helpful to me. With such a positive environment, I completed the intensive legal studies of the CPE (Common Professional Examination) and SFE (Solicitors' Final Examination) without difficulties. I still maintain contact with Alison and my Chester landlord and landlady.
Qualifying law courses are really intensive and one has to be extremely focused to complete them, but this really helps future lawyers deal with stress and challenges in the future without fear. ULaw provided me with solid, practical and intensive legal training which I believe is not only important for lawyers but also mediators.
I now practise as a mediator and teach mediation at major universities in Hong Kong. I see teaching as another way of learning. Through teaching, one has to be sure about the knowledge and practice. I also give advice to the Government of the HKSAR on issues relating to mediation. Between 2013 and 2017, I assisted and advised the Department of Justice of Hong Kong on the enactment of the apology legislation and the Hong Kong Apology Ordinance came into effect in December 2017. I am now the Chairman of the Special Committee on Evaluative Mediation and my committee will advise the Secretary for Justice on issues relating to the use of evaluative mediation in Hong Kong. In recognition of my contribution to the development and promotion of mediation in Hong Kong, the Government of the HKSAR awarded me a Medal of Honour in 2017 and so, I am entitled to use the Post-nominal Initials of "MH" after my name.
My proudest moment was teaching a 40 hour mediation training course for three visually impaired students last year. It was the first mediation training course for the visually impaired in Hong Kong and probably one of the very first in the world. These three students are now working hard to prepare for mediation assessments in the near future and becoming accredited mediators. The Department of Justice is aware of my pro bono work and my students' perseverance. They've invited my students to share their learning experience at the "Mediate First Pledge 2019" seminar in May 2019.
My best piece of advice to law students is that legal practice is evolving at all times. Litigation is not the only way to resolve disputes and conflicts. As lawyers for the future, we need to be equipped with all the necessary skills to deal with disputes and conflicts whether that's in a courtroom or otherwise. As such, mediation skills are as important as litigation knowledge and advocacy skills. The legal profession works for the people, so I think that a real key to success is the ability to connect with people and being able to assuage sometimes disgruntled parties.
I feel very honoured that The University of Law has been in dialogue with me since the idea of setting up a Hong Kong campus was first discussed and am looking forward to supporting them in providing excellent legal education in Hong Kong.
Learn more about studying in Hong Kong.
Set for Success Hub
Find out more about how we help set you up for success.
Find out more
Our Alumni Profiles
If you enjoyed this article, why not check out some more of our alumni profiles?
See more