BACKGROUND
LLB (Hons) Law, London School of Economics (2005-2008)
BCL, Corpus Christi College, University of Oxford (2008-2009)
LPC, The University of Law (2009)
CURRENT ROLE
Senior Associate, Clifford Chance LLP
CAREER PROGRESSION
Vacation Scheme Intern - Slaughter & May and Skadden LLP (2007)
Trainee Solicitor - Clifford Chance LLP (2010-2012)
Associate - Litigation, Arbitration and Regulatory Group (2012-2016)
Solicitor Advocate (Civil Proceedings) - Clifford Chance LLP (2014)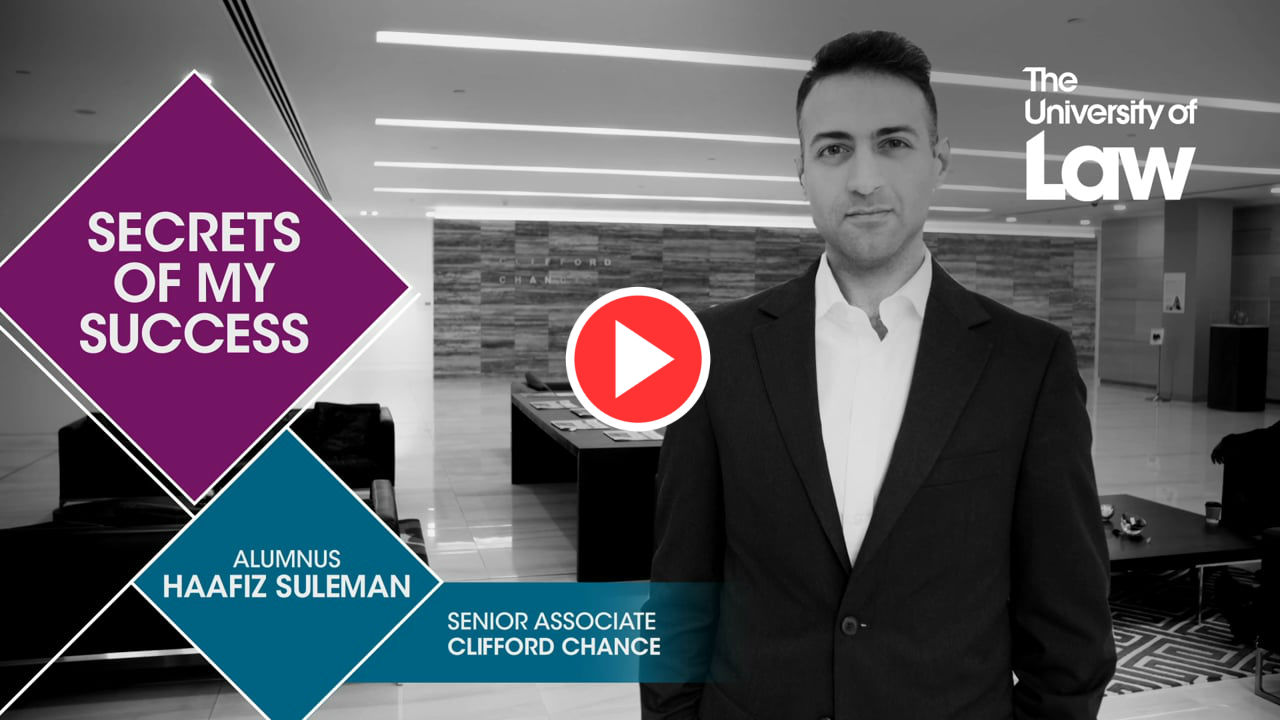 Haafiz Suleman joined The University of Law to study the LPC and has gone on to work his way up from a trainee solicitor to senior associate at one of the world's pre-eminent law firms, Clifford Chance. We caught up with Haafiz to discuss what inspired him to follow a career in law and the case he's most proud of working on.
I chose to study law for the same reason I chose to be a litigator – I'm a big fan of stories. I like that each case is actually a story about a particular dispute that arose in a specific context, and that if we learn about the stories we can advise others in analogous situations. I'm also a big fan of words and so the drafting and interpretation involved in a legal career appealed to me.
From my early days watching Kavanagh QC and Rumpole of the Bailey, I'd always thought I'd like to be a lawyer. Then when I turned up at university and got closer to the action, I thought I might specifically enjoy being a litigator at a law firm – there's more opportunity to work with other people and greater levels of client interaction.
I'm currently a Senior Associate litigator – that involves managing multiple contentious matters with overarching supervision from the Partners, supervising Associates and Trainees who work on those cases. It means I have the opportunity to think about cases strategically, advise clients as to appropriate next steps and really make a difference to their thinking and the conduct of a case. I also have a bit more flexibility around the cases I take on, and so I can concentrate on the things that really interest me.
I'm lucky enough to have been involved in a number of high-profile cases, but one of the most memorable roles I have held has been as legal representative for John Mann MP before the Independent Inquiry into Child Sexual Abuse. At the public hearings in the Independent Inquiry (which were live-streamed throughout October last year), a QC gave our opening submission, but the client asked me to undertake the rest of the advocacy at the hearings, including cross-examination. I also gave our closing submission, and, unbeknownst to me at the time, many of my colleagues and the Partners at CC tuned in to watch. The reception was incredible – the closings made it on to YouTube and my name was on the front page of a local newspaper the day after the speech. I'm proud of the performance, but also incredibly proud that it related to such an important issue and that what I said touched so many people. Over three weeks of public hearings, I encountered the most harrowing details of the abuse suffered by survivors of historic abuse. The Inquiry saw shocking revelations daily. It really felt like we were making a difference to the lives of all of those affected, and it was an emotional experience.
ULaw was incredibly valuable in connecting me with my future colleagues (and some of my best friends now) and with those who worked in HR and individual practice areas at Clifford Chance so that we could get to know them better before starting our training contracts at the firm. This meant that we knew how the process worked and had a sense of the practice areas we wanted to sit in as well as some of the pitfalls we were likely to encounter along the way.
I remember one litigation tutor in particular who held a mock trial in our final weeks on the LPC. He was the font of all knowledge, the writer of the textbook and really good fun. In the mock trial, he acted as a judge, and we all acted as advocates and took it in turns to act as (comically distracting) witnesses. I remember that he really knew how to bring out the drama in contentious work (and I continue to be interested in that drama to this day).
As a lawyer in general, the key thing I have learnt is the importance of attention to detail, and nowhere more so than in litigation. Cases turn on the detail. I also think that you need the ability (especially as you grow more senior) to try and imagine what the client is after in any given situation – what are you actually trying to achieve?
Of course, you also need to be able to express yourself in a manner which inspires trust in what you are saying. Given the pace at which legal practice is changing, you also need to be flexible enough to adapt your working practices to boost your marketability – whether that involves using e-disclosure, predictive coding or online dispute resolution, or becoming aware of new trends in the ways clients instruct lawyers (e.g. on an app).
My background in International Law has been massively influential. At CC we advise on a great many international disputes, whether cross-jurisdictional or involving states, governments or supra-national organisations (for example, in relation to our work on Business and Human Rights, sanctions or international trade, where Brexit is a key driver at the moment). I studied private international law at university too, and a large number of disputes I deal with have a jurisdiction/choice of law angle to them.
I would advise students interested in Clifford Chance (CC) to apply for a vacation scheme – that way you'll get a real sense for what life is like at the office. Don't think that CC only looks for people with particular qualifications from particular universities – some of the best lawyers I've met in this place have come from the farthest-flung reaches of the planet and have the obscurest backgrounds.
The impact of tech on law is pervasive. Cyber issues are board level concerns now, and outside of the risk sphere clients are beginning to come to us to discuss significant potential liabilities for cyber breaches. Risks are beginning to be realised, and so we are starting to see litigation arising out of cyber attacks. We are also applying traditional legal principles to novel technological situations – e.g. product liability law to tech products and software.
Outside of litigation, we are adapting to how tech is changing the way clients approach their lawyers. Clients and the courts expect lawyers to use the technology at their disposal, whether predictive coding or electronic bundling, for example, to make provision of legal services more efficient.
Work/life balance is always going to be difficult in commercial law, and I would be lying if I said I hadn't had to cancel plans or rearrange my life at short notice at certain stages. However, I like to think that, as I've become more senior, I've found it easier to insert buffers into my working life to make room for relaxation or spend time with friends. The movement in the City in general towards remote and flexible working also makes it easier to do that, and technology is now such that it is possible to leave the office at a reasonable hour and then work from home in your pyjamas if that suits you better.
The most important way in which ULaw set me up for success was by helping me transition from academic law to the working methods of practice and recognise that the main thing to bear in mind is what the client is actually after. Once you have that in your head, you realise that you can make a career of this intellectual project called "law". ULaw also connected me with future colleagues and with some of my best friends, whom I still see regularly.
Find out how we could set you up for a career as successful as Haafiz's's by booking on an open day with us.
Set for Success Hub
Find out more about how we help set you up for success.
Find out more
Our Alumni Profiles
If you enjoyed this article, why not check out some more of our alumni profiles?
See more