EDUCATION BACKGROUND
Finchley Catholic High School
Loreto Sixth Form College
Lancaster University
The University of Law
CURRENT ROLE
Legal Technologist (Assistant Manager), KPMG
CAREER PROGRESSION
Paralegal, Legal Technology
Assistant Manager, Legal Technology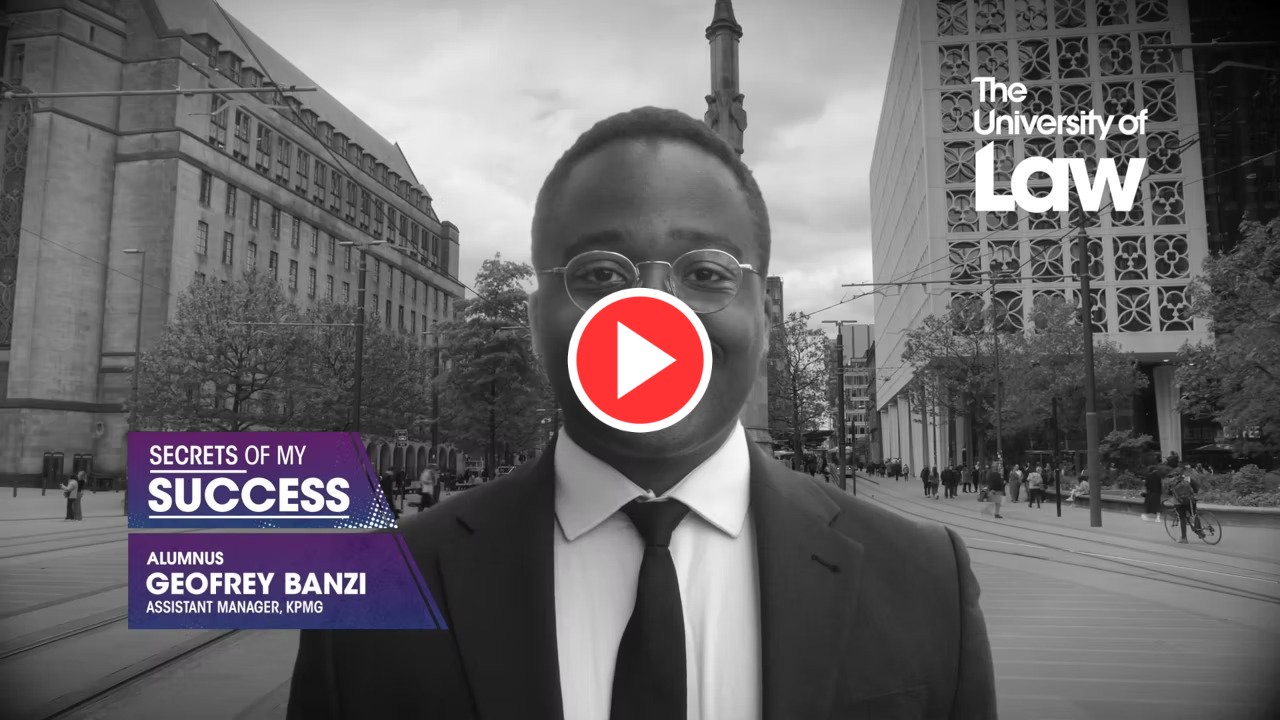 It was a love of reading as a child which first started ULaw alumnus Geofrey Banzi on his journey into law. Now he works as a Legal Technologist for KPMG, using his skills to offer advice on how technology is changing the legal world. We spoke to Geofrey about his career, creating his WiBrief initiative and his involvement with Legal Hackers.
I've always been a big reader. As a child I would carry at least four large, non-school related books everywhere I went. I liked books so much that I'd read when I wasn't supposed to, even during lessons. My teachers noticed my love for books and knowledge, and many thought this could translate to an aptitude in law. Getting this kind of early encouragement, alongside having a natural love for problem solving and being creative, really helped inspire me when I needed to choose a subject to study at university and I've honesty never looked back.
I wanted to explore the interplay between law and technology in greater detail, so my dissertation discussed self-driving car regulation in the UK and inspired me to pursue a career as a technology regulatory lawyer. I also wrote a piece about it which Lancaster University published and a book titled Regulating Driverless RTAs.
However, as a new graduate entering the job market it was hard landing a job that ticked all the boxes. My first job was as a Road Traffic Accident (RTA) paralegal. It taught me a lot about the practicalities around vehicle liability and the legal framework to help people get redress, but it didn't really tie in with my ultimate plan of working in the technology regulatory space. I was considering my next big move when I first became aware of legal technology as an emerging field. The market was still very young at the time, and I think I was lucky to have spotted the opportunity when I did.
I currently work as a Legal Technologist at KPMG. The role is quite fluid, and what a legal technologist does on a day-to-day basis will differ quite a lot from organisation to organisation. This is because legal technologists typically work in response to business problems and, whilst the challenges faced by legal businesses today might share some common elements, they can also vary quite significantly based on their size, resources, political dynamics etc. However, my role at KPMG involves working with the legal team to improve their processes using technology. I typically work with people who have a lot of experience in their field to build tech solutions that innovate on existing legal work and processes. We work together to identify any areas where there might be inefficiencies that can be addressed by changing the process, usually by bringing in, or creating, a tech solution.
I've really enjoyed working in legal tech and experiencing the interaction between law and technology from a practical perspective. I believe the skills I am learning and using on a daily basis are helping me understand technology in a way that no other role can. I still haven't lost focus on my goal of working in the tech regulatory space, but I think working in legal tech has given me a lot of practical knowledge that I hope will add even greater value into my future work.
The proudest moment of my career so far was being invited to an event sponsored by Facebook and the Black Solicitors Network to speak about my career, technology law and the future of legal tech. I had never done something like this before, and my fellow panellists were either law firm partners or technology lawyers for Facebook. This made me nervous at the time because I still felt quite junior in my role and as a result I put in a lot of preparation before the event. I had great feedback, and it has even led to some follow-on public talks at universities.
ULaw were very active in promoting themselves at Lancaster University during the time I was studying my LLB. Hearing speakers from ULaw and attending open days at the University helped me make a connection with it, and I loved that the staff were personable and made an effort to reach out to students.
I think the legal skills learnt at ULaw helped set me up for success by shaping the approach I now take to problem solving. The critical thinking and communication skills that I have picked up help me understand and address complex legal/tech challenges effectively and communicate solutions clearly, precisely and persuasively. Understanding the lawyer's mindset also gives me an edge, allowing me to be an effective listener that understands the common pain points faced by commercial lawyers today. I can turn this understanding into advice that allows legal teams to capitalise on opportunities for improving efficiency and driving down costs.
I'm naturally creative, and I enjoy being able to use my skills in a way that can help people and society. Both of my initiatives, WiBrief and Legal Hackers, have allowed me to do this. WiBrief is a platform that I set up after graduating as a way for me to understand the regulatory and societal implications of emerging technologies and the readiness of regulators to deal with them. However, I realised that the implications of my platform could be much broader, by communicating ideas and concepts to society in a way that would be engaging and understandable to non-technical people. I redesigned WiBrief to be more visual and started incorporating more design elements, diagrams and videos. This was a fun challenge creatively and technically, and it was also exciting because it helped me create an opportunity to educate the public.
I set up Legal Hackers with some great friends I worked with in my previous role. I saw it as another great opportunity to educate the public on relevant issues at the intersection of law and technology, but in a different format. My focus with Legal Hackers has been in delivering exciting events, some of which have been on topical issues such as blockchain, cybersecurity and legal technology.
Where do I hope to be in five years? I want to be at the top of my career and have an established reputation as a thought leader, someone who uses their skills in a positive way to help increase societies understanding of technology.
My advice for students hoping to move into a similar field of work would be to show an interest in your journey. If you're writing a dissertation, use it as an opportunity to showcase your interest in legal tech or tech. Explore opportunities, threats and challenges relating to legal tech and look to its future. Show yourself as an expert. If you're completing the LPC, get involved with legal tech initiatives like Legal Hackers who host events about emerging technology and societal impact. Engage with the news and educational resources. This is very important in a sector such as tech which is constantly evolving. Finally, network, network, network. Engage on LinkedIn, find a mentor, reach out to people and take a chance.
Take a look at our MSc in Legal Technology to discover how technology is changing the legal landscape.
Set for Success Hub
Find out more about how we help set you up for success.
Find out more
Our Alumni Profiles
If you enjoyed this article, why not check out some more of our alumni profiles?
See more