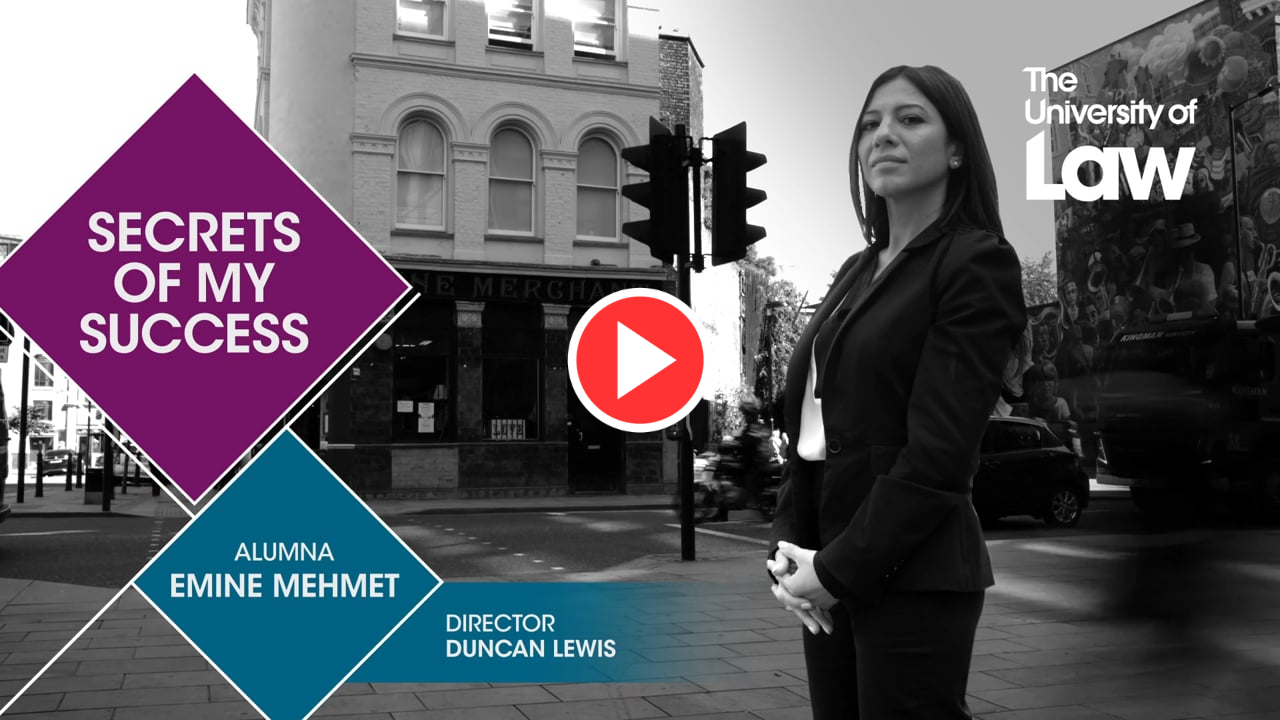 EDUCATION BACKGROUND
LPC, The University of Law (2000-2001)
BA (Hons) Law (1997-2000)
CURRENT ROLE
Director of Family and Childcare, Duncan Lewis
CAREER PROGRESSION
Solicitor - Duncan Lewis (2011)
Director - Pollecoff Solicitors (2005-2011)
Partner - Fahri Jacob Solicitors (2003-2005)
Emine Mehmet completed her LPC at The University of Law in 2001. Since then she's had an interesting career, specialising in family law.
I've always had a passion for justice. From a young age I was interested in the law, which then developed further throughout my university education.
After studying family law during my LPC I decided I wanted to become a family law solicitor. After completing the family law elective on the course, I was lucky enough to secure a training contract with a specialist family law firm.
It's the human element that really attracted me to family law. I get to work with people when they're encountering some of the toughest times they might face and it's really rewarding to be able to help people through that. It's most obvious when working with guardians and children.
I currently work as the Director of Childcare and Family at the Dalston branch of Duncan Lewis. This involves having a mainly care case workload and managing the day-to-day running of those cases, including their advocacy. As a director there's also a managerial side; I have a team of 15 people who I supervise.
There are so many incredible people working in the family law sector. It's hard to pick out anyone in particular who inspired me, but I see fantastic people doing good work every day.
My key piece of advice to anyone thinking of working in family law is to keep up-to-date. Just stay aware of changes that are happening or coming within the sector so that you can approach it with a clear understanding. I think one of the best ways to do this is through extra-curricular activities and work experience; not only will you be keeping your finger on the pulse, but you'll be getting some real-world experience at the same time.
2020 update
As it's been a couple of years since we last spoke to Emine we thought we would check in to see how life has changed and how her time at ULaw set her up for her continuing success.
I am Head of the Duncan Lewis' Pro bono Committee and this has definitely developed since we last spoke. We have some great new clinics, one of which I started with counsellor Shah from Newham. Counsellor Shah runs an initiative called the Conversation Café which brings together women from different age groups, ethnicities and beliefs to talk once a week, giving vulnerable women a safe space to express any fears and worries. This inspired me to add a legal advice clinic to the Conversation Café. Unfortunately, lockdown hit very soon after launching but we hope to be able to get back to it very soon.
Since the Covid-19 outbreak, as I do mainly care work, this has remained consistently busy. Working from home was a challenge at first, particularly in relation to supervising a team. However, I have realised that it is possible and effective. Similarly with court hearings and meetings, it has been a big eye opener in terms of how effective remote working is.
One of my most interesting and challenging pieces of work is currently before the UK Supreme Court. I'm acting for a transgender teenager and have fought tirelessly for her rights to be heard and for her own views to be taken into account. It is a leading case in the area of Deprivation of Liberty Orders.
It is sometimes difficult to keep a work/life balance but I have become adept at switching off from work once I leave the office, or home office at the moment, which is important to ensure you are present when spending time with your family or even relaxing alone.
In five years, I think family law will see divorce become far easier with the new legislation, and I think the pandemic will change how we work for the better, with lots more being done remotely.
I would recommend that any students looking for family law pro bono opportunities to apply to lots of places, and offer voluntary services to surgeries such as law clinics. Any legal experience is an advantage, even if it is not in a law firm.
Find out more about how studying with The University of Law can help set you up for success. If you're a College or University of Law alumnus, you can now join our fast growing Alumni Network.
Set for Success Hub
Find out more about how we help set you up for success.
Find out more
Our Alumni Profiles
If you enjoyed this article, why not check out some more of our alumni profiles?
See more