EDUCATION BACKGROUND
BSc (Hons) Human Bioscience, University of Plymouth (2005-2008)
GDL, University of the West of England (2009-2010)
LPC, The University of Law (2010-2011)
CURRENT ROLE
CAREER PROGRESSION
Consultant, Kemp Little LLP (2017-present)
In-house counsel, BT Plc (2015-2017)
In-house solicitor, Npower (2014)
Solicitor, Bond Dickinson LLP (2013-2016)
Trainee Solicitor, Bond Pearce / Bond Dickinson LLP (2011-2013)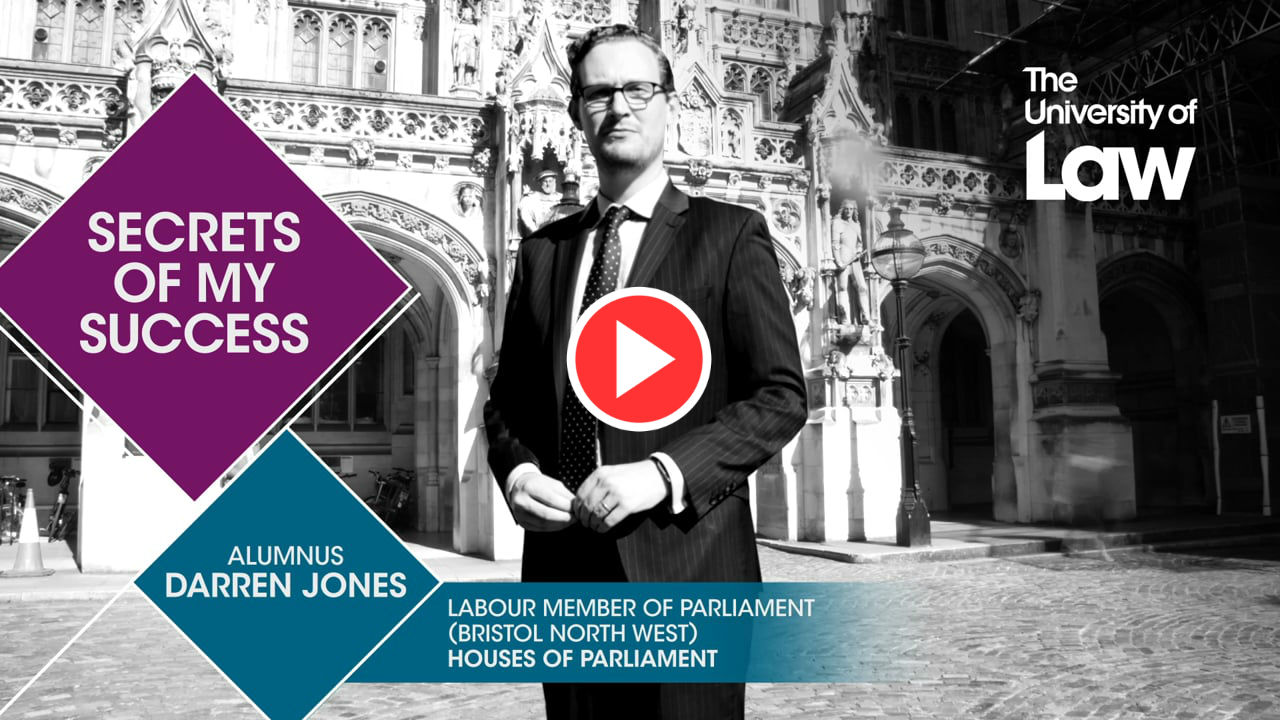 Darren Jones completed his LPC at ULaw Bristol campus in 2011 and, after working as in-house counsel at BT Plc, he ran for government and became the Labour MP for Bristol North West in 2017. We sat down with Darren to find out about his time studying law with us, his experience of working as a lawyer and the shift to becoming a Member of Parliament.
The University of Law has a great city centre location in Bristol, with brand new facilities. Additionally, its pitch on providing the best commercially focused programme proved true and gave me a real head-start for my legal career.
Early on I considered becoming a doctor, but instead decided I wanted to be a politician (which I now am). I didn't want to be a career politician and wanted to work in "business". Law provided me with the great opportunity to do that, and I loved it.
I'm now the Labour Member of Parliament for Bristol North West. That means I represent around 100,000 people in the House of Commons, hold the Government to account and lead on various public policy issues on a local, national and international level. My current areas of interest (beyond my constituency priorities) include climate change, global regulation of technology and human trafficking. Because my constituency is marginal, I could lose it as quickly as I won it. That's why I also maintain my legal practice as a consultant with the technology boutique law firm Kemp Little LLP.
I never really planned to become a lawyer. When I was President of my Students' Union I was a client of a law firm, who suggested to me that I might make a good solicitor. I always thought law was a bit stuffy and had no family connections to it. But I went along and spoke to some people and it actually sounded really interesting. I then applied for a training contract (entirely from the perspective of my client experience and how best to grow their business), did my GDL and LPC and the rest is history.
As a politician, I'm proud to represent the area where I was born and raised. It means a lot to have a job where I can fight on behalf of the community of people I grew up and lived with.
As a lawyer, I really enjoyed my time as an in-house counsel at BT Plc. I had secondments at Npower to do energy technology contracts and then at BT in their consumer business. It was at BT that I was able to have a 100% advisory practice covering consumer, data and privacy law. The business was kind enough to let me get involved in lobbying and policy work too.
On account of my needing to be present in Parliament, my usual week sees me moving around quite a lot. I'm in my parliamentary office and in the House of Commons Monday to Thursday, asking questions of the Government, contributing to debates, voting and undertaking cross-party select committee inquiries on the Science & Technology and European Scrutiny Select Committees. Mondays, Tuesday and Wednesdays are super intense. I try to keep Thursdays as clear as possible so I can get through my inbox and get updates on my various work projects. Fridays and Saturdays are constituency days in Bristol, where I catch up with my staff team, help constituents in my surgeries, and then finish 12 hour back-to-back days with community events, meetings, coffee mornings and door knocking.
As an MP it's your job to lead the public policy debate. Because you can work in whatever area interests you it's important to pick the areas where you really want to contribute. I do a lot of cross-party work on technology issues, as the co-chair of the Parliamentary Technology Forum and the co-chair of a new Parliamentary Commission on Technology Ethics, for example.
I'm also involved in All Party Parliamentary Groups related to climate change. This means I work with existing international multilateral groups such as the British American Parliamentary Group, the Commonwealth Parliamentary Association and the Inter-Parliamentary Union to get involved with international policy issues such as tackling human trafficking.
ULaw put everything in the LPC in the context of "doing the day job". When you start your training contract, that's a super helpful leg up when you're trying to get up to speed.
Funnily enough, I think one of the best skills I learned while studying at ULaw would be how to make a good bundle for legislation public bill committees. It's amazing how you find parts of a legal education coming into play in other aspects of your life or different careers.
If you're keen to move into politics, my top piece of advice would be to get your career sorted first. Politics is a high-risk business and politicians come and go. MPs with experience in the "real world" are often a lot better at the job, so go out there and get some experience.
If you're torn between a career in law or politics, why not study both? Check out our Law with Government and Politics course.
Set for Success Hub
Find out more about how we help set you up for success.
Find out more
Our Alumni Profiles
If you enjoyed this article, why not check out some more of our alumni profiles?
See more