To mark the launch of our Employability edition of Verdict Magazine, we held a celebration virtual event on 21 April 2021. We bought together some of the incredible experts who contributed to the magazine so that students could learn from their experiences.
By Editorial Team. Published 21 April 2021. Last updated 26 November 2021.

ULaw's Director of Employability John Watkins hosted the event which got underway with three Ted-X style talks.
John introduced the event by saying: "We have been in the midst of a global pandemic for over a year and things are now beginning to settle into a routine and I think it's really important we understand that a lot of people have been going through some significant challenges and many of those will continue. But you'll hear tonight some very optimistic tones. Undoubtedly, what we're trying to do with the Employability Service at the University is to supply you with those extra little bits of help, support and nudges in the right direction that hopefully keep you on an upward trajectory and ultimately onwards and upwards towards the successes you want to achieve."
John Watkins went on to introduce the first speaker Catherine Morgan.
Catherine is ULaw's Careers Centre Manager at our Manchester campus. After qualifying as a solicitor in 2000, Catherine worked as a real estate lawyer for several leading national law firms, including Weightmans and DWF. After a short period as a legal recruiter, she joined ULaw's Manchester Campus on its opening in 2009. Catherine shared tips on finding the right law firm to suit your needs and tailoring your applications for optimal success.
Catherine said: "You need to do your homework. Work out what makes that firm tick. What are the firm's values? What skills does that firm prioritise? Then work out when and where you've demonstrated those values and skills and reflect them back to the firm in your application. The experience doesn't have to be in a legal setting. Often, non-legal experience can be more memorable and the important thing when completing applications is you want to stand out in a good way. You want to make sure that you are the one they're going to remember. I've spoken to recruiting partners in the past and they've often told me the first thing they go to look at is non-legal experience that applicants have had. Because that is what will differentiate them. Don't underestimate that."
Our second speaker was General Counsel (Regions) for Network Rail, Dan Kayne. Dan trained and qualified at US law firm Dechert and has been in-house at Network Rail for nearly 15 years. Starting as a legal advisor, Dan is now General Counsel for the Regions, leading a team of 20 lawyers. In 2019, Dan founded the O Shaped Lawyer Programme, which looks to transform lawyers' training and development, placing human skills alongside more traditional technical legal skills.
Dan Kayne said "Trust is such an important part of being a lawyer that it's essential we learn to do it and do it effectively in terms of building relationships, in terms of being adaptable and creating value. The more this is talked about, the more these skills are understood, the more likely they will become part of every lawyer's make-up as we go into the next generation."
Our final Ted-X style speaker was Trainee Solicitor at Shoosmiths, Kathryn Williamson. Kathryn is a second year trainee and is currently in her third seat in commercial litigation with the London team. Kathryn studied her LPC at The University of Law in Guildford and spent time as a paralegal before commencing her training contract. Her talk focused on seeing opportunity in rejection and the importance of building resilience.
Kathryn said: "Building resilience is all about facing your mistakes and rejections and learning to overcome them quickly and effectively so you can better deal with them next time. This does take practice but my key tip for doing this during the application process is to obtain feedback. I think this is so important as it will help you develop and learn from your mistakes and succeed in future applications. One of the most important things I did during my process was to obtain feedback from Shoosmiths after I was unsuccessful at the assessment centre. The firm is really good in that it provides feedback to every assessment centre candidate over the phone. I was able to note down areas I needed to improve on and I spent the next year working on these."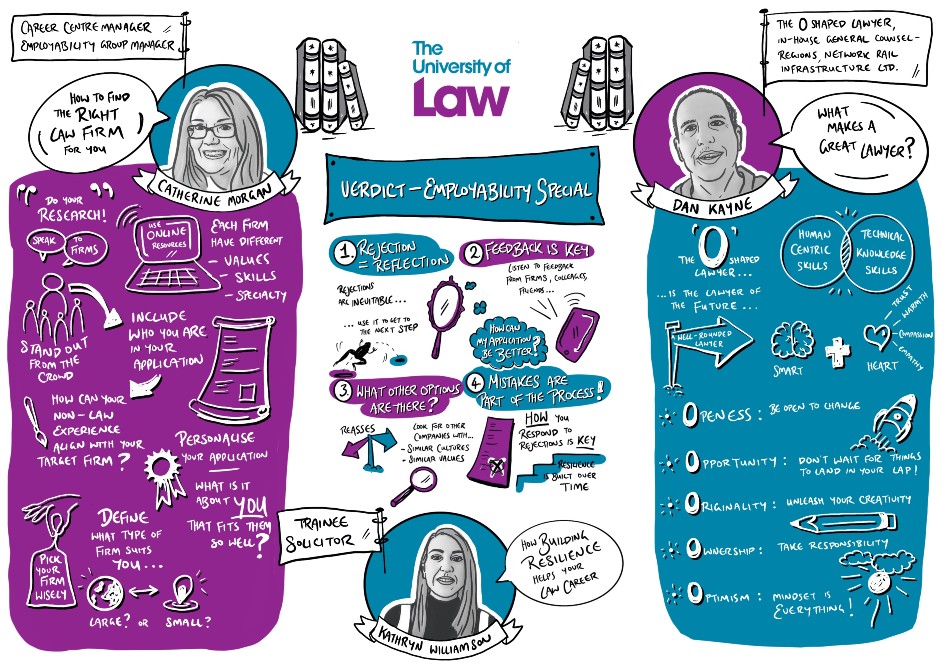 The second half of the event was made up of a panel for questions and answers. John Watkins hosted the panel, featuring Sarah Gibbons – Paralegal in the International Department at Leigh Day, Natalie Cernuschi – Future Trainee Solicitor at Bevan Brittan and Georgina Freeman - Mini-Pupil at Pump Court Tax Chambers.
The employability specialists took questions from the event attendees about their journey into law, their tops tips for enhancing your experiences and if you should share your ambitions with employers if they are far above the role you're applying for.
A reoccurring theme within this Q&A was making the most of the opportunities available. Traditional law employment opportunities have been and may continue to be limited due to the pandemic. However, new opportunities have arisen and continue to be introduced. Online work experience has opened up opportunities to students no matter where they live and increased the number of people involved.
Georgine Freeman gave her final piece of advice at the end of the event: "Acknowledge who you are and keep going because you will get there."
Don't let uncertainty hold you back from your dream career. Study an online course with us.