Earlier this year we launched our ground-breaking Change the World Fund. The initiative offered a £5,000 grant along with specialist mentorship, to give students the opportunity to affect real change on key issues across the globe. We were overwhelmed by the innovative ideas and the passion behind the applications we received and were delighted to announce Chester LLB student Katie Landsborough as the winner. We caught up with Katie to discuss her idea to change the world and how winning will allow her to make her dream a reality.
By Cara Fielder. Published 30 November 2020. Last updated 24 November 2021.
From 2017 to 2020 I studied the LLB Law at the ULaw Chester campus and received a First Class Honours Degree. Then, in September 2020, I started my LPC LLM in Professional Legal Practice.
I originally chose to study at ULaw because it had a 96% employability rate for graduates. It was, and still is, very important to me that I am able to put my qualifications to good use and get a decent job at the end of it all. This is why I then chose to study my LPC at ULaw this year, because of the LPC employment promise that the University offered of - 'Get a job in nine months or your fees back'. ULaw is clearly committed to supporting students on the path to future employment, which was one of my biggest concerns.
At the moment I am looking for a training contract. If I get one by the end of my LPC I hope to initially practice as a trainee solicitor in family law, education law and criminal law. Nevertheless, at this early stage in my career I am open to all professional opportunities that come my way.
My Change the World application consisted of a charity proposal called A Race for Justice (ARFJ). The aim of this charity is to educate and empower the public to understand and engage with social attitudes towards race and discrimination.
Volunteers, such as myself, will deliver workshops on these issues in educational institutions and community centers across the country, in order to raise awareness on race related issues. The content of these workshops will include topics such as challenging stereotypes, colourism/shadeism, racial inequalities and legal rights.
When it comes to social attitudes towards race in this arena, the best way to implement a significant positive change is to facilitate in schools and communities; a setting where a collaboration of different views can take place without fear of judgment. This is why I emphasise that the workshops my charity will deliver would be very interactive and push for inclusivity, rather than preachy presentations that may come across as condescending. Without this approach, a culture of silence could continue and divide our society.
The inspiration behind A Race for Justice is very close to my heart because of my own personal connections to the BAME community. As a mixed Black Caribbean and White British person I have unfortunately been subject to some racism throughout my life. In most of these cases it was a result of ignorance. Therefore, I believe it would be hugely beneficial to our society and, improve social cohesion, if we facilitate a setting where open and sometimes difficult conversations about race and unconscious prejudice can take place.
Everyone, regardless of race, is guilty of being ignorant of certain social issues at some point in their life, even when they don't have bad intentions. But it's our responsibility as humans who live in a civilised society to continue to educate ourselves in these areas, in order to reduce this ignorance and move away from simply tolerating to actually accepting and embracing different cultures.
I was in complete shock when I was told I won the Change the World fund but when the news sank in I felt incredibly proud and honoured to have been offered the £5,000 award to start my own charity. It's a great feeling to know that ULaw views my charity proposal as innovative enough to have a far-reaching impact within our society.
If I'm honest, I don't normally enter many competitions because I don't usually win. But with the Change the World Fund I found myself eager to at least give it a go. I applied because I felt I had a worthwhile initiative and a more unique perspective to spearhead this project.
My first step is to deal with the legal formation of my charity by officially registering with the Charity Commission. Then, after fine tuning the content of the workshops to be delivered, I will put a portion of the fund towards creating a website where organisations can book workshops and where the public can read up on our campaigns. Another portion of the fund will go towards learning resources and the production of leaflets which will contain our workshop summaries, legal rights and campaigns.
Eventually, I will need to recruit volunteers to help me deliver these workshops and I think the best place to start would be the ULaw campuses. In the near future I really hope other ULaw students are eager to share their talents and skills by getting involved in this initiative.
Through workshop presentation tasks and oral examinations during my degree, I have developed my public speaking skills and ability to present clear, persuasive and logical legal arguments. Furthermore, I have acquired essential legal research skills from my university dissertation assessments. Although I had nerves leading up to the Change the World interview, both these skills allowed me to confidently present the short and long term goals of my initiative in a reasoned and insightful manner.
My mentors are going to be:
Jack Morley (Pro Bono Co-ordinator & Visiting Lecturer at ULaw) has kindly offered to help me get the ball rolling by helping me with the Charity Commission application process, as he used to specialise in charity law.
Rachel Wang (ULaw alumna, Chocolate Films Company Co-Founder, Director & Entrepreneur of the Year 2015) has offered to give me 2 hours of mentorship to help me with the business side of things, such as marketing.
Additionally, I will be consulting with some solicitors and barristers who are also anti-racism activists and support causes such as BLAM, Black Protest Legal and BAME Rights. Their legal connections and associated causes make them well equipped to help support my campaign to diversify the curriculum and tackle institutional racial discrimination in schools.
I was raised by my Nanna who is a very strong-willed lady and has instilled into me to always stand up and speak out for what I believe in. I firmly believe that if you think something in your community needs changing you should actively do something about it, even if you feel you wouldn't make a huge difference on your own. If everyone engaged in social issues through small contributions the long term positive effect on the world would be monumental.
I will use my knowledge of criminal, public and human rights law to educate the public on their legal rights to challenge police legal powers when necessary and to handle racial discrimination under the Equality Act 2010. For example, although race is protected under the Equality Act 2010, the act does not explicitly recognise hair as a marker of race. It has been reported that many pupils, such as Ruby Williams earlier this year, have been repeatedly sent home from school because of their afro hair or protective hairstyles, like braids. Ruby herself was told her hair breached school policy which stated that "afro style hair must be of reasonable size and length".
Knowledge is power and for some it can be a form of protection; this is why, especially in this current climate, our charity could help bridge the gap between all races.
I have tried to get involved in as many of the pro bono opportunities offered by the ULaw Employability Services as I can. These include; the Street Law programme and the Schools Consent Project charity. Both these volunteer opportunities involve me preparing and delivering presentations in schools across the country on legal and social issues, such as sexual consent within a legal context. These volunteer opportunities have helped to enhance my planning and organisation skills tremendously. I know that my research skills from this can easily be transferred to tasks I will encounter as a trainee, such as researching the relevant law for legal cases.
The initial advice I would give to students is to take advantage of the pro bono connections ULaw has to help build up your CV and help with networking. But it goes without saying that your own hard work and perseverance are the main things that will help you succeed on your course. Try to have faith in your own abilities and be open to all opportunities that could further your career.
2021 update
On 9th March 2021, A Race for Justice became an official charitable incorporated organisation (CIO), which I was over the moon about. We also have an official logo (below).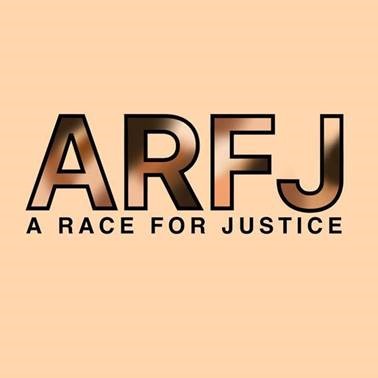 Recently I reached out to some local schools via email and invited them to take part in our free workshop pilot scheme. The aim of this is to trial our workshops and get feedback from people before we start charging for them.
A Race For Justice is currently looking for volunteers and welcomes people from all backgrounds to help us deliver these workshops to the greater public and contribute to the positive change needed to tackle institutional racism. Volunteering would also be a great opportunity for people looking to improve their CV's with more experience. Furthermore, this role would fit nicely around studies, as the charity only ask that volunteers commit to one workshop a month. However, if you can do more, we would really appreciate that.
Below is a brief overview of our workshops:
• Terminology - About race and ethnicity (e.g. White Privilege, micro-aggressions, cultural appropriation etc.)
• Stereotypes - Why we stereotype, why it is bad and how we can overcome it.
• Colourism - A concept that is still very unfamiliar to many, that light-skinned minorities are given more privilege than their darker-skinned peers.
• Racial inequalities - Highlighting the social disparities among different ethnicities and races in areas such as employment, education and the justice system.
You can volunteer your time via the A Race For Justice website.
Follow in Katie's footsteps by joining The University of Law and studying the LPC.