Cosmetic pampering, dog cuddling and meditation sessions helped Leeds-based students at The University of Law (ULaw) get their minds off the pressures of the exam and course deadline period as part of its first ever 'Wellbeing Week' held from 5-9 June.
Among the activities and seminars organised by the university to help students manage the potentially stressful end of the academic year were courses on meditation and mindfulness as well as financial wellbeing and counselling service workshops on coping with exams and course work. In addition, exercise and pampering sessions and activities with guide dogs were also available to students to relax and de-stress.
The week-long event was organised in partnerships with many national and local organisations, including Lloyds Bank, Boots, Clinique, Clarins, The Smoothie Bike Company, Jamyang Buddhist Centre, Dior, Liz Earle, Morley Exotic Animal Rescue Shelter and the Guide Dogs.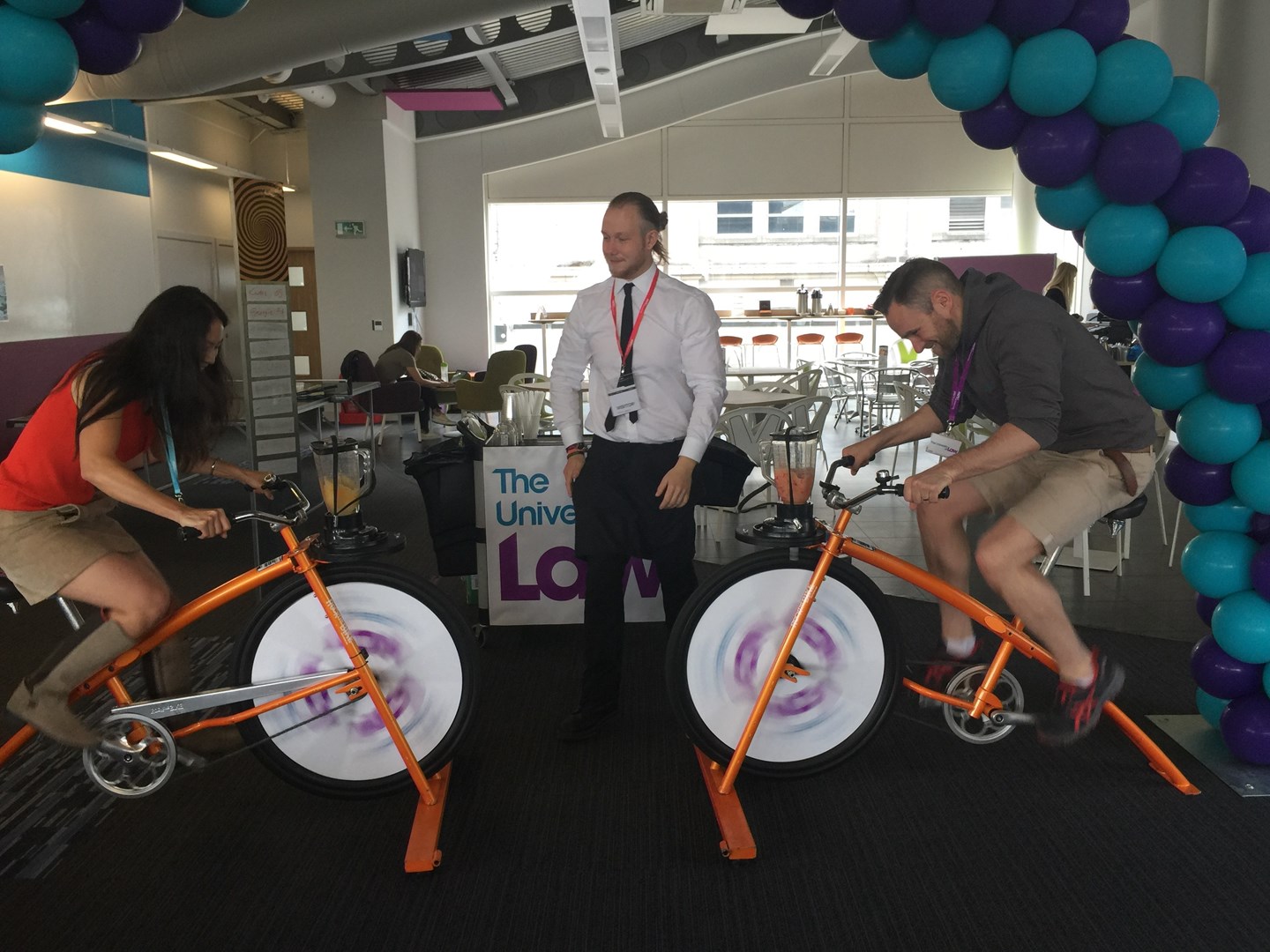 Students at The University of Law (ULaw) Leeds centre compete on a 'smoothie bike challenge', measuring distance travelled to blend a fresh fruit smoothie.
Tom Macdonald, Leeds Centre Director at ULaw, the longest established provider of professional legal education in the UK, said: "The exam period can be a particularly challenging and difficult time for many students, with deadlines and a heavy workload. So we were delighted to be able to help students de-stress by making them aware of how to use different wellbeing techniques. These skills will not only help them in their studies but also throughout their career. The feedback from our students has been fantastic and we will certainly be looking at running events like this again."
Thomas Almond, second year LLB student at ULaw Leeds centre, said: "ULaw's Wellbeing Week has been extremely helpful because for many students, including me, it has taught us to step away from the work load for a brief period of time and look after ourselves. It offered breathing space from the books and promoted activities of wellbeing and self-awareness, which in doing so made it easier to cope with our studies for upcoming exams.
"The most useful tip for me is to remember to take time out from studying and do an activity which you enjoy. Overall, learning to manage stress is an invaluable skill which will allow anybody to succeed in their career, whether that be in law or any other industry."
For further information please contact:
The University of Law
Four Broadgate
Chiara Barreca / Danae Quek / Kelvin Hall
Telephone: 020 3697 4200
Email: [email protected]