EDUCATION BACKGROUND
The University of Law (2013-2014), LPC
Keele University (2009-2012), LLB Law
CURRENT ROLE
Solicitor at Stowe Family Law
CAREER PROGRESSION
Trainee Solicitor at Stowe Family Law (2014-2016)
Legal Secretary at Makin Dixon Solicitors (2014)
Student Ambassador at The University of Law (2013-2014)
Conveyancing Assistant at Barbara Jacobs & Co (2012-2013)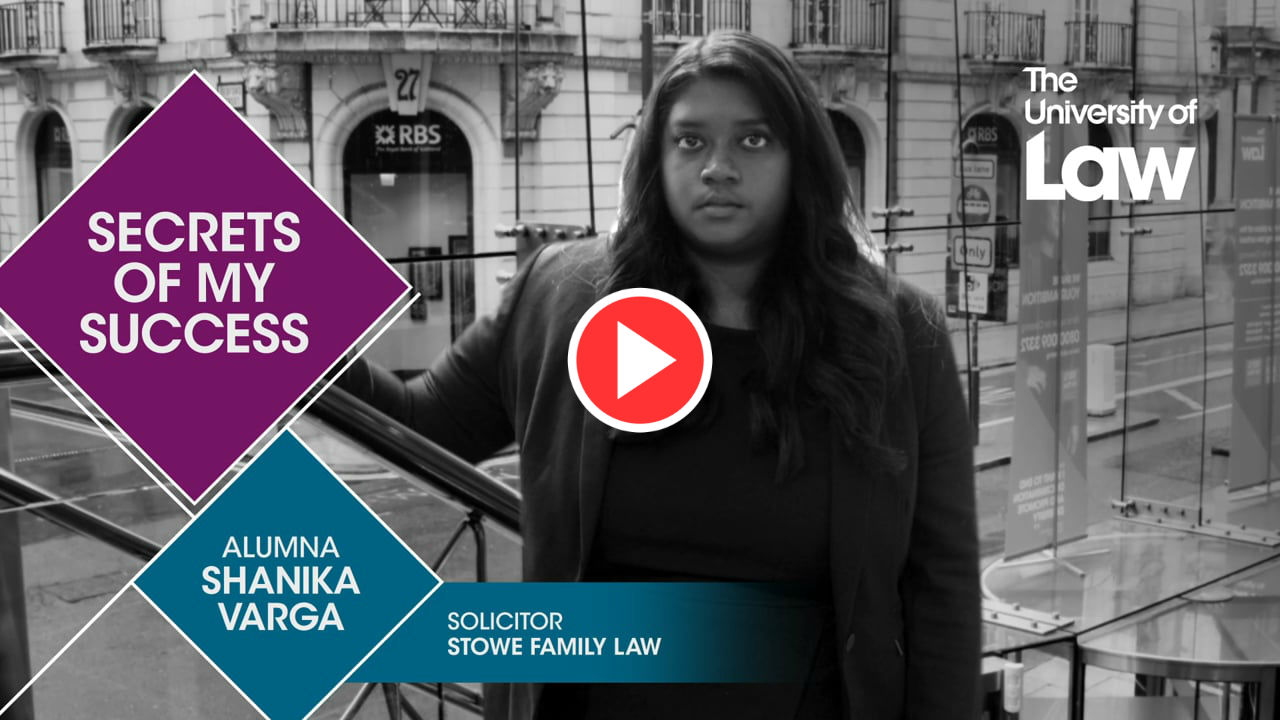 Shanika is a qualified solicitor specialising in aspects of divorce, finance and private children work. After completing her Legal Practice Course in 2014 she worked as a legal secretary before getting a training contract at the UK's leading family law firm, Stowe Family Law. Now working in their Wetherby office, Shanika is one of thousands of lawyers across the UK who graduated with an LPC from The University of Law. We sat down with her to find out what she thinks it takes to make a successful lawyer.
My role is extremely varied and no day is the same. Clients might come to me for initial advice right at the start of a matter seeking help in considering their options, or they could come to me halfway through a case. Some matters progress to litigation and final hearings whilst others require only a few letters, not to mention everything in between, from mediation to solicitor-led negotiation.
Due to legal aid cuts we're seeing a much higher number of litigants in person. This is making it more common for clients to come to us at a later stage in their case, which involves getting up to speed with what's happened so far then helping them to overcome those last hurdles.
After my LPC I decided to apply for paralegal and legal secretary positions while sending out training contract applications. I secured a legal secretary position with a local legal aid firm which was a way in to the industry, and I knew I could progress within the firm. By easing in with a legal secretary position I could learn how things were done at the firm without the pressure of having to fee earn. This experience really helped later on when I undertook a trial period at Stowe. The majority of the tasks I had to complete on the trial were second nature to me by then.
I think the proudest moment of my career so far was seeing my first case through from start to finish. It included several court hearings, which I dealt with myself. And securing the positive outcome that my client had hoped for made the sleepless nights worth it. It's not always possible to achieve the outcome a client wants, so expectations often need to be managed, but when it is possible there's no feeling like it.
What's really motivated me is the inherent desire to make the most of the opportunities I've been given. I was adopted from Sri Lanka when I was a baby and I've always felt a sense of responsibility to not take what I've got for granted. It's always at the back of my mind that I could have lived a very different life. I've also always felt a need to try and give back because of the chances I've been given. I want to make sure that I pay it forward by having a career that allows me to help people every day. That's what really inspires me to keep going.
I've learned that legal knowledge will only get you so far in family law. I think that to really succeed as a family law solicitor you need to have excellent people skills. It requires a real personal touch; after all, we're dealing with people's lives rather than carrying out commercial transactions. We could be helping someone transition into a completely new life, whether that's through a divorce, as a single parent or forming a new family. Stowe Family Law certainly prides itself in giving excellent client care, so being patient and understanding goes a long way.
I left The University of Law with a CV that was 100 times stronger than when I started. The support I received from the Careers team was second to none, from helping with my CV to talking through what kind of firm I wanted to apply to. The Careers team is an asset that should definitely be utilised as much as possible; I really think that if it wasn't for their guidance I wouldn't have gotten my training contract. I was encouraged to do as much pro bono work as I could, I signed up as a student ambassador and tried to attend as many events as possible. To think that I managed fit all that into nine months; it wouldn't have been possible if it weren't for ULaw presenting so many opportunities to its students.
Find out how you too can set yourself up for success by coming to one of our Open Days.
Set for Success Hub
Find out more about how we help set you up for success.
Find out more
Our Alumni Profiles
If you enjoyed this article, why not check out some more of our alumni profiles?
See more